A tasty slow cooker stuffing is an excellent way of feeding a large crowd of people. It's also super delicious and easy to tweak, so it's more to your liking.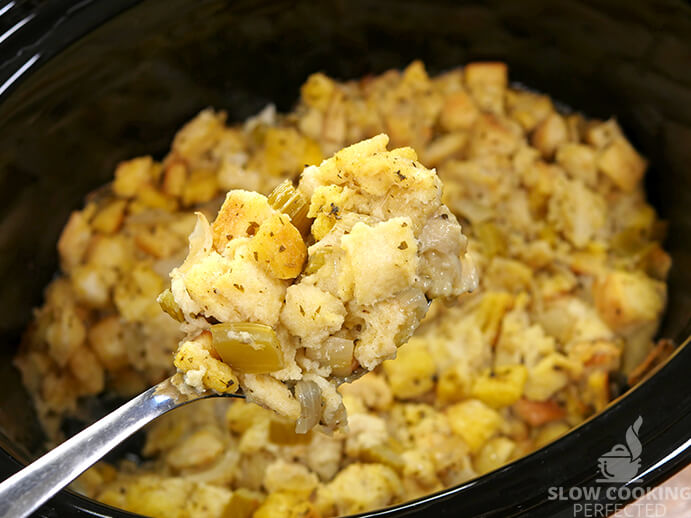 The flavors of this stuffing will have you going back for seconds, thirds, or even fourths. It's moist but not too soggy and pairs with most roasts quite well.
Making stuffing in a slow cooker is an excellent alternative to buying the store-bought boxed version. Even better is that you can tweak this recipe to be more to your liking.
This recipe is great for your next Thanksgiving meal. You can make up a fair bit of stuffing so no one will miss out.
Feeding a Crowd
One of the best things about making stuffing in a slow cooker is that you can make a lot of it. So, if you need to feed quite a few people, this is a great way to ensure everyone will get a bit of stuffing.
A single batch of this recipe should feed roughly ten to twelve people as a side dish. However, if you need to feed more, than you can always double or triple the recipe. You might need an extra slow cooker.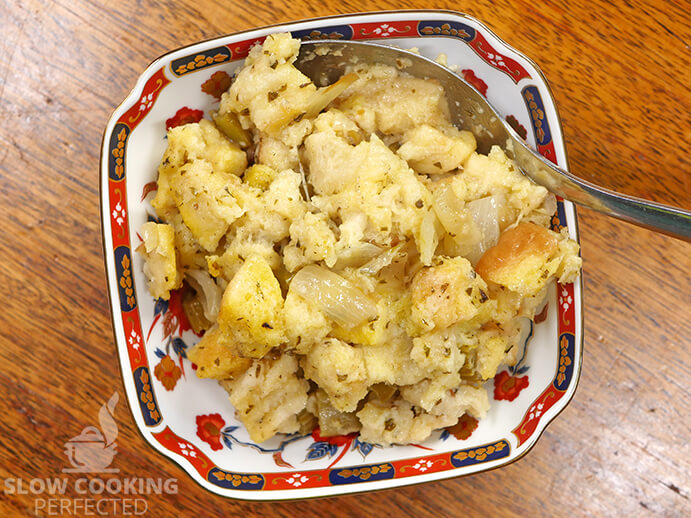 Other slow cooker side dishes will work with your feast, as well. I highly recommend the buttered baby potatoes or the hash brown casserole. They're so delicious and super easy to make.
Tweaking the Stuffing Recipe
One of the best things about making your own stuffing is that you can tweak it more to your liking. There are dozens of tweaks you can do to this recipe, but I will just cover a couple.
There are so many more vegetables that you can add to this stuffing. For example, mushrooms or even diced carrots will work great. I would add any additional vegetables into the skillet with the other vegetables.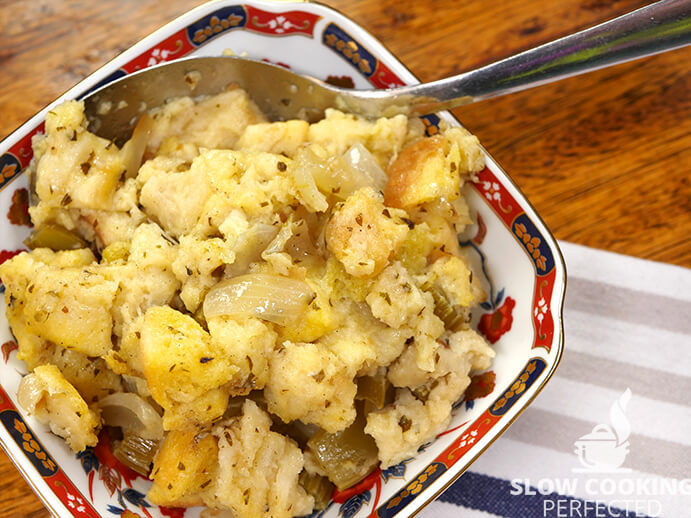 Adjusting and changing the herbs is an excellent way of changing the flavors of this stuffing. I like the combination, but feel free to tinker. You might also want to add something such as poultry seasoning into the mix for a little bit of extra flavor.
For a meaty stuffing, you can always add something such as sausage, bacon, or ground beef. Any of these will add a huge amount of flavor and please anyone who loves a meaty stuffing mixture.
I absolutely love this recipe without any tweaks, so I highly recommend that you try it before making changes.
Which Bread to use for Stuffing
It doesn't matter what type of bread you use to make this stuffing. Almost any kind will work just fine.
The bread will need to be dry for the stuffing to be perfect. So, you may need to do some extra cooking to ensure the bread is as dry as possible.
Sometimes leftover bread will already be stale and dry, and you can simply just turn that into cubes. Otherwise, you may need to dry the bread cubes out in the oven by baking it at 160°C (320°F) for 30 minutes.
It's Best Made Fresh
For the best results, I highly recommend that you make this on the day or the night before you need it.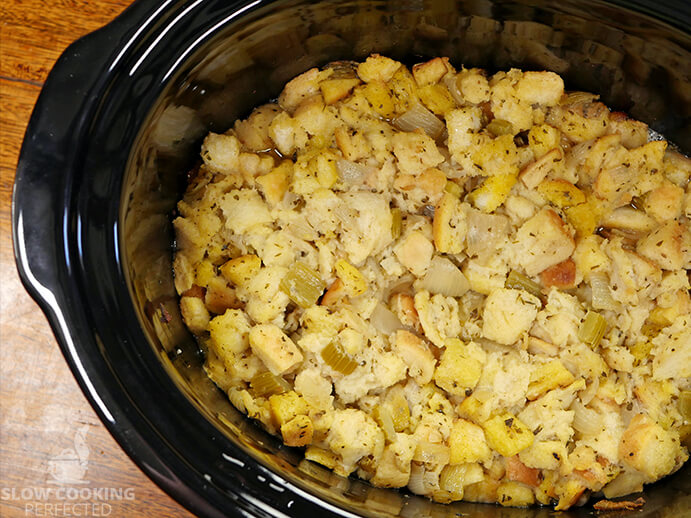 You can make it ahead of when you need it and reheat the stuffing. However, I always find the texture is not as good as when it was fresh.
Below is both the recipe and video that will take you through the steps to making stuffing in a slow cooker. It's super easy, and the result is absolutely delicious.
Slow Cooker Stuffing Recipe
Ingredients
125 g (4.4 oz) butter, unsalted
2 onions, chopped
2 tsp garlic, crushed
2 celery stalks, chopped
1 Tbsp parsley, chopped
1 tsp thyme
1 tsp sage, chopped
1 tsp oregano
1 tsp salt
¼ tsp pepper
500 g (1.1 lb) stale white bread, cubed
700 ml (23.7 fl oz) chicken stock
2 eggs, beaten
Instructions
In a skillet pan over high heat, melt the butter. Once melted, add the onion, garlic, celery, parsley, thyme, sage, oregano, salt, pepper, and cook until the onion is translucent.
In a slow cooker, add the bread, and the vegetable herb mix.
Slowly add in the chicken stock until the bread is moistened. Stir in the eggs.
Cook on low for 4 hours.
Serve & Enjoy.
Recipe Tips
Try to avoid adding too much liquid as the stuffing will end up very soupy. If you think you have added too much liquid, then try adding some more dry bread cubes to help soak up the liquid.
For the best results, use dry or stale bread cubes. You can buy these at the store, or you can make them yourself. Either let the bread dry out or place it into an oven and cook until dry.
I recommend using white bread, but other types of bread will work fine. You could even do a mixture of white and wholemeal.
Note: I use a 5.5L (6 Quart) slow cooker for all the recipes that I have on this website unless specified. If you have a smaller or larger slow cooker, then you might need to adjust the ingredients.
Nutrition Information
Serving Size: 139g (4.9 oz)
Servings Per Recipe: 12
Calories Per Serving: 219
Amount Per Serving
Saturated Fat: 5.8g
Trans Fat: 0.4g
Dietary Fiber: 2g
Sugars: 4g
Cholesterol: 24mg
Sodium: 496mg
Protein: 6g
The information above is an estimate generated by an online nutrition calculator.
Recipes that go with Stuffing
If you're looking for something to go along with this stuffing, then I have some excellent ideas. All of these will require an extra slow cooker if you're planning on making the stuffing at the same time.
Most roasts will go great with this stuffing, so be sure to check out our Mississippi roast recipe or for something little more traditional our beef pot roast.
Another recipe that you should try alongside the stuffing is the tasty whole chicken. It's one of my favorites as the chicken cooks to be incredibly moist and tender. It's always a hit whenever I make it.
I really hope that you enjoy this slow cooker stuffing recipe. If you have some feedback, tweaks, tips, or anything else, then please don't hesitate to leave a comment below.