A slow cooker roast lamb is the perfect way to feed a hungry crowd and can be started hours before you need it.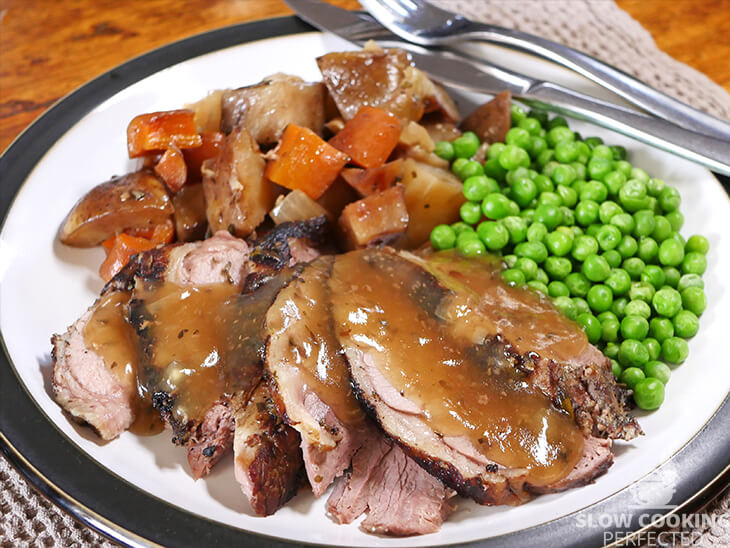 By the end of cooking, the lamb will be so tender that it's falling off the bones. It's packed with flavor thanks to the vegetables and herbs that we cook with it. It's undoubtedly a roast that I will have seconds or even thirds.
You should be able to feed roughly six to eight people from a single batch of this recipe. Making some side dishes is a great way to feed even more people without having to buy more meat. Also, don't worry if you end up with leftovers as they're great the next day.
Side Dishes to have with Roast Lamb
As with any roast, there are just hundreds of different side dishes that work great. I will just go through a couple of side dishes that I love having with this recipe.
I love making scalloped potatoes in the slow cooker as they're a delicious side dish. The result is some creamy potatoes that go perfect with a good roast like this one. I highly recommend making it if you have spare time and a spare slow cooker.
Another side dish that goes perfect with a lamb roast is some delicious bread stuffing. You can easily make it in bulk using a slow cooker, so it's perfect if you need to feed a lot of people.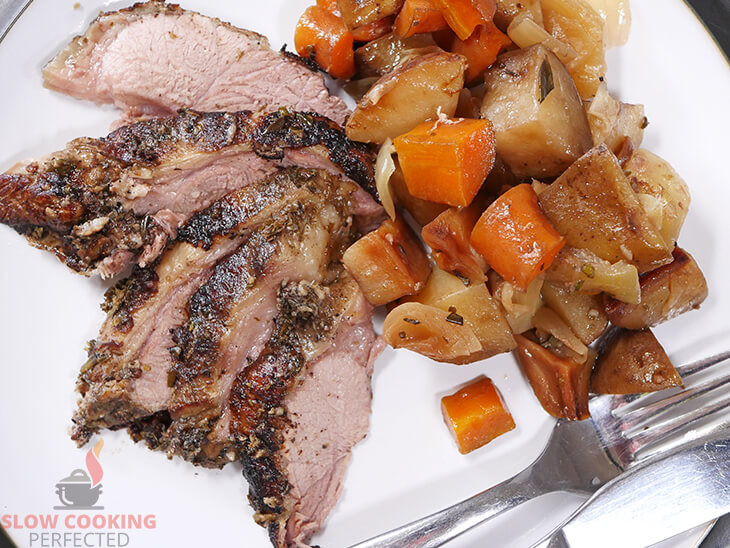 A dish that I love to have with any roast is some cheesy cauliflower. You can easily make this over the stove in just a few minutes, so it's perfect if you don't have tons of time on your hands.
Don't forget that this recipe has a lovely range of vegetables that cook with the lamb. The vegetables are packed with flavor but aren't crispy due to the way a slow cooker cooks.
There are so many more side dishes that go great with this lamb, so if you have any suggestions, we would love to hear them.
The Best cut of Lamb to use
There are several cuts of lamb that you can use for a roast. For this recipe, I made use of a leg of lamb.
You can also use the lamb shoulder in this recipe if you can't get your hands on a leg of lamb. Both are excellent cuts and will cook to be super tender and flavorsome.
Adjusting the Recipe
There are lots of different ways that you can add your own twist on this delicious roast lamb recipe.
By mixing a tablespoon of mustard and two tablespoons of honey, you can make a delicious honey mustard marinade to go with the lamb. It is perfect for infusing the lamb with even more flavor.
Another way of adding more flavor is a rosemary and paprika rub. Roughly rub three tablespoons of rosemary and a teaspoon of ground paprika into the lamb for a fantastic flavor combination.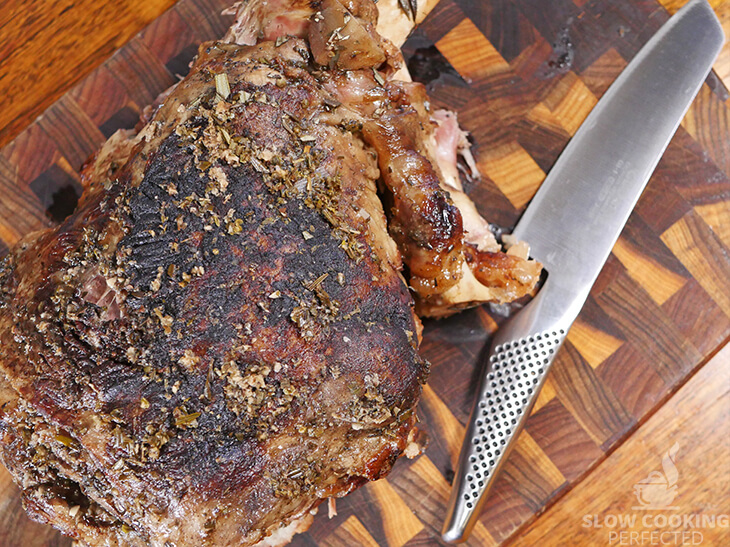 Feel free to change the type of vegetables that you add to your slow cooker. Other vegetables such as pumpkin, sweet potato, mushrooms, and even bell peppers will work nicely.
Be sure to let us know of any adjustments that you have made and work well. We love hearing your changes to this recipe.
What to do with Leftover Roast Lamb
Roasts are one of those dishes that the leftover meat comes in handy in many other recipes. Below is just a couple of examples of how I like to use the leftovers.
I love to slice the roast lamb and use it in a variety of different recipes. For example, I like to add sliced roast lamb on some homemade pizza along with a few extra ingredients. It's super delicious and I highly recommend it.
The lamb can also be cut up and used in something like a pasta dish. The sauce will help stop the meat become too dry. You can shred the leftover lamb for the best result.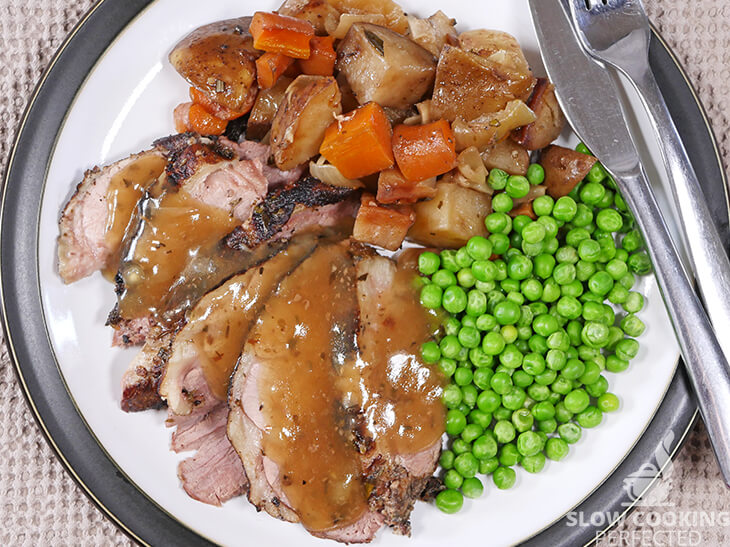 Lastly, you can simply just eat the roast lamb how you originally had it. Simply heat the vegetables and the lamb in a microwave.
Any leftovers should last in the fridge for up to roughly three days. Alternatively, you can freeze the leftovers for about three months before needing to be used.
Right below is the video and written recipe that will take you through the steps on making a roast lamb in the slow cooker.
Slow Cooker Roast Lamb Recipe
Ingredients
Roast Lamb
2 kg (4.4 lb) leg of lamb
2 tsp salt
½ tsp pepper
1 tsp garlic
2 tsp rosemary leaves
1 Tbsp oregano
½ cup chicken stock
Vegetables
2 tsp garlic, crushed
2 onions, chopped
2 carrots, chopped
4 potatoes, chopped
Instructions
Rub the salt, pepper, and garlic into the leg of lamb.
In a frypan over high heat, add 1 tbsp of oil. Once the oil is hot, brown the lamb on all sides.
Transfer the lamb to a slow cooker.
In a slow cooker, add the onion, carrots, and potatoes. Scatter the garlic across the vegetables.
Scatter the rosemary leaves, oregano over the top of the meat and vegetables. Lastly, add the chicken stock.
Cook on low for roughly 8 hours.
Serve & Enjoy.
Recipe Tips
While I highly recommend that you brown the lamb you can skip this step if you don't have the time. Just add the meat straight into the slow cooker if you decide against browning the meat.
If you have a piece of meat that is smaller than two kilograms, then you might want to consider reducing the cooking time by a couple of hours.
Not adding the vegetables is a viable option, but you do miss out on all the flavor they add to the recipe.
You can make a delicious gravy using the leftover fluids in the slow cooker. Transfer the liquid to a pot and bring to the boil. Mix two tablespoons of water and cornstarch until it's like a paste. In the pot, stir in the cornstarch mixture and wait until it's nice and thick.
Note: I use a 5.5L (6 Quart) slow cooker for all the recipes that I have on this website unless specified. If you have a smaller or larger slow cooker, then you might need to adjust the ingredients.
Nutrition Information
Serving Size: 435g (15.3 oz)
Servings Per Recipe: 8
Calories Per Serving: 564
Amount Per Serving
Saturated Fat: 11.8g
Trans Fat: 0g
Dietary Fiber: 6g
Sugars: 4g
Cholesterol: 128mg
Sodium: 733mg
Protein: 39g
The information above is an estimate generated by an online nutrition calculator.
More Slow Cooker Recipes
It's impressive just how many different types of dishes that you can make in the slow cooker. I am just going to go through a couple that I highly recommend that you try.
A slow-cooked pork loin cooks to be incredibly delicious and comes with a range of vegetables that complement the meat well. It's a super easy recipe and is perfect if you need a feed a crowd.
You will find that the spice-crusted beef brisket is as good as it sounds. The delicious spices infuse deep into the meat, adding a ton of flavor. It will cook to be incredibly tender and will just melt in your mouth. It's one of my favorite recipes, and I highly recommend it.
That's all I have to say about this slow cooker roast lamb, but I am open to hearing your thoughts. If you have anything that you would like to say, then please don't hesitate to leave a comment below.