These slow cooker scalloped potatoes are simply amazing just by themselves but work even better as a side dish.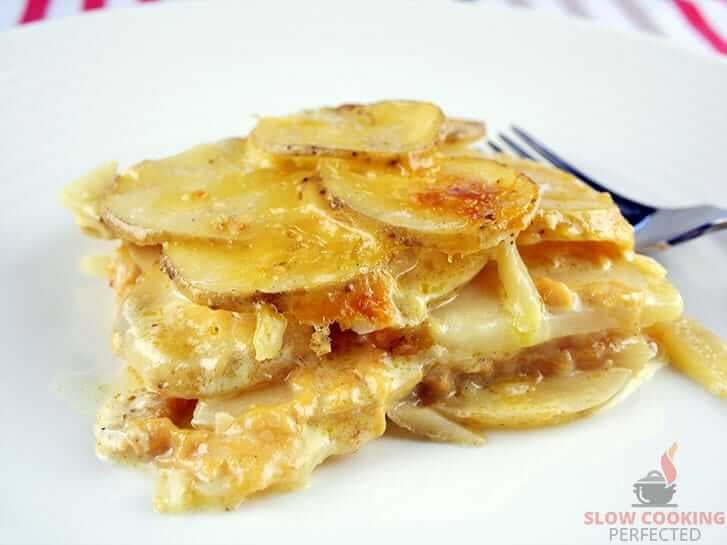 When you serve this dish, you will have layers of tender potatoes, sliced onions, lots of cheese, and a deliciously creamy sauce. It is a delicious combination that will have you coming back for seconds.
You can eat this dish on its own or as a side dish to another recipe. It is entirely up to you, but the amount of food this will create is perfect if you need to feed a crowd.
A single batch of these scalloped potatoes will feed roughly six people, but it depends heavily on the main meal.
If you do end up with any leftovers, make sure you keep them as they will last a few days in the fridge. You may find the cream will split if you reheat it in the microwave.
Perfecting this Recipe
Using a mandoline slicer is a great way to speed up the slicing of the potatoes while also getting more consistent slices. The only downside is that they can be extremely dangerous, so make sure you use the guard that comes with it. I typically slice the potatoes by hand.
Like every slow cooker recipe that is an adaptation of an oven recipe, there are some differences between the two versions. The oven cooks with dry heat, so moisture will evaporate. A slow cooker retains moisture, so there is likely to be more fluid at the end of cooking.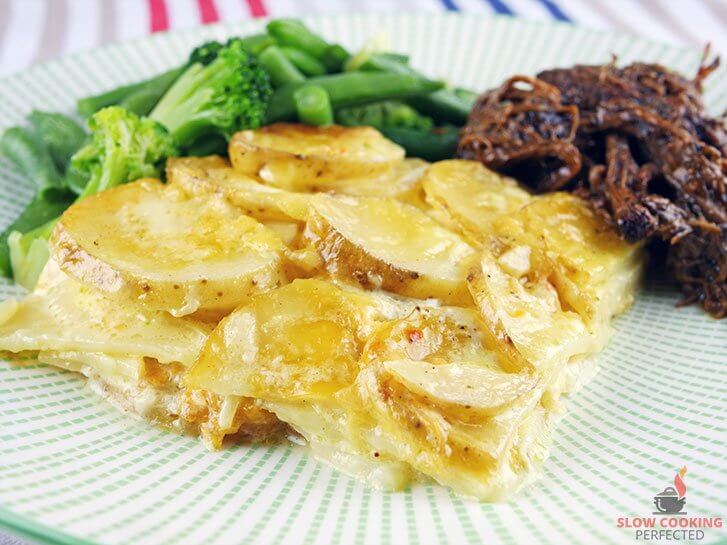 You can tinker with some of the flavors of this dish. For example, you can try changing the type of cheese we use to something like mozzarella. You could also add a bit of Dijon mustard in with the cream sauce for a delicious flavor boost.
There are many different types of potatoes around the world. If possible, I recommend using a potato such as a russet, Desiree, or something similar. You will be able to get away with using any type of potato. However, the results may vary.
If you are more of a visual person, then be sure to check out the video below. It goes through all the steps on how to make scalloped potatoes in the slow cooker. Alternatively, there is a full written recipe underneath the video.
Slow Cooker Scalloped Potatoes Recipe
Ingredients
375 ml (12.7 fl oz) heavy cream
1 tsp garlic, crushed
¼ tsp nutmeg, ground
2 tsp chicken stock powder
1 kg (2.2 lb) potatoes, thinly sliced
2 onions, thinly sliced
1 cup shredded cheddar cheese
¼ cup parmesan
Instructions
In a saucepan over medium heat, mix the heavy cream, garlic, nutmeg, and the chicken stock powder. After 1-2 minutes, remove from the heat.
In a slow cooker, layer the ingredients in the following order: sliced potatoes, onion, cheddar cheese, cream. You should get about three layers depending on the size of your slow cooker. Finish with a layer of potatoes and top with some cheddar cheese and parmesan.
Cook on high for 4 hours.
Allow to sit with the lid off for roughly 15 minutes.
Serve & Enjoy.
Recipe Tips
If you are running low on time or cannot be bothered, you can skip the layering of the ingredients. Simply mix all the ingredients in the slow cooker and cook for the same amount of time. It is important to note that it might not be as lovely as if you were to layer it.
You can cook this dish on low for eight hours, but the texture of the potatoes might not be as nice. They will be mushier and less crisp around the edges, but it should still be a great dish.
Removing the lid for fifteen to thirty minutes at the end of cooking will allow the sauce to thicken.
Heavy cream is also known as thickened cream in Australia or whipping cream in United Kingdom.
The video is a fantastic way to see how to layer this dish correctly.
Note: I use a 5.5L (6 Quart) slow cooker for all the recipes that I have on this website unless specified. If you have a smaller or larger slow cooker, then you might need to adjust the ingredients.
Nutrition Information
Serving Size: 223g (7.9 oz)
Servings Per Recipe: 6
Calories Per Serving: 325
Amount Per Serving
Saturated Fat: 11.6g
Trans Fat: 0g
Total Carbohydrate: 31.2g
Dietary Fiber: 4.8g
Sugars: 3.8g
Cholesterol: 64mg
Sodium: 303mg
Protein: 10g
The information above is an estimate generated by an online nutrition calculator.
More Slow Cooker Potato Recipes
There are so many potato dishes that you are able to make in the slow cooker. Below are a few of my favorite recipes.
Something like the cheesy hash brown casserole is the perfect alternative to this dish. It features a creamy sauce, hash browns, and a generous amount of cheese. The casserole is a little unhealthy but certainly a must-try.
Another dish that I reckon you will love is the tater tot casserole. It is loaded with seasoned ground beef, bell peppers, cheese, and a ton of tater tots. It is undoubtedly one of my favorite recipes.
I hope these slow cooker scalloped potatoes work out for you. If you have any variations, tips, feedback, or anything that you would like to say, then please be sure to leave a comment below.