Slow Cooker Breakfast Recipes
These slow cooker breakfast recipes are perfect if you're looking for a dish you can prepare the night before and have ready for eating when you wake up.
You will be surprised on the amount of breakfast dishes that you're able to cook up. One of the best things about these recipes is that you're able to feed quite a few people with them. If you have a family, housemates or several people who need feeding then these dishes are perfect.
Just some of the breakfast dishes you can cook up include French toast, oatmeal, breakfast casserole and so much more. I have plenty more recipes on the go so be sure to check back soon if you can't find anything that interests you!
If you want to stay up to date on all my latest slow cooker recipes, then be sure to either follow me on social or subscribe to the mailing list.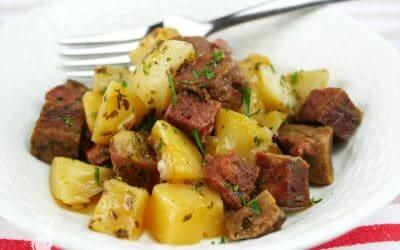 This incredible slow cooker corned beef hash is the perfect all in one dish. It has amazing chunks of potato, beef and onion. It's also got some delicious herbs such as thyme and parsley. Personally, I prefer to use fresh corned beef so I usually make some the day...
Check it out »