These slow cooker mushrooms are the perfect side dish for a full breakfast or dinner.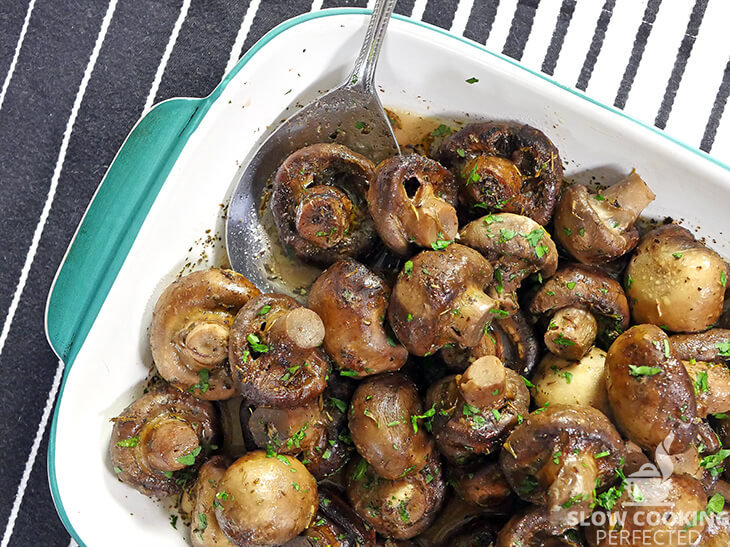 The mushrooms cook in a delicious combination of butter, garlic, white wine, and herbs. The result is some flavor-packed mushrooms that are incredibly hard to stop eating.
You will be able to feed roughly four to six people from a single batch of these mushrooms. I highly recommend that you serve them alongside a meal. I have a few ideas on what you can do. This recipe can easily be doubled or tripled if you need to feed more people.
The leftover mushrooms are great reheated, so make sure you do not throw them out. I love to use them in other meals such as in pasta sauces or casseroles. They should keep for a few days in the refrigerator.
Meals that go Great with Garlic Mushrooms
There are lots of slow cooker meals that will work nicely with these garlic mushrooms. The only downside is that you will need multiple slow cookers.
A delicious slow-cooked roast is excellent with these mushrooms on the side. Personally, I would cook something like the roast lamb as I usually have great results. However, some of our other roast recipes are pretty good as well.
The Swiss steak has a delicious red wine and tomato sauce that matches the beef perfectly. It is a delicious dish and will need a side dish to go with it. I believe these mushrooms are the perfect match.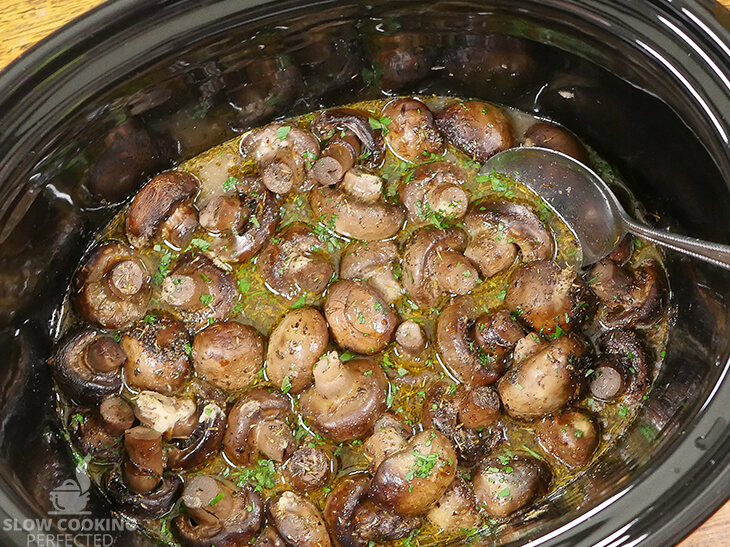 Another dish that you should try is corned beef. It is a delicious piece of beef cooked in a variety of ingredients. You will likely need some side dishes, so this recipe is perfect. I reckon some scalloped potatoes will also work very nicely.
The last recipe that I am going to recommend is the chicken parmesan. It features crumbed chicken, tomato sauce, and a generous amount of cheese. These mushrooms are the perfect side dish to have alongside the chicken.
Be sure to let us know of any meals that match these slow cooker garlic mushrooms perfectly.
Personalizing the Recipe
There are a lot of little tweaks that you can do to this recipe. Below are a couple of ideas.
The wine that I use in this recipe is entirely optional and does not need to be added. On the flip side, if you prefer the flavors of red wine, you can easily use it instead of the white wine.
There are hundreds of different types of mushrooms in the world. To keep things basic, I made use of some button mushrooms. Other mushrooms such as baby Bellas, beech, or chestnut mushrooms will also work.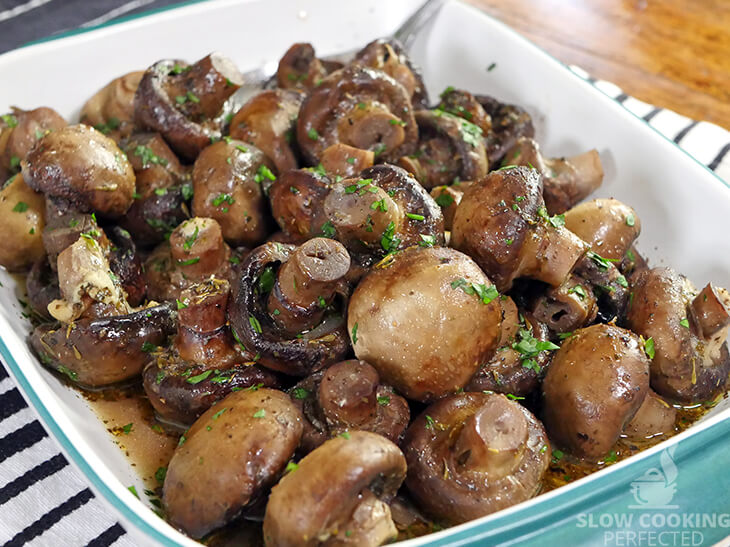 To make these mushrooms creamy, simply add half of a cup of cream towards the end of cooking. You may also want to thicken the liquid using a mixture of cornstarch and water. It is an absolutely delicious tweak to this recipe.
I love to keep things basic, but feel free to add some additional ingredients. Some diced onions are an excellent addition to this side dish and will add even more flavor. For a bit of heat, you can add some crushed red pepper flakes. Feel free to experiment a little.
The video below will take you through all you need to know for making garlic mushrooms in the slow cooker. Alternatively, the full written recipe is immediately below the video.
Slow Cooker Mushrooms
Ingredients
750 g (1.7 lb) fresh whole mushrooms, cleaned
100 ml (3.4 fl oz) white wine
125 g (4.4 oz) unsalted butter, cubed
1 Tbsp garlic, minced
1 tsp basil
1 tsp thyme
1 tsp oregano
1 tsp salt
1 Tbsp fresh parsley, chopped
Instructions
Place the mushrooms and wine into the slow cooker.
Scatter the butter, garlic, basil, thyme, oregano, and salt across the mushrooms.
Cook on low for 3 hours.
Sprinkle fresh parsley over the top of the mushrooms.
Serve & Enjoy.
Recipe Tips
If your mushrooms are large, then you may want to slice them in half or quarters. The larger the mushroom, the longer they may take to cook.
Stirring the mushrooms midway through cooking will help ensure they all get coated in the herbs and garlic.
Note: I use a 5.5L (6 Quart) slow cooker for all the recipes that I have on this website unless specified. If you have a smaller or larger slow cooker, then you might need to adjust the ingredients.
Nutrition Information
Serving Size: 166g (5.9 oz)
Servings Per Recipe: 6
Calories Per Serving: 135
Amount Per Serving
Saturated Fat: 7.2g
Trans Fat: 0g
Dietary Fiber: 1g
Sugars: 3g
Cholesterol: 22mg
Sodium: 403mg
Protein: 5g
The information above is an estimate generated by an online nutrition calculator.
More Side Dish Recipes
There are plenty more side dishes that you can do in the slow cooker. Below is a couple that I reckon you will love.
The butter and herb baby potatoes are a side dish that you have got to try. After a few hours of slow cooking, you will have tender potatoes that are loaded with flavor. It is certainly, a must-try recipe.
If you plan on cooking a massive breakfast, then the homemade baked beans are another dish that is worth making. You get some incredible flavors, thanks to the selection of ingredients. I highly recommend giving them a try.
I hope that you like these slow cooker mushrooms as much as I do. If you have some feedback, tips, or anything else, then please do not hesitate to leave a comment below.