This slow cooker swiss steak recipe produces delicious tender pieces of meat in a rich flavor-packed sauce. If you're looking for a dish that will impress, then look no further.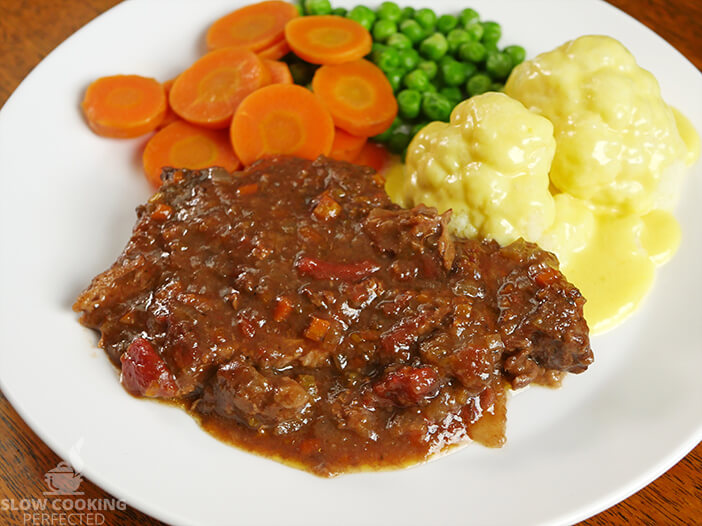 Despite the name, this dish doesn't actually originate from Switzerland. It instead refers to the swissing method of tenderizing the meat by pounding or rolling. It is also sometimes referred to as smothered steak.
You can find swiss steak is usually cooked with some rich stewed tomatoes or in a gorgeous mushroom sauce. There are also other sauces that you can cook it in, but these two are the popular types. For this recipe, I will be doing a delicious tomato sauce.
Sometimes Swiss steak is mistaken for Salisbury steak, but they're actually very different dishes. One uses steak, and the other uses ground beef. The sauces are often very different with one being a gravy and this one being a tomato sauce.
Best Cut of Beef for Swiss Steak
As with almost any slow cooker recipe, I recommend using a cut of beef such as chuck, round, blade, or brisket. These cuts may go by different names depending on where you live. Usually, any cheap cut of beef will work fine.
You will need to pound the meat using a meat tenderizer for this recipe. However, you can skip this step by purchasing some thin steaks rather than thick. I recommend using thick steaks for the best results.
The long cooking time helps tenderize the meat to the point it should almost be falling apart. The meat will also take on all the flavors of the lovely sauce we cook it in.
Swiss Steak Side Dishes
There are plenty of different side dishes that you can have with swiss steak. A lot of people love to have it with some just some basics such as peas and carrots.
I love to have swiss steak with some creamy mashed potato some homemade chips, or even cauliflower cheese. Be sure to let us know your favorite sides.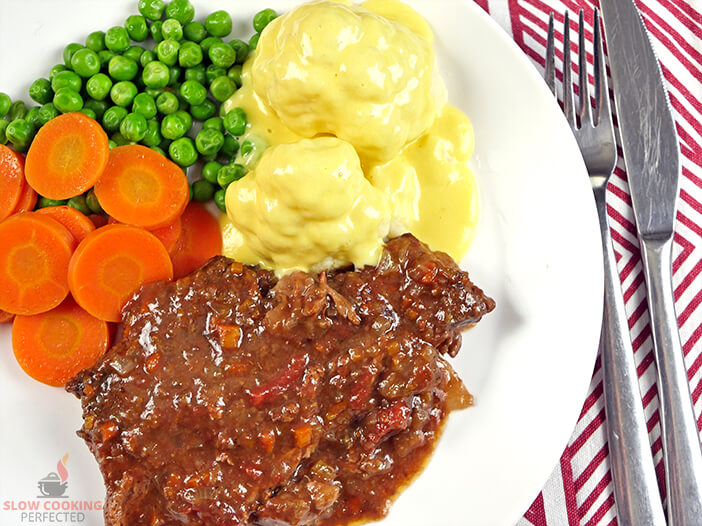 What to do with any Leftovers
Leftovers of this delicious swiss steak dish are great for lunch or dinner the next day. I just keep my leftovers in the fridge then heat in the microwave.
You can also freeze the leftovers if you don't think you're going to eat it within a couple of days.
As with all my slow cooker recipes, you can find a video below that will take you through all the steps to making this tasty dish. Right underneath the video is the full recipe.
Slow Cooker Swiss Steak Recipe
Ingredients
Steak
1 kg (2.2 lb) chuck steak
½ cup plain flour
1 tsp salt
¼ tsp black pepper, ground
Sauce
½ cup red wine
1 onion, diced
1 tsp garlic
1 celery stalk, diced
1 carrot, diced
1 tsp oregano
1 Tbsp Worcestershire sauce
400 g (14.1 oz) crushed tomatoes
½ cup beef stock
Instructions
Tenderize each piece of steak by using a meat tenderizer.
In a bowl, combine the flour, salt, and pepper. Lightly coat the steaks in the flour.
In a frypan over high heat, add 1 Tbsp of oil. Once hot, add the steaks and cook each side for a couple of minutes. Place steaks to the side.
In the same frypan, add the red wine and deglaze the pan.
Transfer the red wine to the slow cooker and add the onion, garlic, celery, carrot, oregano, Worcestershire sauce, crushed tomatoes, and beef stock. Gently stir until combined.
Add the steaks and cover with the sauce.
Cook on low for 8 hours or until the meat is tender.
Serve & Enjoy
Recipe Tips
If you want to make this recipe gluten-free, then use gluten-free plain flour and use Worcestershire sauce.
The crushed tomatoes can be swapped for fresh tomatoes.
You may need to thicken the sauce further with some cornstarch and water. Simply mix one tablespoon of water with one tablespoon of cornstarch and mix into the sauce.
Mushrooms are an excellent addition to the sauce if you feel like having them. Feel free to add other vegetables as well.
Any type of beef steak will work fine for this recipe. I recommend using a tougher cut of meat since we will be slow cooking it for a long time. It will cook to tender and delicious.
Browning the steaks, but you're able to skip the step. I would still coat them in the flour as this helps thicken the sauce.
Note: I use a 5.5L (6 Quart) slow cooker for all the recipes that I have on this website unless specified. If you have a smaller or larger slow cooker, then you might need to adjust the ingredients.
Nutrition Information
Serving Size: 323g (11.4 oz)
Servings Per Recipe: 6
Calories Per Serving: 318
Amount Per Serving
Saturated Fat: 4.7g
Trans Fat: 0.6g
Dietary Fiber: 2g
Sugars: 5g
Cholesterol: 115mg
Sodium: 715mg
Protein: 39g
The information above is an estimate generated by an online nutrition calculator.
Other Recipes to Try
There are plenty of other beef dishes that you should try. If you want something a little more Asian inspired, then you should try the Mongolian beef. It's an absolute favorite and very popular.
If you like this style of beef, then you're probably going to love the pepper steak recipe for the slow cooker. It's similar but also very different as it's got a bit of soy, bell peppers and much more. I highly recommend checking it out.
I absolutely love this slow cooker swiss steak recipe, and I hope that you do too. If you have some thoughts, feedback, or anything else that you would like to say, then please don't hesitate to leave a comment below.