This slow cooker beef bourguignon is a stew that has an incredible aroma and even better flavors.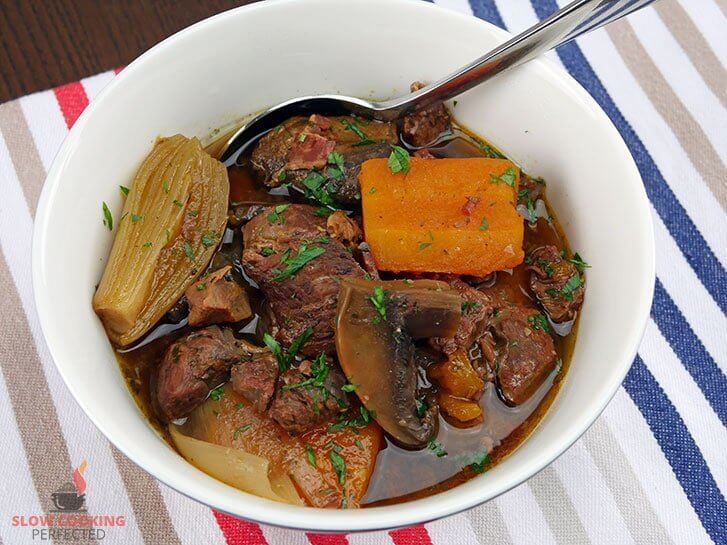 After hours of cooking, this delicious stew will have some incredibly tender beef and flavor-packed vegetables. The stew has strong flavors of red wine backed by a delicious combination of beef stock and herbs. It is truly a delicious slow cooker meal.
This stew is best cooked for a long time, so if you need a dish faster than eight hours, you might want to take a look at some other slow cooker recipes that require less time. You can try cooking this on high, but the beef might not be as tender and delicious.
A single batch of this beef bourguignon should feed roughly eight people. Some additional side dishes will help feed even more people. It is also a super easy recipe to double or triple if needed.
If you are looking for food to cook and freeze for later, then this stew is perfect. Store the stew in serving size containers so you can quickly reheat later. It makes for a super easy lunch or a quick dinner. It will last a few days in the fridge, so make sure you do not throw out leftovers.
Perfecting the Recipe
Below are a couple of tips on how you can ensure that this recipe will be as good as possible.
It is best to use a tough cut of beef whenever it comes to slow cooking, as it will eventually cook to be tender. The best part of using a tough cut of beef is that it is often cheaper and more flavorsome. Feel free to use chuck, rump, brisket, flank, or skirt.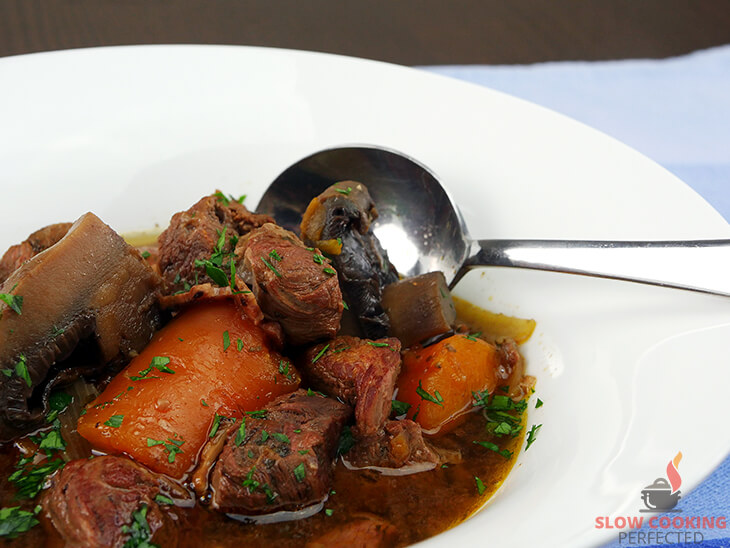 I recommend using a cheaper wine for this dish as you do not gain much from using an expensive one. A lot of the wine's flavor will be hidden by the beef, vegetables, and other ingredients that we add.
You can bulk out this stew by adding some potatoes. If you have large potatoes, make sure you cut them into quarters. If you leave them whole, they might not cook entirely and be hard to eat and not very appetizing.
What to Serve with Beef Bourguignon
There are so many side dishes that work well with a good beef bourguignon. Below are a couple of ideas that will work nicely.
For something that will feed a crowd, you should take a look at the mashed potatoes. This delicious stew is perfect in a bowl with a generous serving of mashed potatoes. It is a delightful combination.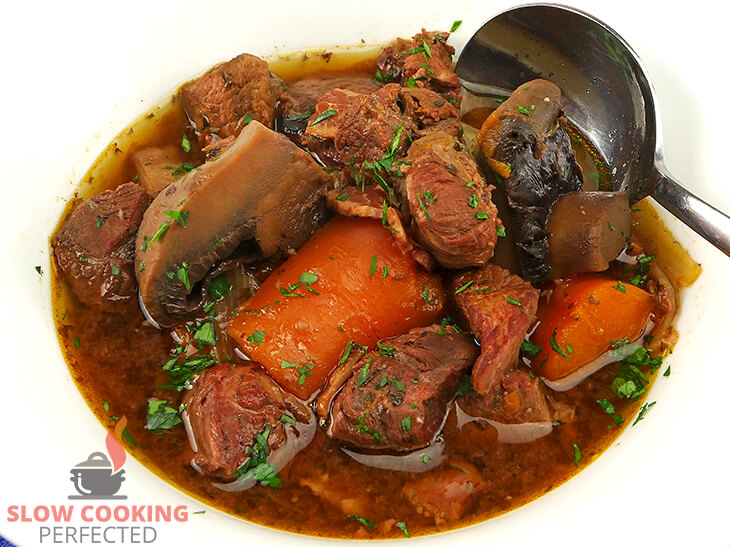 Some fresh bread is great to dip into the flavor-packed liquid. I love soaking up all the flavors of the stew. It is also a perfect way to feed more people without much extra preparation.
If you want to see how to make beef bourguignon in the slow cooker, then be sure to check out the video below. Alternatively, you can find the full written recipe right below the video.
Slow Cooker Beef Bourguignon Recipe
Ingredients
1 kg (2.2 lb) chuck beef, cubed
6 rashers bacon, diced
5 shallots, peeled & halved
2 tsp garlic, crushed
3 carrots, peeled and cut into chunks
300 g (10.6 oz) mushrooms, quartered
1 tsp thyme
2 bay leaves
1 Tbsp tomato paste
1 Tbsp fresh parsley, diced
2 cups red wine
2 cups beef stock
Instructions
Firstly, fry the bacon in a frypan over medium heat until it is crispy. Once it is crispy, put it to the side.
Next, sear the beef over high heat.
Once the beef is browned, remove from the pan and add the red wine. Scrape the bottom of the pan as the wine simmers, this is called deglazing. After 2-3 minutes, transfer the red wine to a slow cooker.
Add the beef to the slow cooker and add the rest of the ingredients, mix together.
Cook on low for 8-12 hours.
Season with salt and pepper.
Serve & Enjoy.
Recipe Tips
You do not have to seal the beef in the frypan, but I highly recommend doing it if you have the time.
By deglazing the pan with the red wine, you help get even more flavor into the dish while reducing the acidity of the wine.
Note: I use a 5.5L (6 Quart) slow cooker for all the recipes that I have on this website unless specified. If you have a smaller or larger slow cooker, then you might need to adjust the ingredients.
Nutrition Information
Serving Size: 340g (12 oz)
Servings Per Recipe: 8
Calories Per Serving: 416
Amount Per Serving
Saturated Fat: 5.6g
Trans Fat: 0g
Dietary Fiber: 1.1g
Sugars: 2.5g
Cholesterol: 132mg
Sodium: 736mg
Protein: 47.4g
The information above is an estimate generated by an online nutrition calculator.
More Slow Cooker Beef Recipes
There are so many different beef stews that you can do in the slow cooker that is not beef bourguignon.
One of my favorite stews is a Hungarian inspired slow cooker goulash. It is full of flavor thanks to its delicious blend of spices.
I also believe you will love the slow cooker beef stew. It is loaded with a huge amount of vegetables and meat. The stewing liquid is a blend of beef stock, red wine, tomato paste, and Worcestershire sauce.
I hope that you enjoy this incredible slow cooker beef bourguignon and that it was easy enough to prepare and get cooking. If you have feedback, then please don't hesitate to leave a comment below.