This incredible slow cooker Mongolian beef is bound to be a hit at home and is so easy to prepare.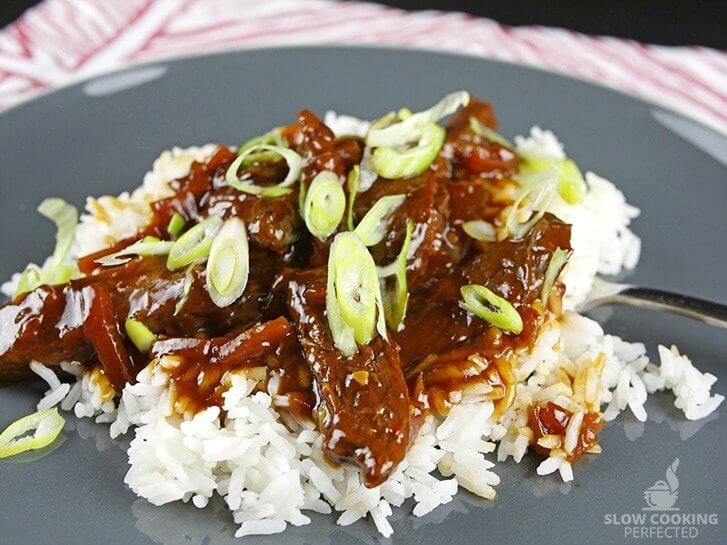 By the time you pull the beef out of the slow cooker, it will be incredibly tender and coated in an incredibly delicious sauce. The sauce has some serious flavor thanks to the hoisin, chili, garlic, ginger, and soy sauce. I always end up having seconds of this dish.
You will roughly be able to feed four people from a single batch of this dish. I highly recommend that you make some side dishes to go with the beef.
The leftovers of this dish are certainly worth keeping as they will reheat nicely. Just make sure you store them in an airtight container in the fridge. You could also freeze the leftovers.
The dish will last for a few days in the refrigerator. However, I would be careful about keeping leftover rice as it can spoil quite fast, especially if it's at room temperature for too long.
Best Cut of Beef to Use
You can use a tough cut of beef since you will be cooking it for a long time. Using a tough piece of beef will save you money, and the result will still have a ton of flavor.
I recommend using cuts of beef such as rump, chuck, brisket, or blade. These might go by different names depending on where you live. Typically, the cheaper the meat is, the tougher it will be.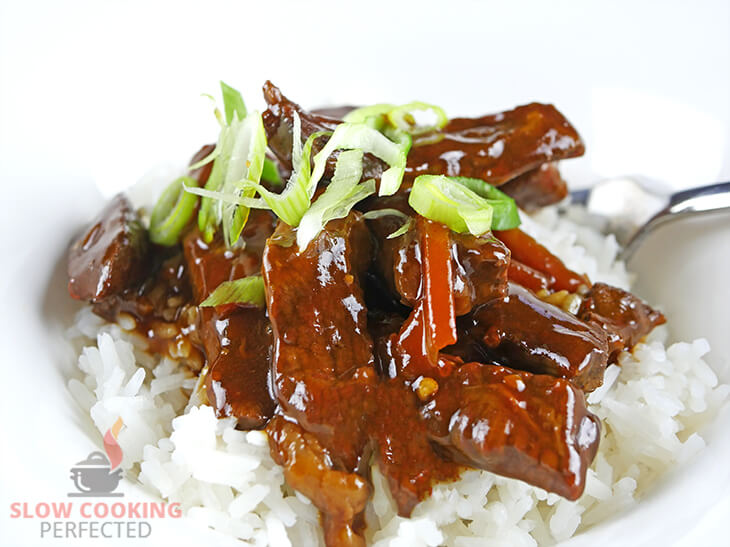 Do not worry about the meat being tough as by the time it is ready to eat, the meat will be very tender.
What to Serve with Mongolian Beef
There are several different ways you can serve this delicious beef dish. Below are a couple of ideas on what you can do.
As shown in the photos, I love to serve this beef dish on top or next to some freshly cooked rice. For the best results, make sure that you cook it on the stove or in a rice cooker.
Some steamed greens are excellent as a side dish to beef and rice. I love to do a combination of some broccoli and snow peas. However, do whatever you like best.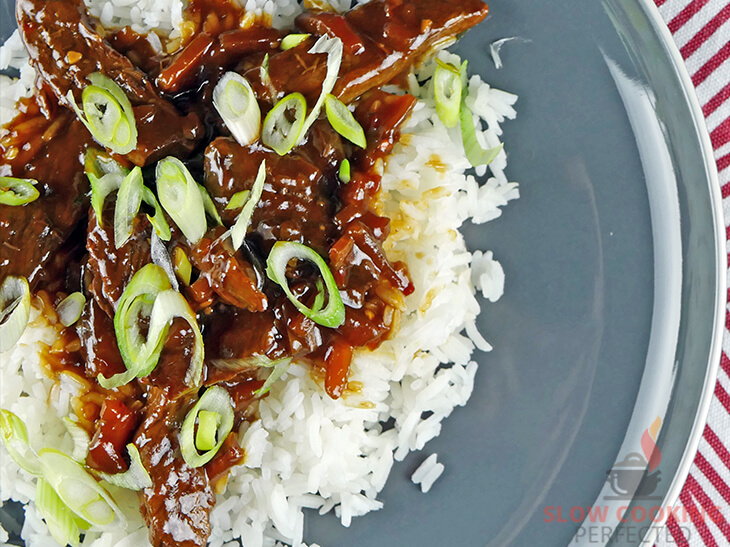 Another side dish that will work nicely with the flavors of this dish is mashed potatoes. You can make it in a slow cooker if you happen to have a spare one. Alternatively, you can make it over the stove.
If you want to see how to prepare this delicious Mongolian beef in the slow cooker, then be sure to check out the video below. Alternatively, you can check out the full written recipe right below.
Slow Cooker Mongolian Beef Recipe
Ingredients
500 g (1.1 lb) beef, sliced
1 tsp garlic, crushed
1 tsp ginger, minced
1 tsp red chili flakes
1/2 cup low sodium soy sauce
¾ cup beef stock
¼ cup brown sugar
¼ cup hoisin sauce
1 cup carrots, sliced or grated
Thickener
2 Tbsp cornstarch
2 Tbsp water
Instructions
Add the beef, garlic, ginger, red chili flakes, soy, beef stock, brown sugar, hoisin, and the carrots to the slow cooker.
Cook on low for 6-8 hours or on high for 4 hours.
Fifteen minutes before you go to serve, mix the cornstarch with 2 tablespoons of water. Once well combined, mix into the slow cooker and allow to cook for 15 minutes.
Serve & Enjoy.
Recipe Tips
As I mentioned above, make sure you use a tough piece of beef for the best results.
If you do not like your food spicy, then leave the chili flakes out. The chili will give the dish a bit of heat but not enough to have you grabbing the nearest glass of water.
Try to avoid full sodium soy sauce as you may find the dish a bit too salty for your liking if you end up adding it. If regular soy is all you have, then half the amount and make up for the missing amount with some water.
For the best results, use beef stock instead of just plain water. You can use powdered, fresh, carton, or any other type of beef stock that you have around. It does not matter what type you go with, so do not worry about changing the amount you use.
If you love things on the sweeter side, you can try increasing the amount of brown sugar to three-quarters of a cup.
You can leave hoisin out of the sauce, but it is an essential ingredient for getting the best experience of this dish.
Note: I use a 5.5L (6 Quart) slow cooker for all the recipes that I have on this website unless specified. If you have a smaller or larger slow cooker, then you might need to adjust the ingredients.
Nutrition Information
Serving Size: 267g (9.4 oz)
Servings Per Recipe: 4
Calories Per Serving: 351
Saturated Fat: 3.1g
Trans Fat: 0g
Total Carbohydrate: 25.6g
Dietary Fiber: 1.5g
Sugars: 15.1g
Cholesterol: 112mg
Sodium: 1572mg
Protein: 40.9g
The information above is an estimate generated by an online nutrition calculator.
More Slow Cooker Beef Recipes
There are so many different types of beef dishes that you can cook in the slow cooker. Beef is the perfect meat for cooking for long periods as it will come out deliciously tender.
The beef goulash is a delicious stew that is packed with vegetables and tender chunks of beef. Indeed a tasty dish for the winter.
Another beef dish that I reckon you will love is the teriyaki beef. The beef cooks to be deliciously tender and will be coated in one of the most amazing teriyaki sauces I have ever tried. I highly recommend giving it a try.
I hope this slow cooker Mongolian beef cooks to be amazing and full of flavor, just like it was for me. If you have any feedback, tips, or a variation that you would like to share, then please do not hesitate to leave a comment below.