This delicious slow cooker Mongolian chicken is loaded with flavor and is always a huge hit.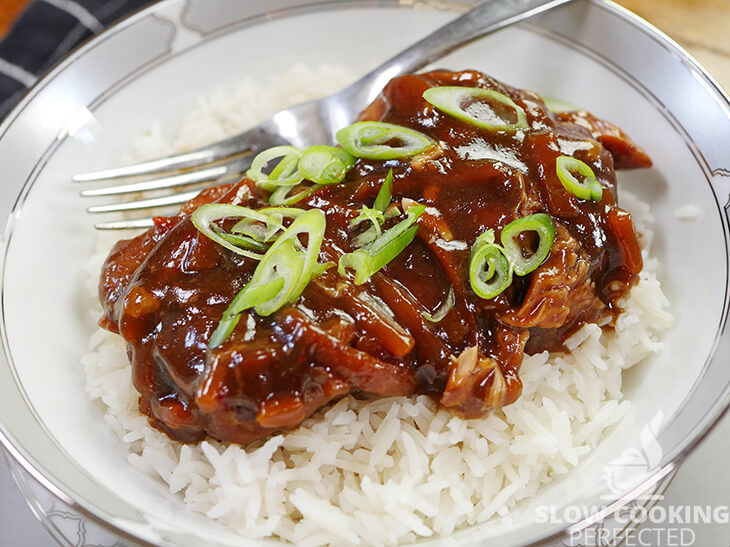 By the time this dish is ready to eat, the chicken will be tender and loaded with flavor from the Mongolian sauce. The sauce has lovely flavors from the garlic, ginger, soy, and hoisin sauce. It also has a little bit of heat, thanks to the red chili flakes.
This dish originated out of China but is now very popular throughout the world. You can make it at home, or you can typically buy it from a good Chinese restaurant.
Traditionally this recipe is made with beef, but there is no reason why you can't use chicken. To be honest, I think both versions taste delicious, and it just comes down to what type of meat you prefer.
What to Serve with Mongolian Chicken
There are a lot of different accompaniments that go great with Mongolian chicken. I am just going to mention a few ideas of what you can serve with this dish.
Rice is probably the best accompaniment for this dish as the two matches perfectly. Most types of rice will work nicely, such as Jasmine, basmati, or even brown rice.
Noodles also go great with this delicious dish. There is a wide range of noodles to pick from, such as Hokkien, Chinese vermicelli, rice noodles, and much more. I would pick any of the three I mentioned, but it really comes down to what you prefer.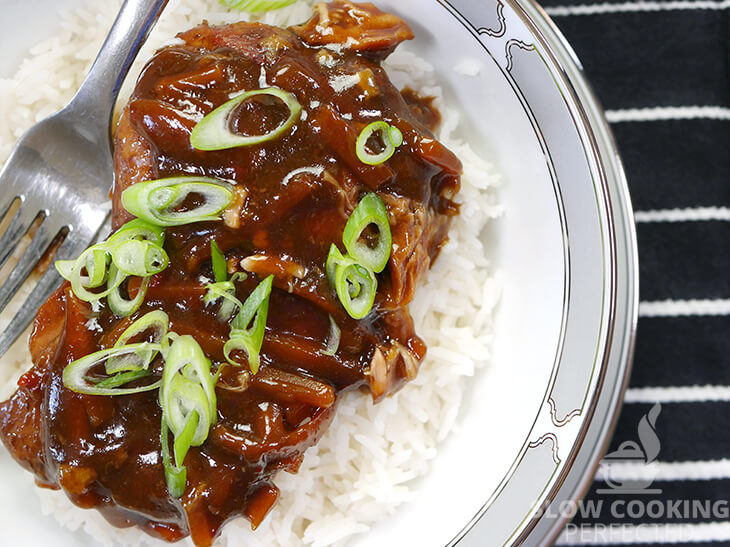 Stir-fried vegetables or fried rice is another excellent side dish for this chicken dish. It depends on how much time you have as either of these requires a fair bit more time in the kitchen.
If you want to break away from the traditional side dishes, then you can try cooking some mashed potato to go with this dish. It weirdly works and is perfect if none of the other ideas work nicely.
Be sure to let us know of anything that you like to serve with this dish. I am always interested in hearing about your improvements to this recipe.
Adjusting the Recipe
You can make some slight adjustments to this recipe if you want to. I like the recipe without any changes, but here are a couple of suggestions anyway.
You can adjust the sauce in many different ways. For example, you can add a little bit more sugar if you want it to be sweeter. Another example is reducing or removing the chili so that it isn't as spicy.
Vegetables are an excellent addition and are a great way to feed more people without spending too much money. Something like broccoli, sliced onion, bell pepper, or sugar snaps will work perfectly in this dish. If you want the vegetables to be crunchy, add them for the last hour of cooking.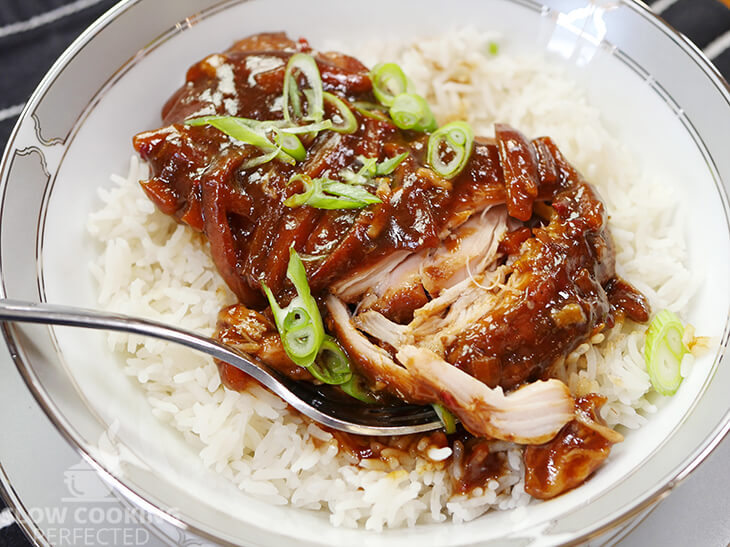 Chicken thigh is my recommendation for slow cooking as it is less prone to overcooking than other cuts. However, you can still use chicken breast or chicken drumsticks in this dish if you wanted to. You might want to shred the meat, so it gets coated in as much sauce as possible.
You will need to thicken the sauce slightly. I recommend two tablespoons of cornstarch, but you might find that it isn't thick enough. Be careful about adding too much as the sauce will just turn super thick and not be particularly nice.
There are lots more ways you can personalize this recipe, so if you have any suggestions, be sure to leave a comment at the bottom of this page.
Keeping the Leftovers
You will rarely have leftovers as this dish is super delicious and will be devoured in minutes. However, if you do end up with leftovers, they're great for lunch or dinner the next day.
The leftovers should last for roughly three days in the refrigerator or six months in the freezer. I recommend storing it in an airtight container so it will maintain the best quality for as long as possible.
I have put together a video that will take you through the steps on how to make Mongolian chicken in the slow cooker. If you prefer a written recipe, then immediately beneath the video is the full recipe.
Slow Cooker Mongolian Chicken Recipe
Adblock removing the video? Support us by going ad-free or whitelist us in your ad-blocker.
Ingredients
750 g (1.7 lb) chicken thigh
1 tsp garlic, crushed
1 tsp ginger, minced
2 carrots, sliced
½ tsp red chili flakes
4 Tbsp soy sauce
4 Tbsp brown sugar
4 Tbsp hoisin sauce
250 ml (8.5 fl oz) chicken stock
To Thicken
2 Tbsp cornstarch
2 Tbsp water
Instructions
Add all the ingredients into the slow cooker except for the cornstarch and water.
Cook on low for 6 hours.
Remove the chicken from the slow cooker.
Mix the cornstarch and water until it forms a paste. Pour into the slow cooker and stir until combined.
Return the chicken to the slow cooker.
Cook for a further 30 minutes or until hot and thick.
Serve & Enjoy.
Recipe Tips
To ensure that this recipe is gluten-free, make sure you use a gluten-free version of soy sauce, cornstarch, and hoisin sauce.
I recommend leaving the chili flakes out of the sauce if you don't like even the littlest of spice in your food.
You can swap the chicken thigh for chicken breast or even drumsticks. They will all go well with the Mongolian sauce.
The carrots aren't hugely important, so they can be left out. They do help add a bit of flavor to the sauce and add something extra to eat.
Doubling the brown sugar is a great way to sweeten the sauce. I only recommend doing this if you have a bit of a sweet tooth.
Note: I use a 5.5L (6 Quart) slow cooker for all the recipes that I have on this website unless specified. If you have a smaller or larger slow cooker, then you might need to adjust the ingredients.
Nutrition Information
Serving Size: 338g (11.9 oz)
Servings Per Recipe: 4
Calories Per Serving: 398
Saturated Fat: 2.9g
Trans Fat: 0g
Dietary Fiber: 2g
Sugars: 19g
Cholesterol: 179mg
Sodium: 803mg
Protein: 41g
The information above is an estimate generated by an online nutrition calculator.
More Slow Cooker Recipes
We have lots more Asian-inspired slow cooker recipes that are worth making. I will mention a couple that I highly recommend that you give a try.
The slow-cooked pork belly has crunchy skin along with tender meat that will melt in your mouth. It has an accompanying honey soy glaze that adds a ton of flavor. I highly recommend giving this dish a try.
Another dish that I love recommending is beef and broccoli. It has a wonderful sauce that will have you going back for seconds or even thirds. It's one of my favorite dishes and it is so easy to make.
I hope that you enjoy this slow cooker Mongolian chicken as much as I did. If you have any feedback, then please don't hesitate to leave a comment below.