This slow cooker satay chicken reaffirms my love for satay. It has a rich, lovely sauce that has a slight bit of spice and a wonderful peanut flavor.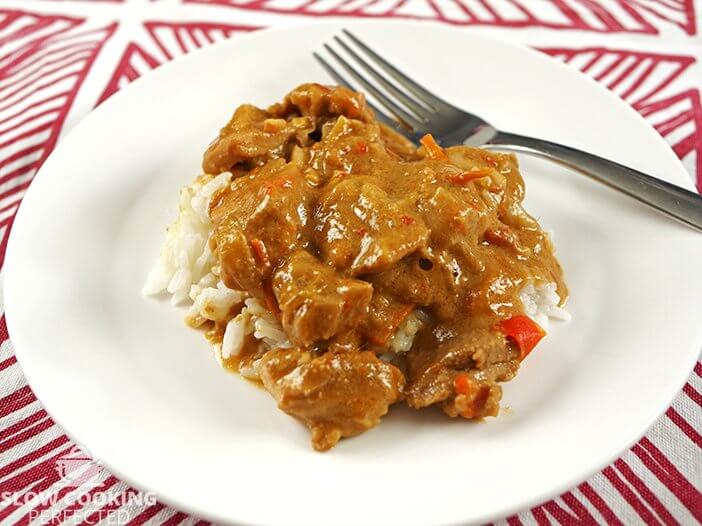 The sauce of this dish is so delicious I could eat it by itself. It's a simple combination of ingredients, but it works so incredibly well.
You can make some variations to the sauce so that it is perfect for your taste buds. For a couple of ideas on what to change, be sure to check out the cooking tips further down the page.
Satay or sate is part of Indonesian cuisine and traditionally served on a stick. This slow cooker recipe takes the traditional dish and puts a bit of a twist on it by removing the sticks and tweaking the ingredients slightly.
You can make this satay dish with beef instead. There are a few changes that you will need to make so that the beef version is just as good as this one.
What goes Great with Satay Chicken
If you need to feed a crowd, then you will need some sides to go with this dish.
I love having satay food with some freshly cooked rice. For the best results, you will need to cook the rice in a rice cooker or over the stove. Alternatives to rice include having it with some noodles instead.
If you have the energy, then you can try making some naan bread to go with the satay and rice. You can make the naan bread gluten-free, making it perfect if you're cooking for people with dietary restrictions.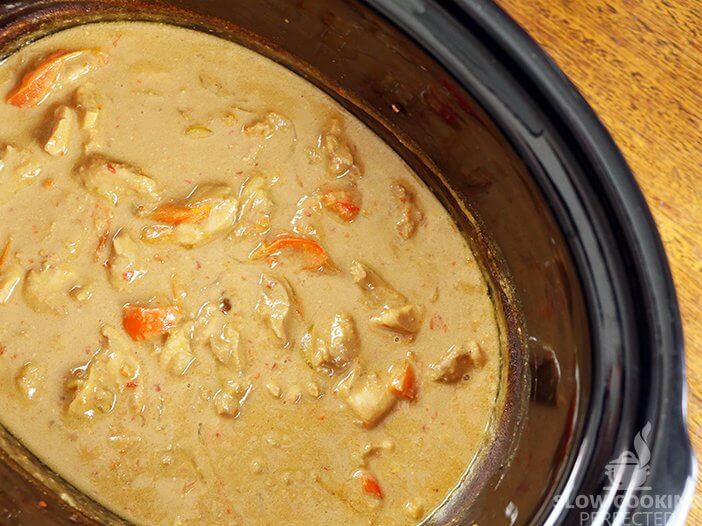 For something a little different, you can serve this satay chicken with mashed potatoes or even mashed sweet potatoes. Both are excellent options and are a great way to feed a crowd.
You can serve the satay as part of a larger meal. For example, you can make some tortilla wraps where the filling is the satay chicken. You can also add some accompaniments into the wrap, such as lettuce or an Asian style coleslaw.
There are lots of different side dishes that will go great with this dish, so be sure to let us know if you have any recommendations.
Altering the Satay Chicken Recipe
There are lots of ways that you can change this satay chicken recipe to make it better suited to your taste buds. Below are just a couple of examples.
More peanut butter can be added for a bit more flavor and a thicker sauce. Be careful as adding too much may result in the dominant flavor being peanut butter, which isn't the worst thing in the world if you love peanut butter.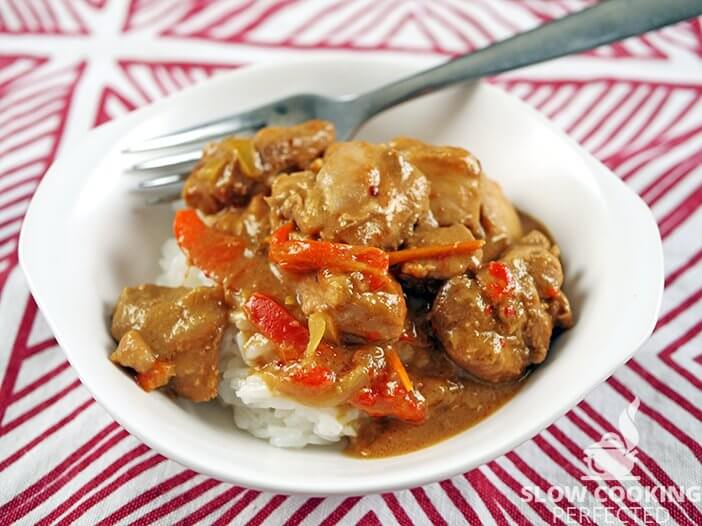 You can add even more vegetables into the satay mixture. Vegetables such as broccoli, green beans, sugar snaps, or bell peppers are excellent additions. Make sure you add any green vegetables towards the end so that they will not overcook.
If you stumble across a tweak to the recipe that works really well, then be sure to let us know by leaving a comment at the bottom of this page.
Leftovers & Dessert
The leftovers of this slow cooker satay chicken are great for lunch the next day. Simply heat and serve with some freshly cooked rice for the tastiest leftover dish ever.
You can store the leftovers in either the refrigerator or the freezer. This dish should last roughly three days in the fridge or six months in the freezer.
If you're after a dessert to have after this satay dish, then I highly recommend you try the apple crisp. It's sweet, delicious, and is a great way to finish this delicious meal.
I have put together a video on how to make this delicious satay chicken recipe in the slow cooker, so be sure to check it out below. Alternatively, you can find my full written recipe right underneath the video.
Slow Cooker Satay Chicken Recipe
Ingredients
500 g (1.1 lb) chicken thigh, cubed
2 tsp peanut oil
1 onion, sliced
1 red bell pepper, thick slices
1 tsp garlic, minced
1 tsp ginger, crushed
1 tsp red chili flakes
2 tsp brown sugar
1 Tbsp soy sauce
6 Tbsp peanut butter
½ cup coconut milk
½ cup chicken stock
Instructions
Add all the ingredients into a slow cooker and mix slightly.
Cook on low for 8 hours.
Season to taste.
Serve & Enjoy
Recipe Tips
You can use any cut of chicken for this dish. With that said, I highly recommend that you use chicken thigh as it won't dry out as much as chicken breast. Another option is to use chicken drumsticks.
The chili flakes add a bit of depth to the dish but can be left out if you're a bit sensitive to spicy food.
If you find the sauce is a little too runny towards the end of cooking, you can either thicken it using more peanut butter or use a cornstarch mixture. For the cornstarch mixture, simply combine water and cornstarch until it forms a paste then mix into the sauce.
Note: I use a 5.5L (6 Quart) slow cooker for all the recipes that I have on this website unless specified. If you have a smaller or larger slow cooker, then you might need to adjust the ingredients.
Nutrition Information
Serving Size: 252g (8.9 oz)
Servings Per Recipe: 4
Calories Per Serving: 416
Amount Per Serving
Saturated Fat: 10g
Trans Fat: 0g
Dietary Fiber: 3g
Sugars: 7g
Cholesterol: 118mg
Sodium: 424mg
Protein: 33g
The information above is an estimate generated by an online nutrition calculator.
More Chicken Slow Cooker Recipes
There are many other chicken recipes that you should try cooking in the slow cooker.
For example, I love making salsa chicken. Its chicken cooked with salsa and topped with a few handfuls of shredded cheese.
The curries that you can make in the slow cooker are well worth trying. If you love a bit of spice, then you're going to enjoy some of the chicken curries that you can do. I highly recommend making the peanut chicken curry.
I highly recommend trying this slow cooker satay chicken as you're likely to love it as much as I do. If you have some thoughts, tips, or anything else, then please don't hesitate to leave a comment below.