This incredible slow cooker salsa chicken is a deliciously cheesy flavor-packed dish. It's perfect if you need to feed some fussy eaters as it's so damn delicious.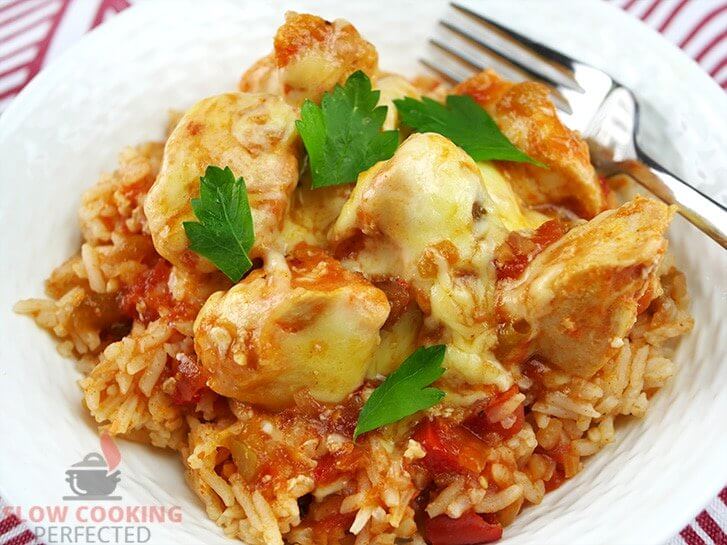 By the end of cooking, you should have some deliciously tender chicken in a flavor-packed salsa sauce. There will also be a generous amount of cheese on top.
You only need four very simple ingredients to make this delicious dish. In fact, if for some reason you decide against the cheese, then just salsa, taco seasoning and chicken will suffice. It's undoubtedly one of the easiest slow cooker chicken recipes that you will find around.
Tweaks to this Recipe
There are a couple of variations that you can do to this recipe to make it more to your liking. I will go through just a few of my favorite tweaks.
The type of salsa that you use for this dish is entirely up to you. If you love spicy food, then feel free to use a spicy salsa as it should still turn out great. If you love the heat, then add a tablespoon or two of some chopped jalapenos.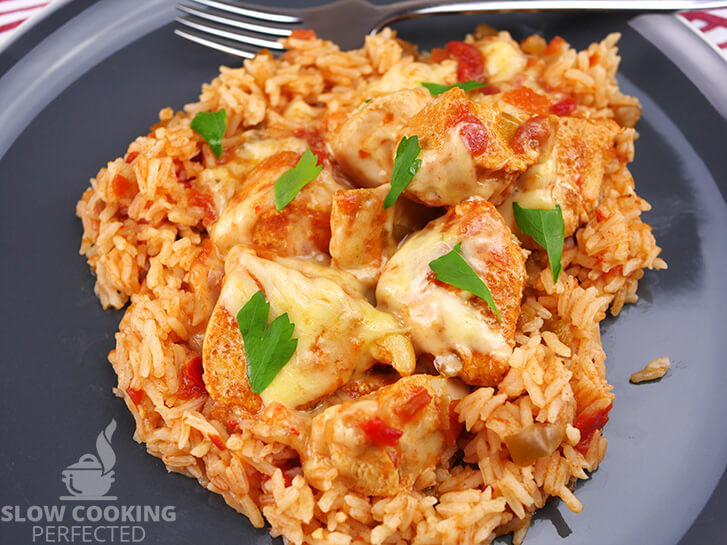 You can leave the chicken as whole pieces and then shred it at the end of cooking. This change will give you a different texture but still be incredibly flavorsome.
I would love to hear of any changes that you have made to this recipe, especially if they make the recipe even better.
What to have with Salsa Chicken
There are many ways that you're able to eat this chicken dish, including just on its own. Below are just a couple of suggestions on how you can serve it.
If you have spare time, I highly recommend that you try cooking some Mexican rice to go with this delicious salsa chicken. They go so well together, and you will get even more serves out of one lot of this salsa chicken recipe.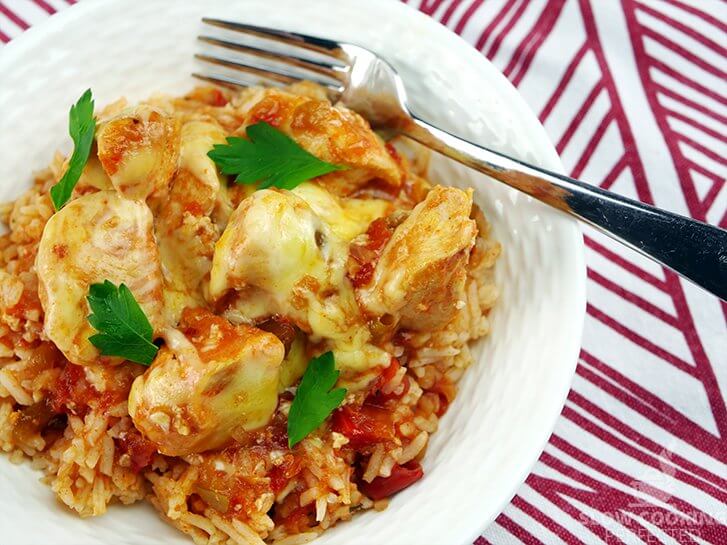 Some diced avocado is an excellent addition to this dish. Just scatter over the top after you have served the chicken. It's the perfect combination if you love avocado.
Sour cream or refried beans also pairs well with some salsa chicken especially if you have used a spicy salsa and added some more jalapenos into the mixture. Much like the avocado, it's best added after you have served the dish.
There are a countless amount of accompaniments that you can serve with this dish, and I have only mentioned a couple. If you have a combination, then please don't hesitate to share it by leaving a comment.
Leftovers are worth Keeping
Keep the leftovers as they will certainly come in handy the next day for lunch or dinner. Simply reheat in the microwave or a hot oven.
The leftovers should last for a few days in the fridge if they're stored correctly. You can also freeze it, but cheese often doesn't freeze very well.
The video in the middle of this page will take you through all the steps you need to know to make this delicious slow cooker dish. Alternatively, you can find the recipe right below.
Slow Cooker Salsa Chicken Recipe
Ingredients
1 kg (2.2 lb) chicken breasts, large cubes
2 cups salsa
2 Tbsp taco seasoning
2 cups cheddar cheese, shredded
Instructions
In a slow cooker, add the cubed chicken breasts and the taco seasoning. Mix, so the chicken is coated with the seasoning.
Pour the salsa over the chicken.
Cook on low for 6 hours.
Add the cheese on top of the chicken, cook for a further 30 minutes or until the cheese has melted.
Serve & Enjoy.
Recipe Tips
The chicken thigh can be used instead of the breast, but there isn't a huge difference between the two. It just comes down to what you have available and the cut of chicken you prefer.
You can leave the taco seasoning out of the recipe, but it really does help add lots more flavor into the recipe.
The taco seasoning can be made at home if you don't have any packet mixes. It's super easy to do and might save you money not having to buy expensive pre-made mixes.
Note: I use a 5.5L (6 Quart) slow cooker for all the recipes that I have on this website unless specified. If you have a smaller or larger slow cooker, then you might need to adjust the ingredients.
Nutrition Information
Serving Size: 294g (10.4 oz)
Servings Per Recipe: 6
Calories Per Serving: 474
Saturated Fat: 11.8g
Trans Fat: 0.6g
Dietary Fiber: 2g
Sugars: 4g
Cholesterol: 145mg
Sodium: 1164mg
Protein: 45g
The information above is an estimate generated by an online nutrition calculator.
More Mexican Inspired Recipes
If you like Mexican styled dishes, then there are quite a few that you're able to do.
The slow cooker chicken enchilada stack is one of my favorites and surprisingly easy to put together. It's great if you have some leftover shredded chicken that you need to use.
Another recipe that I highly recommend making is the chicken taco mix. At the end of cooking, you will have delicious shredded chicken flavored with taco seasoning that works perfectly in a taco.
This slow cooker salsa chicken is pretty straightforward, so I hope that it comes out as great as it did for me. If you have any thoughts, tips, or anything else, then please feel free to leave a comment towards the bottom of this page.