This slow cooker buffalo chicken is so easy to make and only requires four very simple ingredients.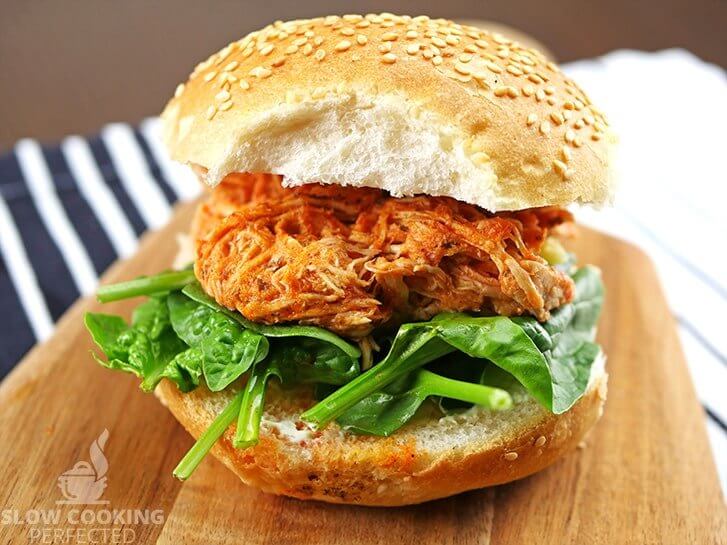 After roughly six hours of cooking, the chicken will be deliciously tender and coated in a slightly spicy sauce that has a ton of flavor. It's an amazing slow cooker chicken recipe that's totally worth making.
You should be able to feed roughly six people with a single batch of this buffalo chicken. You can easily double or triple the recipe if you need to feed more. Some delicious side dishes are also a great way to feed a crowd.
Buffalo Chicken Serving Ideas
Once you're ready to serve, you will have some succulent flavor-packed shredded chicken that goes perfectly in sandwiches, pizza, wraps, and so much more.
I love to have this chicken with a bit of cheddar cheese, baby spinach, and a dollop of sour cream. Blue cheese is also amazing, sprinkled over the top along with some creamy ranch dressing.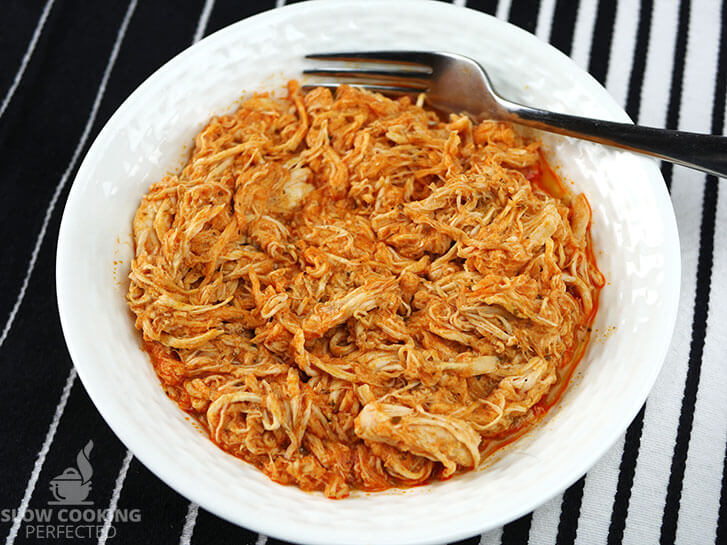 This chicken will also be great over the top of either some baked potatoes or baked sweet potatoes. You can also top the potatoes with even more ingredients to add more delicious flavors.
The amount of combinations that you're able to do with this buffalo chicken mix is insane. Be sure to let me know your favorite combination in the comment section below.
Tweaking the Recipe
There are quite a few tweaks that you can make to this recipe to make it more to your liking. Below are just a couple of examples.
The brand of buffalo wing sauce will heavily impact the flavor of the final dish, so make sure you use your favorite. I think Franks is one of the best buffalo wing sauce brands around, but you might have your own favorite.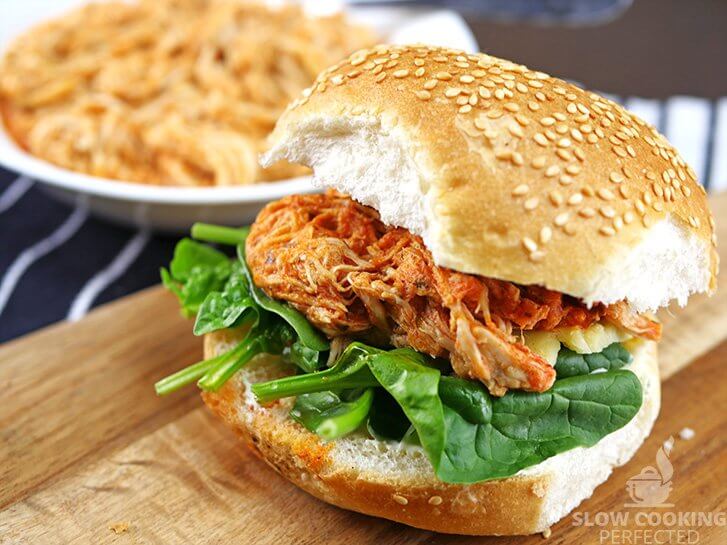 Adding some cream cheese to the slow cooker will turn this into an incredibly cheesy buffalo chicken mix. It's certainly not for everyone but worth a try if you love your food cheesy.
If you have some leftovers, then they are excellent the next day in something like a sandwich for lunch or pasta for dinner. There are just so many options with how you use this shredded buffalo chicken.
I prepared a video for making buffalo chicken in the slow cooker that you can watch right below. It will take you through all the steps to making this chicken and shows what it should look like throughout preparation. If you love this recipe and want more, then be sure to check out all of our delicious slow cooker chicken recipes.
Slow Cooker Buffalo Chicken Recipe
Ingredients
Instructions
Add the chicken breasts to the slow cooker and cover with the ranch dressing mix. Lastly, pour over the buffalo wing sauce.
Cook on low for 6-8 hours.
Shred the chicken using two forks.
Add the butter and mix.
Serve & Enjoy.
Recipe Tips
The chicken breasts can be swapped out for chicken thigh. The thigh will contain a little bit more fat, so the final product may be a little greasier. You can try and remove any excess fat using a ladle before you shred the chicken.
For a completely different meal, you can use chicken drumsticks. This option is great if you want finger food rather than sandwiches or sliders.
If you don't have any ranch dressing available, then you can make it at home. This ranch dressing recipe is super handy for getting the measurements correct.
Depending on the brands you're using, you may find that this dish is a little too salty for your liking. To be extra careful, you can reduce the amount of ranch dressing seasoning you use. You can alter the seasoning towards the end of cooking.
The butter isn't essential, but it does add a bit of richness to the dish.
Note: I use a 5.5L (6 Quart) slow cooker for all the recipes that I have on this website unless specified. If you have a smaller or larger slow cooker, then you might need to adjust the ingredients.
Nutrition Information
Serving Size: 268g (9.5 oz)
Servings Per Recipe: 6
Calories Per Serving: 306
Amount Per Serving
Saturated Fat: 7.5g
Trans Fat: 0.4g
Dietary Fiber: 1g
Sugars: 0g
Cholesterol: 149mg
Sodium: 653mg
Protein: 39g
The information above is an estimate generated by an online nutrition calculator.
More Slow Cooker Recipes
If you love using shredded chicken for sandwiches, pizza, tacos, and more, then you need to try out the cheesy slow cooker crack chicken. It's a combination of ranch dressing, cream cheese, bacon, and chicken. It's certainly worth trying out if you love addictive rich food.
I can never get enough of this delicious chicken, so I also like to make a buffalo chicken dip for parties. It has loads of cheese, sauce, and is always a hit at events.
I do hope that you enjoy this slow cooker buffalo chicken as much as I did and that you don't run into issues while making it. If you have some variations, tips, or something else that you would like to add, then be sure to leave a comment below.