Slow cooker ranch chicken cooks to be tender and loaded with flavor. The creamy sauce will have you going back for seconds.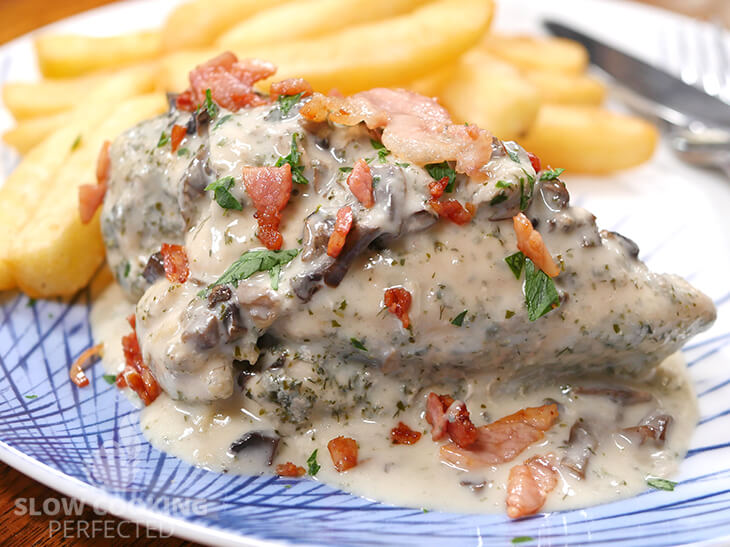 When you take a bite of this dish, you will be greeted with a deliciously creamy sauce loaded with flavor. The chicken should be perfectly cooked and not too dry. I love sprinkling some bacon and chopped parsley over the top. It is an easy meal that tastes absolutely amazing.
If you love the flavors of ranch dressing, then it might be worth trying the crack chicken as well. It features a delicious combination of bacon, ranch dressing, cream cheese, and loads of chicken.
This delicious slow cooker dish should make enough food to feed roughly four to six people. The number of serves will heavily depend on whether you are making side dishes and if people are big eaters. If your slow cooker is big enough, you can simply double the recipe to feed more people.
The leftovers are perfect for a quick and easy meal later on. I like to shred the chicken as it will help keep it from drying out when you reheat the meal. The leftovers should last for three days in the refrigerator or three months in the freezer.
How to Serve the Ranch Chicken
I love to serve this ranch chicken on a bed of freshly cooked steamed rice. I recommend cooking the rice separately in a rice cooker or over the stove. For something a little healthier, you can make some cauliflower rice instead.
Much like the ranch pork, the chicken also goes great with some delicious steak fries and steamed green vegetables. If you want to go one step further, then some homemade garlic bread will go down a treat as well.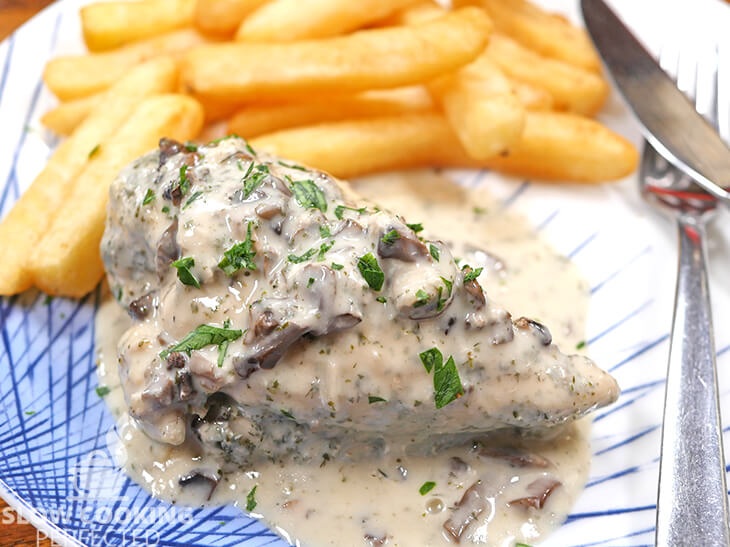 Pasta is a rather good accompaniment to have with this chicken dish. I recommend shredding the chicken and mixing it through the pasta and creamy sauce. It truly is a delicious way to serve this easy dish.
The easiest way to serve this dish is as a stew. Simply throw a few extra ingredients into the slow cooker and serve into bowls. Carrots, potatoes, or onion is a great way to cheaply bulk out this dish.
Tweaking the Recipe
You can make ranch dressing from scratch with just a few basic ingredients. If you live in Australia, you will find it ridiculously hard to find dry ranch dressing packets, so the only option is to make it from scratch.
Adding more vegetables is a great way to add more flavor and color to this dish. Carrots, green beans, broccoli, or even potatoes will work great in this recipe. Keep in mind some vegetables will cook faster than others. For example, broccoli or green beans is best added towards the end of cooking.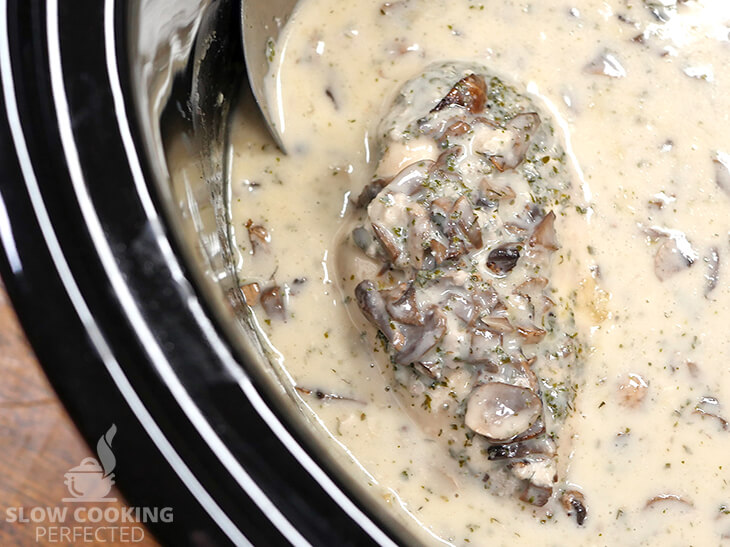 Chicken thighs can be used instead of chicken breasts. Personally, I find chicken thigh cooks better in the slow cooker and is less prone to overcooking. However, chicken breasts look better and are great when cooked perfectly.
The chicken meat can be swapped for something else instead. Personally, I love this dish with some excellent big juicy pork chops. Make sure they are big; otherwise, they will overcook quickly in the slow cooker.
The recipe below will take you through all the steps to making creamy ranch chicken in the slow cooker.
Slow Cooker Ranch Chicken Recipe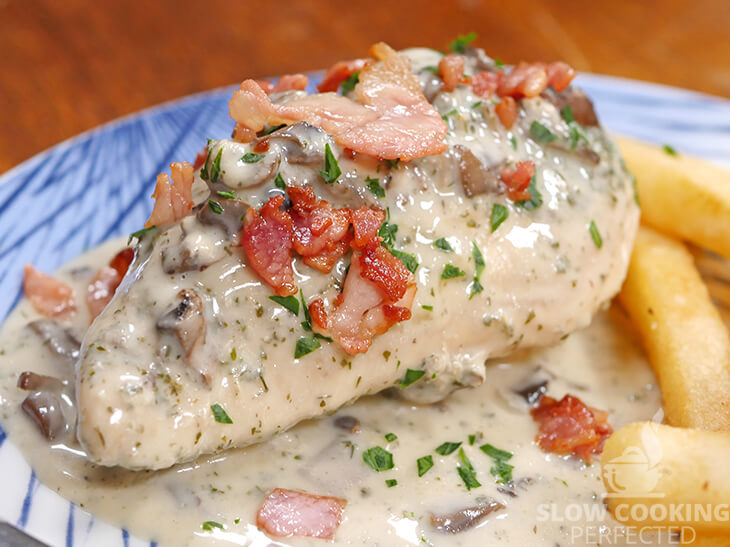 Ingredients
1 kg (2.2 lb) chicken breasts
30 g (1.1 oz) ranch dressing seasoning
200 g (7.1 oz) mushrooms, diced
250 ml (8.5 fl oz) chicken stock
200 ml (6.8 fl oz) heavy cream
Thickener
3 Tbsp cornstarch
3 Tbsp water
Instructions
In a slow cooker, coat the chicken breasts with the ranch dressing seasoning.
Add the chicken stock and mushrooms into the slow cooker.
Cook on low for six hours.
Remove the chicken breasts from the slow cooker and place them to the side.
In a bowl, combine the cornstarch and water until it forms a paste. Stir the cornstarch mixture and cream into the sauce.
Add the chicken breasts back into the slow cooker.
Cook on high for 30 minutes or until the sauce has thickened.
Season with salt and pepper.
Serve & Enjoy.
Recipe Tips
You can shred the chicken if you want the chicken coated by the ranch sauce as much as possible.
Bacon bits are a great way of adding even more flavor to this recipe. However, be careful as they may make the sauce too salty. I love sprinkling them over the top as a garnish.
Chicken thighs can be used instead of chicken breasts.
You may need to make ranch dressing seasoning from scratch if you cannot find it at your local store or online at places like Amazon.
The mushrooms are optional but do add a fair bit of flavor.
Chicken breasts are prone to drying out, so do not try to cook the meat for longer than the recommended times. The thickness of the chicken breast may also impact cooking times.
You can reduce the cooking time to three hours by setting the slow cooker to the high setting.
Note: I use a 5.5L (6 Quart) slow cooker for all the recipes that I have on this website unless specified. If you have a smaller or larger slow cooker, then you might need to adjust the ingredients.
Nutrition Information
Serving Size: 281g (9.9 oz)
Servings Per Recipe: 6
Calories Per Serving: 442
Amount Per Serving
Saturated Fat: 12.4g
Trans Fat: 0.2g
Dietary Fiber: 1g
Sugars: 3g
Cholesterol: 154mg
Sodium: 540mg
Protein: 38g
The information above is an estimate generated by an online nutrition calculator.
More Chicken Recipes
There are loads more chicken recipes that work perfectly in the slow cooker. Below are just a couple of my favorite recipes that I highly recommend giving a try.
The slow-cooked chicken and mushrooms is like this dish but is a bit lighter in flavor. It has a delicious mustard, mushroom, and cream sauce. I recommend giving it a try if you love mushrooms and chicken.
Another recipe that I reckon you will love is the honey soy chicken. The honey soy marinade is a fantastic combination that infuses into the chicken over the long cooking time. By the time it is ready to eat, the chicken will be beautifully tender and loaded with flavor.
I always recommend this slow cooker ranch chicken as it is a huge hit whenever I make it. I hope that you like it just as much as I do. If you have some feedback, then please do not hesitate to leave a comment below.