This slow cooker honey soy chicken has a deliciously rich marinade. It's a super easy dish that tastes absolutely amazing.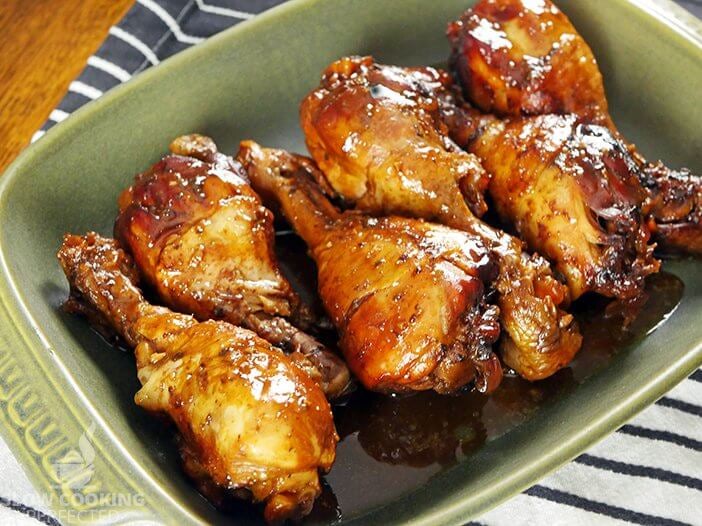 The combination of honey and soy is a favorite in our household. It's the perfect blend of sweet and salty.
This recipe is Asian inspired and is absolutely delicious. It's perfect as a meal or as part of a feast. You can easily pick up the chicken with your hands, but you will get very sticky fingers.
For the best possible outcome, I recommend reading the cooking tips just underneath the recipe. They will help answer any questions that you might have.
What to Serve with Honey Soy Chicken
A ton of different side dishes works perfectly with this slow cooker chicken dish. For example, I love to have this chicken with some freshly cooked rice.
As well as some rice there is a ton of vegetables that you can cook to go with this chicken. My favorite is some fresh green vegetables such as green beans, spinach, or even some peas. You can stir-fry the vegetables, blanch, or simply steam them.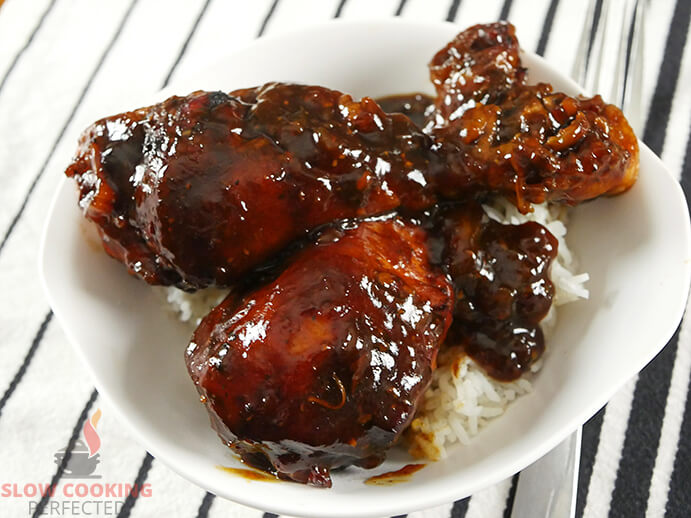 You could also try cooking some herby baby potatoes in the slow cooker to go alongside the chicken. It's perfect if you have multiple slow cookers.
There are plenty of other side dishes that go great with honey soy chicken, so if you have any suggestions, be sure to share it with us by leaving a comment at the bottom of this page.
What to do with Leftovers
The leftovers of the chicken are perfect for a few days in the refrigerator. You can also freeze the chicken, but I recommend removing it from the bone first.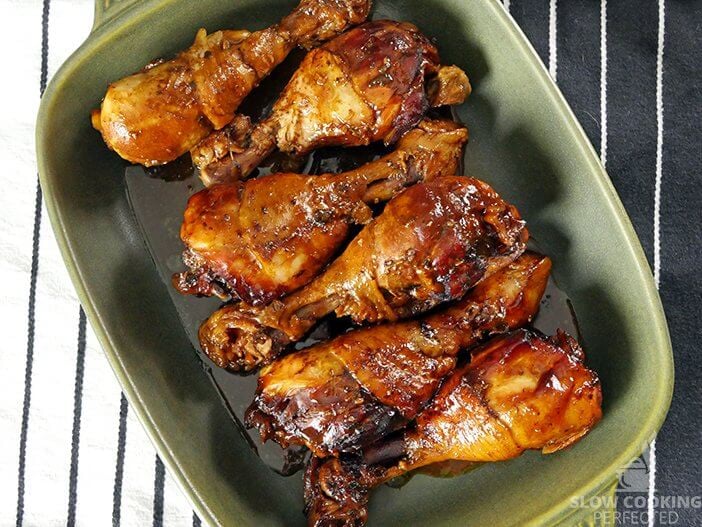 You can make use of the chicken in other dishes, for example, you can shred the leftover chicken and then use it in a sandwich or on a homemade pizza.
The video below will take you through all the steps to making this honey soy chicken, if you like the video then be sure to subscribe to our YouTube. It's just one of the fantastic recipes for the slow cooker that is super easy and delicious.
Slow Cooker Honey Soy Chicken Recipe
Ingredients
½ cup soy sauce
½ cup honey
1 Tbsp garlic, minced
1 Tbsp ginger, minced
1 Tbsp sesame oil
1.5 kg (3.3 lb) chicken drumsticks
Thickening
2 Tbsp cornstarch
2 Tbsp water
Instructions
Mix the soy sauce, honey, garlic, ginger, and sesame oil in the slow cooker.
Add chicken drumsticks to the slow cooker, baste them, so they are well coated.
Cook on low for 6-8 hours.
Remove the chicken from the slow cooker.
In a small bowl, combine the cornstarch with the water until it forms a paste.
Add the cornstarch mixture to the slow cooker and mix.
Add the chicken back in and cook on high for 15 minutes or until thickened.
Optional: Baste chicken with the sauce and place it under a grill for a few minutes to caramelize.
Serve & Enjoy
Recipe Tips
I recommended grilling the chicken as it will help the marinade caramelize. It's still amazing straight out of the slow cooker.
You use any cut of chicken for this recipe. I made use of chicken drumsticks. However, you can use chicken thigh, breast, wings, or basically any cut of chicken you want.
Double-check the ingredients in the soy sauce to ensure that this recipe will be gluten-free. You can buy a gluten-free soy sauce at most supermarkets.
A thickener such as cornstarch is perfect if you want a nice thick marinade. However, you can use something like arrowroot instead. The sauce is still pretty good without any thickener.
Soy sauce brands can vary heavily in flavor and saltiness. If you're unsure about the soy you're using, then don't hesitate to tinker the amount of honey and soy you use
Note: I use a 5.5L (6 Quart) slow cooker for all the recipes that I have on this website unless specified. If you have a smaller or larger slow cooker, then you might need to adjust the ingredients.
Nutrition Information
Serving Size: 309g (10.9 oz)
Servings Per Recipe: 6
Calories Per Serving: 533
Amount Per Serving
Saturated Fat: 6.5g
Trans Fat: 0.1g
Dietary Fiber: 0g
Sugars: 23g
Cholesterol: 230mg
Sodium: 1434mg
Protein: 47g
The information above is an estimate generated by an online nutrition calculator.
More Chicken Recipes
There are a ton of other chicken dishes that you can do in the slow cooker. If you like the sound of this recipe, then you should give the honey garlic chicken a try.
If you're after more recipes that use chicken drumsticks, then you should check out the honey BBQ chicken. It's super tasty and very easy to make.
I absolutely love this slow cooker honey soy chicken recipe, and I hope that you agree. If you have some thoughts, tips, or anything else that you will like to share, then please don't hesitate to leave a comment below.