These slow cooker baby potatoes cook to be soft, flavorsome and are a real treat. You can change the herbs in this recipe to get a very different tasting outcome.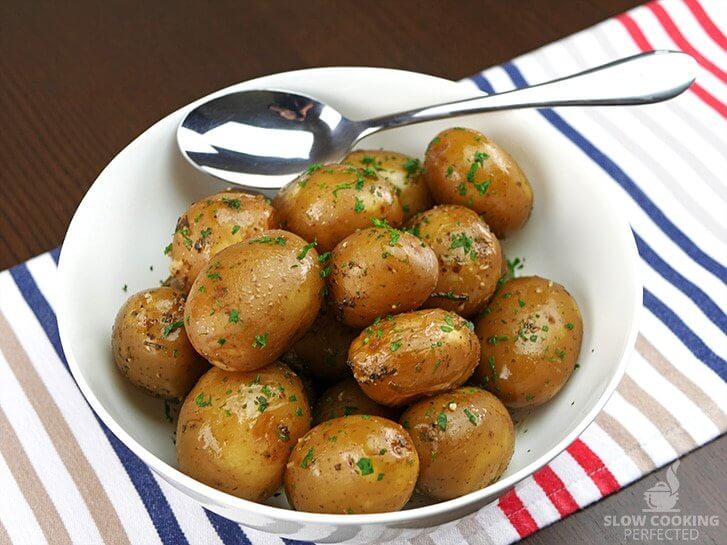 The buttery herb mix that we cook the baby potatoes in is so good. When you go to serve, scoop the butter mix out of the slow cooker, and pour over the potatoes for the best results. It is indeed worth it if you don't mind a ton of flavor at the expense of a few extra carbs.
This slow cooker baby potatoes dish is probably better as a side rather than being the main meal. Luckily there is plenty of dinner recipes for the slow cooker that you can do if you have multiple slow cookers.
Cooking baby potatoes in the slow cooker is a great way to have some delicious potatoes ready for dinner for when you get home. If you have two slow cookers, you can have a main meal on the go at the same time.
What to Serve with Baby Potatoes
There are a ton of different dishes that will match perfectly with this delicious side dish. Below is just a couple of recommendations on what you can eat with these potatoes.
A delicious slow-cooked roast is the perfect main meal to serve with these potatoes. There are quite a few different "roasts" that you can make in a slow cooker. I highly recommend trying to cook a juicy beef brisket.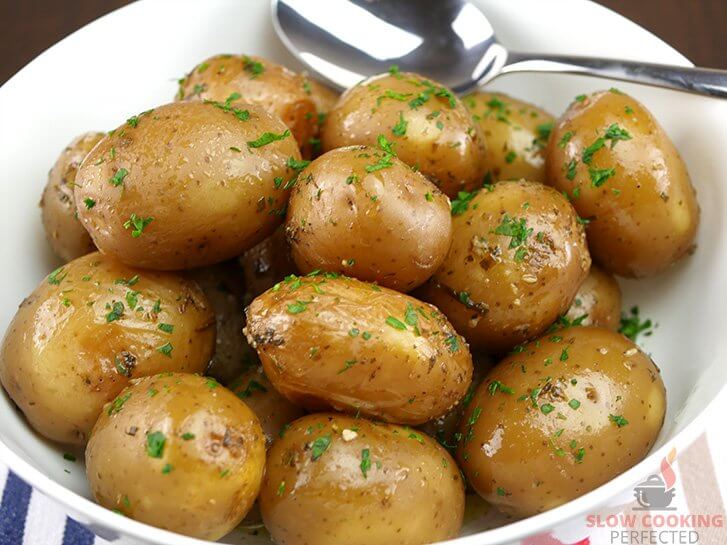 Pork ribs are also super delicious paired with some herby baby potatoes. My favorite is slow cooking some BBQ pork ribs as they cook to be incredibly tender and packed with flavor.
You can have these potatoes with some extras such as sour cream, sweet chili, or just some classic ketchup. They go pretty great with most condiments. If you don't want anything extra, then they're pretty amazing with just the butter and herb mix.
Tweaking the Recipe
There are lots of little tweaks that you can make to the recipe, so the potatoes are more to your liking. Below are just a couple of suggestions on what you can do.
You're able to add some spices into the mix for more flavor. For example, cayenne pepper will add both flavor and a little bit of a bite to the potatoes. Paprika is also an excellent match for a potato dish.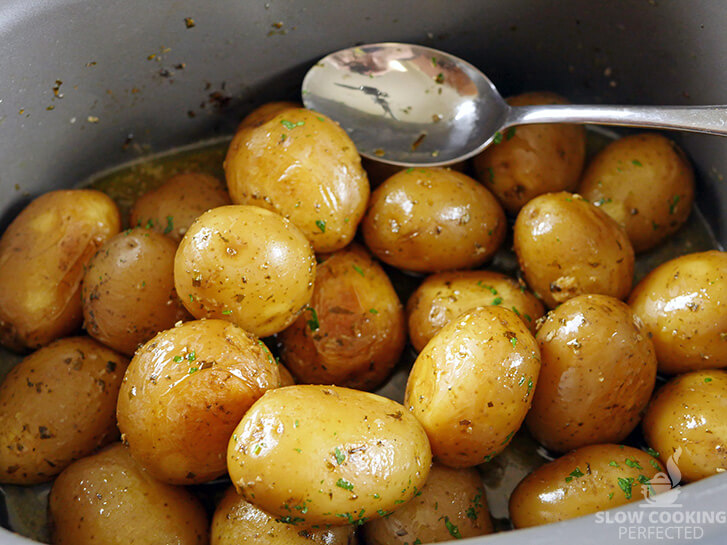 To radically change the recipe, you can add additional ingredients such as honey or mustard. It's a great way to bring some very different flavors and make the dish more to your liking.
I like the recipe how it is, but feel free to tweak until you get it perfect for you. Be sure to let us know if you come up with an excellent combination.
What to do with Leftovers
Leftovers are great for the next day and will easily heat in the microwave or oven. They're also great if you want to make a potato salad with them. There is so much you can do, so make sure you don't throw them out.
I recommend keeping the leftovers in the refrigerator for up to three to five days. You can also freeze them for roughly a year before they start to degrade in quality.
If you love to see what you're about to make, then be sure to check out the video I have prepared below. Alternatively, you can find the full written recipe right underneath the video. Both will take you through the steps of cooking baby potatoes in the slow cooker.
Slow Cooker Baby Potatoes Recipe
Ingredients
2 kg (4.4 lb) baby potatoes, washed
2 Tbsp olive oil
2 tsp garlic, crushed
1 tsp salt
¼ tsp pepper
2 tsp chives, chopped
1 Tbsp fresh parsley, chopped
60 g (2.1 oz) butter , cubed
Instructions
In a slow cooker, toss the potatoes in the olive oil, garlic, salt, pepper, chives, and parsley.
Scatter the potatoes with the cubed butter.
Cook on low for 6-8 hours or until the potatoes are tender.
Serve & Enjoy.
Recipe Tips
If your potatoes are quite large, then you can halve them, so they cook faster and better.
Keep in mind that the larger the potatoes are, the longer they will take to cook. If you use a skewer, you can tell if the potatoes are cooked all the way through, the skewer should insert easily.
Feel free to swap the dried herbs out for some fresh herbs. You will find that fresh tends to have a bit more flavor and a nicer texture.
You can use a different combination of herbs for some flavors that might be better suited for you. For example, rosemary and thyme are a great combination.
Note: I use a 5.5L (6 Quart) slow cooker for all the recipes that I have on this website unless specified. If you have a smaller or larger slow cooker, then you might need to adjust the ingredients.
Nutrition Information
Serving Size: 352g (12.4 oz)
Servings Per Recipe: 6
Calories Per Serving: 370
Saturated Fat: 5.8g
Trans Fat: 0.3g
Dietary Fiber: 7g
Sugars: 3g
Cholesterol: 22mg
Sodium: 409mg
Protein: 7g
The information above is an estimate generated by an online nutrition calculator.
More Slow Cooker Potato Recipes
There are quite a few potato dishes that you can do in the slow cooker, and these baby potatoes are just one.
If you want something a bit more flavor-packed and more substantial, then I highly recommend checking out the cheesy potatoes with bacon.
Another potato dish that I highly recommend making in your slow cooker is the creamy sausage and potatoes. It's a delicious dish that's perfect for when you feel like eating some comfort food.
I hope that you enjoy these slow cooker baby potatoes and that you enjoy them as much as I did. If you have a variation, feedback, or something else that you would like to share, then please don't hesitate to leave a comment below.