This delicious slow cooker mashed sweet potato is a side dish that is worth trying.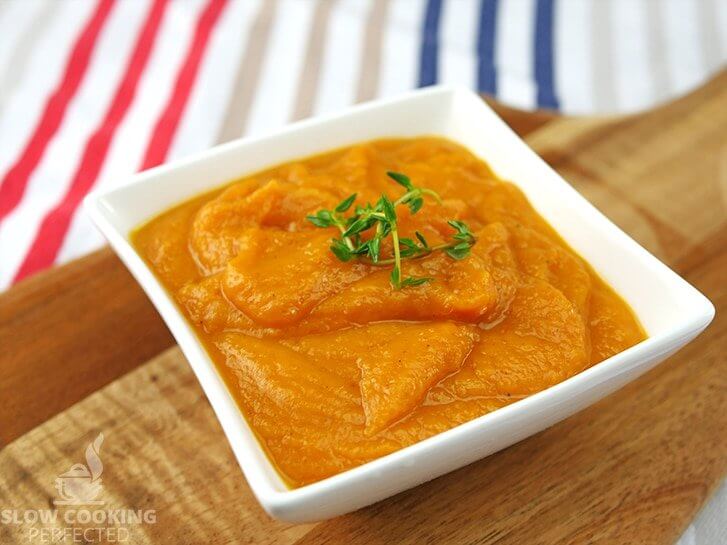 By the end of cooking, this delicious mash will have a slight hint of nutmeg, cinnamon, and be deliciously creamy. It's a super easy recipe, so it's perfect if you need to make some mashed potatoes in bulk.
If you think this recipe might make too much, then you can halve or quarter the ingredients. Alternatively, the leftovers can come in handy later.
What to Serve with Sweet Potato Mash
As you can imagine, this dish is best suited as a side dish rather than as a main meal. It's also perfect if you need to feed a lot of people.
There are quite a few different main meals that you can have with this dish. If you have two slow cookers, then you can have the mash cooking in one and a main dinner dish cooking in the other.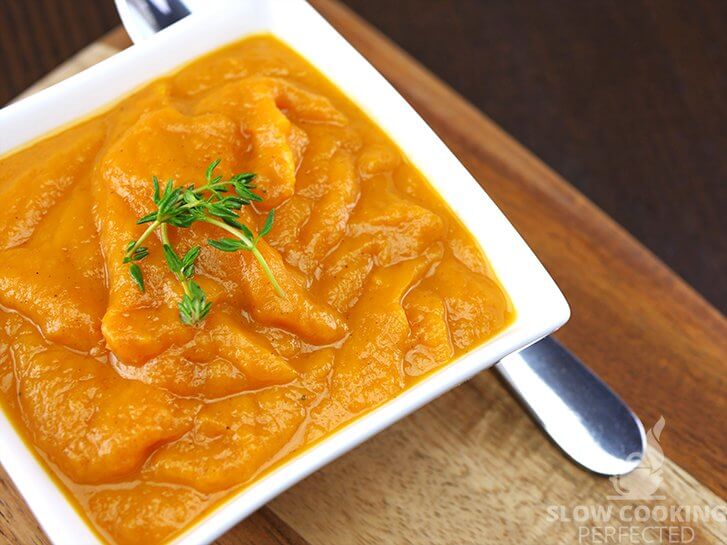 A cheesy chicken parmesan goes excellent with the mashed sweet potatoes. I love cooking both as it's a great combination and will easily feed a crowd. If you have two slow cookers, then you can cook them at the same time.
Sausage and peppers always go great on the top of this delicious side dish. The tender sausages, flavor-packed sauce, and mashed potatoes are a delicious combination that I highly recommend that you try.
Of course, you don't have to make another slow cooker recipe to go alongside this mashed potato as there are plenty of other recipes that will work great. If you have any suggestions, then be sure to leave a comment at the bottom of this page.
Keep the Leftovers
As with most slow cooker dishes, the leftovers can be kept for later. Simply store in the fridge then heat it in a microwave or oven whenever you need some mash.
The leftovers are perfect if you love to have some mashed potato with some meals later in the week. You can even use it in some recipes such as tuna cakes or something similar.
If you keep the leftovers in the fridge, then they should last for up to three days. Alternatively, if you keep them in the freezer they should last for up to six months.
A video is the best way to see how to make mashed sweet potatoes in the slow cooker. So, if you want to check out my video, then be sure to watch it below. If you're more of a written recipe person, then you can find it right underneath the video.
Slow Cooker Mashed Sweet Potato Recipe
Ingredients
2 kg (4.4 lb) sweet potato, peeled & cubed
1 cup chicken stock
1 tsp cinnamon, ground
¼ tsp nutmeg, ground
60 g (2.1 oz) butter, room temperature
1/2 cup sour cream
Instructions
Add the sweet potatoes, chicken stock, cinnamon, and nutmeg into the slow cooker.
Cook on low for about 6-8 hours or 3-4 hours on high.
Mash the sweet potato until nice and smooth. Slowly mix in the butter and sour cream.
Season generously with salt and pepper.
Serve & Enjoy.
Recipe Tips
You can add a tablespoon or two of brown sugar if you like a bit of sweetness to your mashed sweet potato.
Chicken stock can be replaced with vegetable stock or even water. Keep in mind, if you use water, then you will lose quite a bit of flavor and will need to add a bit more salt.
You can leave out the sour cream and use something like milk for a healthier mash. If you use milk, then make sure you adjust accordingly, you will probably only need a quarter cup of milk.
I like how the seasonings are currently, but feel free to adjust them so that this recipe is better suited for your taste buds. For example, the cinnamon and nutmeg are both optional.
You can also do regular mashed potatoes in the slow cooker. It works incredibly well and is perfect when you need to cook in bulk.
If you're worried about the mash being too runny, then drain the liquid from the slow cooker. Once you start to mash the sweet potato, you can slowly add the liquid back in until you get the consistency you want.
Note: I use a 5.5L (6 Quart) slow cooker for all the recipes that I have on this website unless specified. If you have a smaller or larger slow cooker, then you might need to adjust the ingredients.
Nutrition Information
Serving Size: 298g (10.5 oz)
Servings Per Recipe: 8
Calories Per Serving: 345
Saturated Fat: 6.1g
Trans Fat: 0.2g
Dietary Fiber: 8g
Sugars: 11g
Cholesterol: 36mg
Sodium: 316mg
Protein: 11g
The information above is an estimate generated by an online nutrition calculator.
More Slow Cooker Potato Recipes
There are many other potato-based dishes that you can do in the slow cooker. A lot of them are incredibly delicious and well worth trying if you love a tasty potato dish.
Some of our potato dishes can be served as main meals such as the cheesy potatoes while other recipes are better suited as side dishes, like this one.
I also like making some baked potatoes in the slow cooker as it's great for feeding a crowd. It's a delicious potato dish that has a crispy outside and a deliciously tender inside.
I hope that this slow cooker mashed sweet potato cooks to be as delicious as it was for me. If you have any feedback, variations, or something else that you would like to share, then please don't hesitate to leave a comment below.