This delicious slow cooker sausage and peppers dish are great if you need to feed a few heads.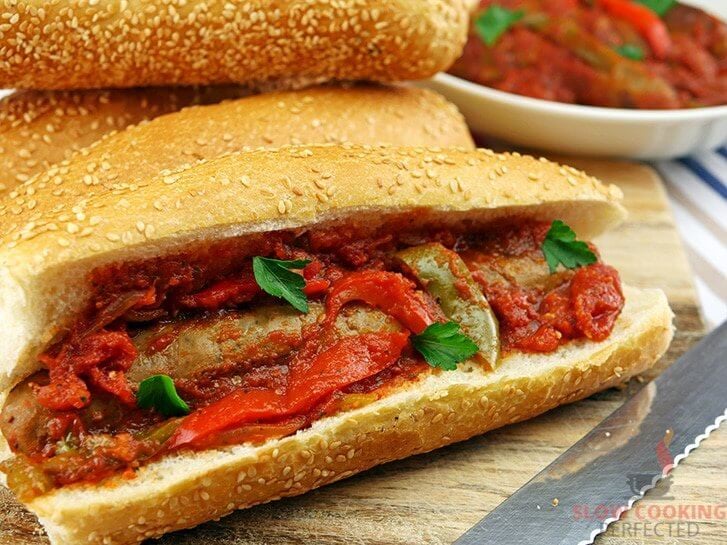 The flavors in this dish are amazing with a light but fulfilling tomato and bell pepper sauce with succulent Italian sausages.
This dish is a blend of American and Italian cuisines. It is a very popular dish among Italian immigrants living in the United States of America. If you love sausages, then this dish is a must-try.
Traditionally everything is cooked in a skillet or over a grill, but for this recipe, we will be throwing it all into a slow cooker.
How to Serve Italian Sausage & Peppers
There are hundreds of ways you can serve this delicious dish. I will just go through just some of the ideas of what you could do.
Depending on what you feel like eating, you can eat these on top of some potato mash, rice or even zucchini pasta.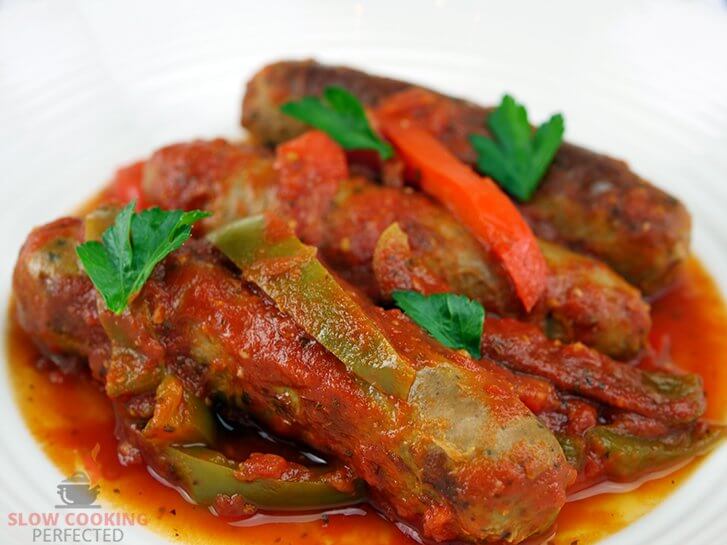 You can have this dish in a hot dog roll or something similar. To make it even better, add some Swiss or cheddar cheese to the bread roll.
A side dish such as scalloped potatoes is excellent if you rather eat the sausage and peppers without a bread roll or mashed potato.
Even though this is usually a lunch or dinner dish, you can easily have this as a breakfast. It will go pretty well with some hash browns, eggs, and some bacon.
What to do with any Leftovers
Sausage and peppers is a pretty good dish to eat the next day for lunch so if you, have leftovers then be sure to keep them.
You can also freeze this dish for later just make sure you keep it in an airtight container. When you go to reheat this dish make sure you do it in the microwave, hot pan or a hot oven.
I love doing a video to go with the recipe so if you love to see things done visually be sure to check out the video below. If you prefer text, then you can find the full written recipe for making sausage and peppers in the slow cooker right underneath the video.
Slow Cooker Sausage & Peppers Recipe
Ingredients
6 Italian sausages
1 onion, sliced
2 tsp garlic, crushed
2 bell peppers, sliced
2 tomato paste
800 g (1.8 lb) crushed tomatoes
1 tsp oregano
1 tsp basil
Instructions
In a frying pan, quickly brown the sausages on all sides.
Add the sausages to the slow cooker along with the onion, garlic, bell peppers, tomato paste, crushed tomatoes, basil and the oregano.
Cook on low for 6-8 hours.
Season to taste with salt and pepper.
Serve & Enjoy
Recipe Tips
To ensure that this recipe is gluten-free check the ingredients of the sausages.
For the best results, I highly recommend mixing up the type of bell peppers you're using. This particular recipe I used a red and green bell pepper. Using a variety of different colored peppers gives you not only a great combination of colors but also flavor.
Browning of the sausages is completely optional, but I highly recommend doing it to reduce the amount of oil in the final dish. You will also find that it does help add a bit of a different texture to the sausages.
If you can't get your hands on Italian sausages, then any kind of fat sausage will do. Just keep in mind the fattier the sausage is, the more fat will pool in the slow cooker. Simply just skim this off at the end of cooking.
For a little bit more flavor, you can add a splash of red wine to the sauce.
Other types of sausages will work fine in this recipe. For example, you can try using something like chorizo or kielbasa instead.
Note: I use a 5.5L (6 Quart) slow cooker for all the recipes that I have on this website unless specified. If you have a smaller or larger slow cooker, then you might need to adjust the ingredients.
Nutrition Information
Serving Size: 272g (9.6 oz)
Servings Per Recipe: 6
Calories Per Serving: 377
Amount Per Serving
Saturated Fat: 10.3g
Trans Fat: 0g
Dietary Fiber: 4g
Sugars: 8g
Cholesterol: 69mg
Sodium: 918mg
Protein: 16g
The information above is an estimate generated by an online nutrition calculator.
More Sausage Recipes to try
There are quite a few sausages recipes that you can do in the slow cooker. Something like the tasty sausage casserole is yet another great slow cooker dish and has a lovely gravy sauce.
One recipe that I highly recommend that you try is the sausage and sauerkraut. It's a little different, so it may not appeal to you, but it's certainly worth giving at try.
I hope that you enjoy this slow cooker sausage and peppers recipe and that you didn't have any trouble making it. If you have some feedback, tips, or anything else then feel free to leave a comment below.