These delicious slow cooker curried sausages are the perfect dinner dish for when you need to feed a hungry family.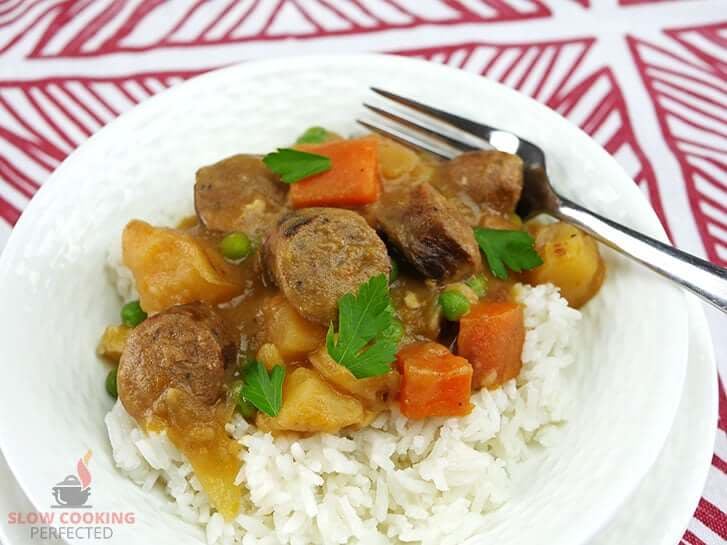 The flavors in this dish are amazing, and you get a slight hint of sweetness thanks to the fruit chutney along with the bold flavors of the curry powder. The sausages that you use can profoundly influence the outcome of this dish, so if you can afford it, try to buy some decent quality sausages.
This curried sausage dish is an excellent recipe if you find yourself with a ton of leftover sausages. If you have already cooked the sausages, you can just slice them up and add them to the slow cooker with the rest of the ingredients.
You should be able to feed roughly six people from a single batch of the dish. If you need to feed more, try to make some additional side dishes to go along with it. Alternatively, you can also double or triple the recipe.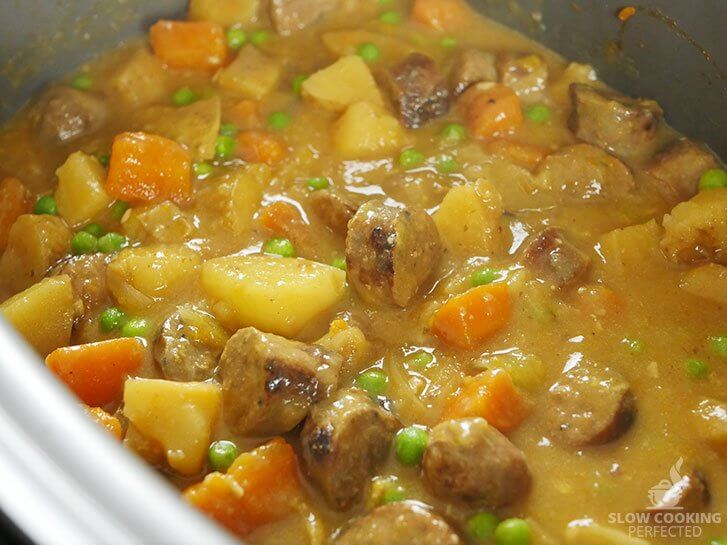 The leftovers of this dish are well worth keeping as they will reheat the next day nicely. Store in the fridge until needed, they should last for about three days before needing to be discarded.
You can also freeze this dish and keep it for a few months before it will need to be consumed. It is the perfect method if you want to stock up on some quick and easy meals.
What to Serve with Curried Sausages
You can eat this dish just by itself, but I recommend having something to go with it. Mashed potatoes, roast potatoes, or steamed rice are all excellent accompaniments for this dish. It just comes down to what you are feeling like eating.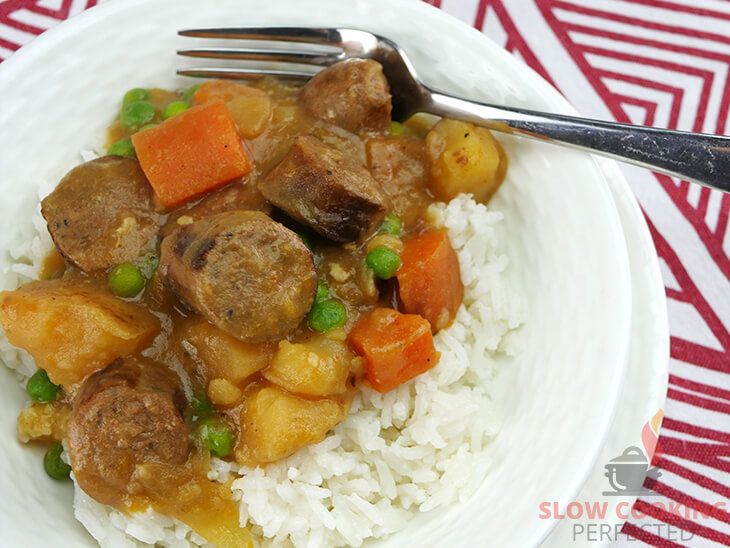 If you pick a potato side dish, you might want to leave or swap the potatoes out of the recipe to avoid ending up with way too much potato on your plate.
If you want to see how to prepare this recipe, then be sure to check out the video below. It takes you through all the steps to making this delicious dish.
Slow Cooker Curried Sausages Recipe
Ingredients
500 g (1.1 lb) beef or pork sausages
1 onion, sliced
2 tsp garlic, crushed
3 potatoes, cubed
2 carrots, cubed
1 cup frozen peas
1 Tbsp curry powder
2 Tbsp fruit chutney
500 ml (16.9 fl oz) beef stock
To Thicken
1 Tbsp cornstarch
1 Tbsp water
Instructions
In a frypan, cook the sausages over medium heat. Once cooked, allow to cool, and cut into bite-sized chunks.
In a slow cooker, add the sausages, onion, garlic, potatoes, carrots, curry powder, fruit chutney, and the beef stock. Mix slightly.
Cook on low for 6-8 hours.
Mix the cornstarch with the water until it forms a paste. Next, mix the paste and peas into the curried sausages.
Cook for 15 minutes or until thickened.
Serve & Enjoy.
Recipe Tips
Adding the peas towards the end will prevent them from going a greyish green color and losing their flavor. With that said, you can add them at the start if you do not mind them losing color.
Fruit chutney can be left out of the dish, but you will lose a bit of the flavor and sweetness.
The potato can be swapped or left out of the recipe. However, potato is a great way to bulk out a dish. If you are swapping it, then sweet potato is an excellent substitute.
To cook this dish faster, simply cook on high for two to three hours.
Note: I use a 5.5L (6 Quart) slow cooker for all the recipes that I have on this website unless specified. If you have a smaller or larger slow cooker, then you might need to adjust the ingredients.
Nutrition Information
Serving Size: 421g (14.9 oz)
Servings Per Recipe: 6
Calories Per Serving: 465
Amount Per Serving
Saturated Fat: 11g
Trans Fat: 0g
Total Carbohydrate: 31.3g
Dietary Fiber: 5.3g
Sugars: 6.6g
Cholesterol: 59mg
Sodium: 1040mg
Protein: 16.1g
The information above is an estimate generated by an online nutrition calculator.
More Slow Cooker Sausage Recipes
If you are not feeling like eating curry, then you can do a basic sausage casserole in the slow cooker instead. It is super delicious, and I highly recommend it if you are looking for a good sausage recipe.
A sausage recipe that I absolutely love is the creamy sausage and potato casserole. It has delicious chunks of smoked sausage, potatoes, onion, and a creamy sauce. It is an absolute must-try.
If you have any tips, variations, or anything else related to this slow cooker curried sausages recipe, then be sure to leave a comment below. I will love to hear if you have any improvements or issues with this dish.