These slow cooker sausages in onion gravy feature a delicious homemade gravy that you can make with just a few simple ingredients.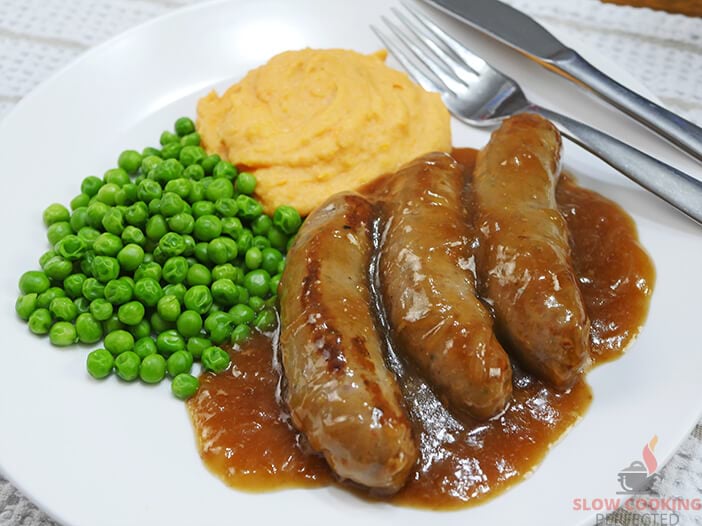 By the end of cooking, you will have some lovely juicy sausages and a rich onion gravy. It is an excellent combination that is likely to please all your friends and family. I do highly recommend cooking some side dishes to go with this meal.
You may be thinking that you can easily do this dish in a frypan in just a few minutes, but you will miss out on all the lovely slow-cooked flavors of this recipe. You also might not have any cooking facilities apart from a slow cooker.
This recipe will feed roughly four to six people, but it will heavily depend on how many side dishes you make. You can easily double or triple the recipe to feed more people.
Any leftovers are worth keeping as they will reheat the next day nicely. Heat in the microwave or frypan for the best results.
Adjusting the Recipe
The type of sausage that you use is entirely up to you. I made use of some Italian beef sausages. Still, smoked sausage such as Kielbasa or chorizo will work nicely as well.
Add some mushrooms if you want an onion and mushroom gravy. Simply add the mushrooms at the start, along with the onion. The result will be just as delicious, if not better.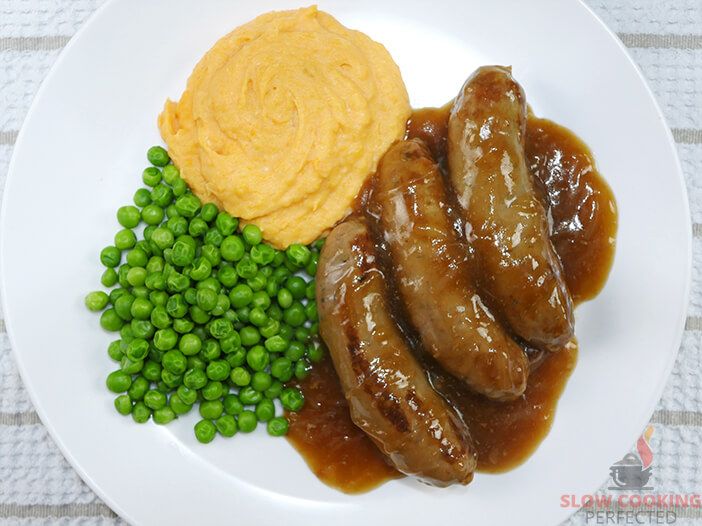 You can use a gravy powder instead of making a homemade gravy. Use a quarter cup of gravy powder and use water instead of chicken stock. You will no longer need the cornstarch mixture. Add the gravy powder at the start of cooking.
Adding extra vegetables into the gravy is an excellent way of adding even more flavor. Carrots will cook best if you add them at the start. If you want peas, then add these at the end, so they do not discolor.
What to Serve with the Sausages
This dish is yet another classic that goes excellent with some mashed sweet potato. It is perfect if you are craving the classic bangers and mash combination. If you have two slow cookers, you can make the mashed potato in one and this sausage dish in another.
Scalloped potatoes are a creamy side dish that will work very nicely with this meal. You can cook the scalloped potatoes in the slow cooker or bake them in the oven. It is a simple but delicious side dish.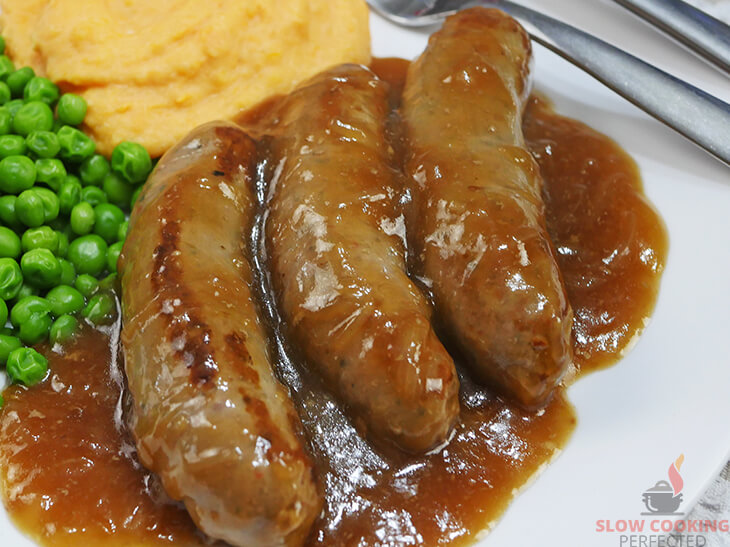 There are lots of other sides that go great with this recipe. For example, something like fried or oven-baked chips goes excellent on the side. Even something like cauliflower cheese will be a delicious side dish.
I have spent a bit of time putting together a video that goes through the steps for making this delicious sausage meal in the slow cooker. You can find the video right below. Otherwise, there is a written recipe right underneath it.
Slow Cooker Sausages in Onion Gravy Recipe
Ingredients
Sausages
1 kg (2.2 lb) Italian beef sausages
2 onions, sliced
1 tsp garlic, crushed
2 cups beef stock
2 tsp Worcestershire sauce
Thickener
Instructions
Quickly brown the sausages in a frypan over high heat.
In a slow cooker, add the onions and place the sausages on top. Add the beef stock, garlic, and Worcestershire sauce.
Cook on low for 6 hours.
Remove the sausages from the slow cooker.
Mix the cornstarch and water until well combined. Once done, pour into the slow cooker, stir slightly, and season to taste.
Add the sausages back to the slow cooker and cook on high for 30 minutes or until thickened.
Serve & Enjoy.
Recipe Tips
To ensure that this recipe is gluten-free, please check to see if your sausages, Worcestershire sauce, and cornstarch are free of gluten products.
I highly recommend that you brown the sausages before adding them to the slow cooker. It helps reduce the amount of fat produced throughout slow cooking and will help the sausage keep a nicer texture. With that said, if you are low on time, you can skip this step.
You can use a drop or two of Parisian essence to get a deep brown color to your gravy. This ingredient is readily available in Australia but might be harder to come by in other countries.
Note: I use a 5.5L (6 Quart) slow cooker for all the recipes that I have on this website unless specified. If you have a smaller or larger slow cooker, then you might need to adjust the ingredients.
Nutrition Information
Serving Size: 266g (9.4 oz)
Servings Per Recipe: 6
Calories Per Serving: 582
Amount Per Serving
Saturated Fat: 18.2g
Trans Fat: 2.4g
Dietary Fiber: 0g
Sugars: 1g
Cholesterol: 137mg
Sodium: 1533mg
Protein: 32g
The information above is an estimate generated by an online nutrition calculator.
More Slow Cooker Sausage Recipes
There are quite a few different recipes that you can do in the slow cooker that makes use of sausages.
One of my favorite dishes is sausage and peppers. I highly recommend giving it a go if you love sausages, peppers, and tomatoes.
The creamy sausage and potato casserole is yet another recipe that you should try. You will absolutely love it if you love hearty comfort food. It is certainly one of my go-to recipes.
I absolutely love getting these slow cooker sausages in onion gravy cooking early in the morning. It has undoubtedly become one of my go-to recipes. If you have any thoughts, feedback, or anything else, then please do not hesitate to leave a comment below.