These slow cooker devilled sausages are loaded with flavor and will be a huge hit with the family.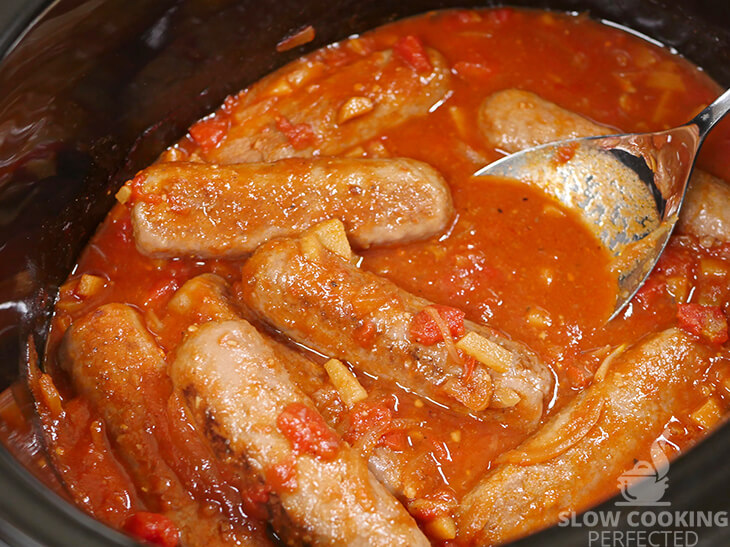 By the time this dish is ready, the sausages will be incredibly tender, and the sauce will be loaded with flavor. The sauce features a slight bit of sweetness and a good amount of spice. You can easily adjust these flavors by tinkering with the cayenne pepper and brown sugar.
You should be able to get four to six serves from a single batch of this recipe. I recommend doubling the number of sausages if you need to feed more people. You can also double the sauce ingredients if you want lots of sauce.
If you somehow end up with leftovers, then they are great for a leisurely lunch or dinner. Simply reheat the sausages in either the microwave or over the stove. I recommend storing the leftovers in the fridge for three days or three months in the freezer.
What to Serve with Devilled Sausages
There are plenty of side dishes that will work brilliantly with these devilled sausages. Below is a couple of ideas that I highly recommend giving a go.
Personally, I love to serve these sausages over the top of some homemade mashed potatoes. If I have a bit of spare time, I will also steam some greens such as broccoli.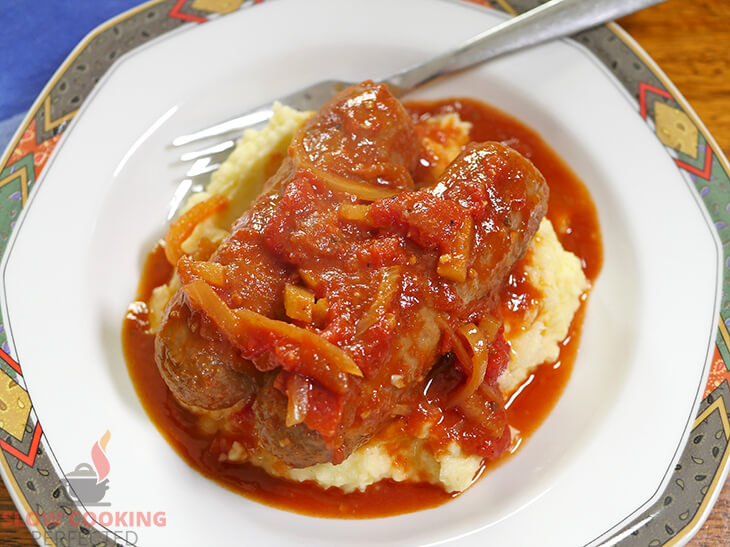 These sausages go great with some steak fries and steamed greens. I like to cook the steak fries in either the oven or deep fryer. An excellent alternative to steak fries is to cook some cheesy potatoes in the slow cooker.
For something a little healthier, I recommend making some cauliflower rice. If cauliflower does not take your fancy, then regular steamed rice will also work very nicely with the sausages.
Tweaking the Recipe
You can adjust this recipe slightly, so that it is more to your liking. Below are a couple of ideas on how you can tweak the recipe.
If you have a bit of spare time, I recommend pan-frying the sausages before placing them into the slow cooker. It helps add a little bit of texture to the sausages and reduces the fat that will end up in the slow cooker.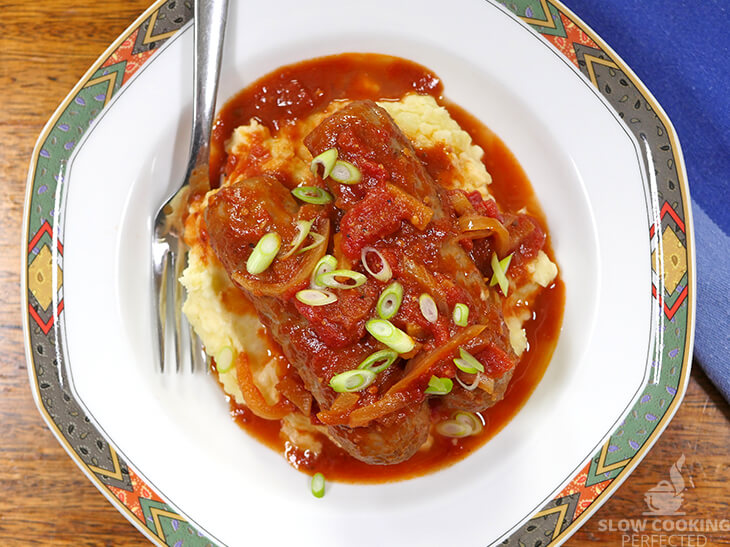 More vegetables can be added to the sauce. For example, carrots, mushrooms, potatoes, or even peas will work very nicely with the rest of the ingredients. Feel free to get a little creative for adding vegetables.
I use beef sausages in this recipe, but they can easily be swapped for pork or chicken. I recommend getting thick sausages for the best results.
The video below will take you through all the steps of making devilled sausages in the slow cooker. A written recipe can be found right below the video.
Slow Cooker Devilled Sausages Recipe
Ingredients
500 g (1.1 lb) beef sausages, lightly browned
1 onion, sliced
2 tsp garlic, crushed
1 apple, cored, peeled, and chopped
125 ml (4.2 fl oz) beef stock
2 tsp soy sauce
2 Tbsp Worcestershire sauce
1 Tbsp dijon mustard
½ tsp cayenne pepper
2 Tbsp tomato paste
1 Tbsp brown sugar
400 g (14.1 oz) diced tomatoes
Instructions
In a slow cooker, add the onion, garlic, apple, beef stock, soy sauce, Worcestershire sauce, Dijon mustard, cayenne pepper, tomato paste, brown sugar, and diced tomatoes. Stir until combined.
Next, add the beef sausages and submerge in the sauce.
Cook on low for 6 hours.
Season with salt and pepper.
Serve & Enjoy.
Recipe Tips
Make sure your sausages are defrosted before placing them into the slow cooker.
The apple can be replaced with some applesauce instead. I highly recommend adding the apple as it helps add a ton of flavor to the dish.
The cayenne pepper is optional, but it adds a nice bite to the dish and a little extra flavor.
If you need this dish faster, simply turn the slow cooker to the high setting and reduce the cooking time by half.
Use a water and cornstarch mixture to thicken the sauce if it is too runny.
To ensure that this recipe is gluten-free, make sure you buy sausages that do not contain gluten products.
Note: I use a 5.5L (6 Quart) slow cooker for all the recipes that I have on this website unless specified. If you have a smaller or larger slow cooker, then you might need to adjust the ingredients.
Nutrition Information
Serving Size: 328g (11.6 oz)
Servings Per Recipe: 4
Calories Per Serving: 514
Amount Per Serving
Saturated Fat: 14.2g
Trans Fat: 0g
Dietary Fiber: 3g
Sugars: 13g
Cholesterol: 95mg
Sodium: 1287mg
Protein: 21g
The information above is an estimate generated by an online nutrition calculator.
More Slow Cooker Sausage Recipes
There are plenty more sausage recipes that you can cook in the slow cooker. Below are a couple of my favorite dishes that I highly recommend giving a try.
If you love creamy casseroles, you have to try the slow cooker sausage and potato casserole. It features a deliciously creamy sauce and loads of flavor. Certainly, a must-try recipe if you need to feed a crowd.
The curried sausages are similar to this dish but have strong curry flavors instead. I highly recommend giving it a try if you love this recipe. You will not be disappointed.
I hope that you enjoy these slow cooker devilled sausages as much as I do. If you have some feedback, then please do not hesitate to leave a comment below.