If you're looking for a flavor-packed dinner that's super easy, then this slow cooker sausage and potatoes recipe is for you.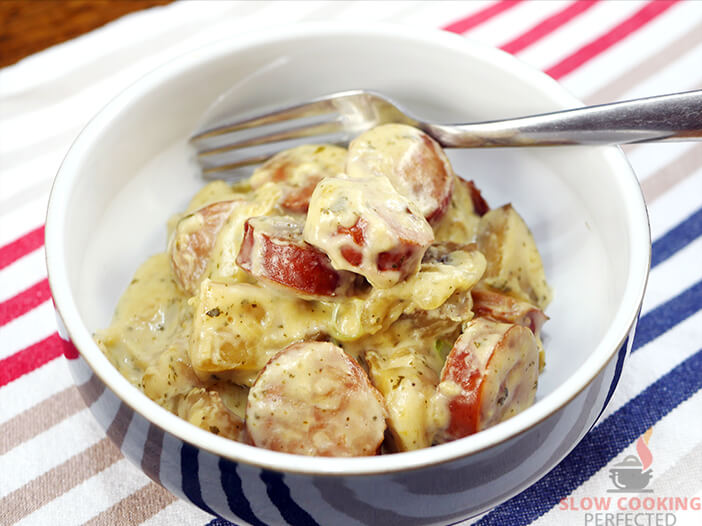 Two words describe this dish perfectly, comfort food. The rich, creamy sauce along with the sausage and potatoes, makes this super fulfilling. It's packed with flavor and is a meal that you will likely go back for seconds.
Making casseroles in the slow cooker is an excellent way to get a flavor-packed dish. The long cooking time allows for all the flavors to develop into something beautiful.
A single batch of this recipe should feed roughly four to six people. You can feed more with the addition of sides or adding more ingredients, such as the suggestions below.
Personalizing the Recipe
There are plenty of changes that you could make to this recipe, below are just a couple of examples on what you can do.
You can add some sliced mushrooms, carrot, sweet potato, and other vegetables into the slow cooker. These will all add more flavor and help bulk out the casserole.
I use a smoked sausage in this recipe, but any type of sausage will work fine. For example, Italian sausages are an excellent replacement and taste just as good as kielbasa.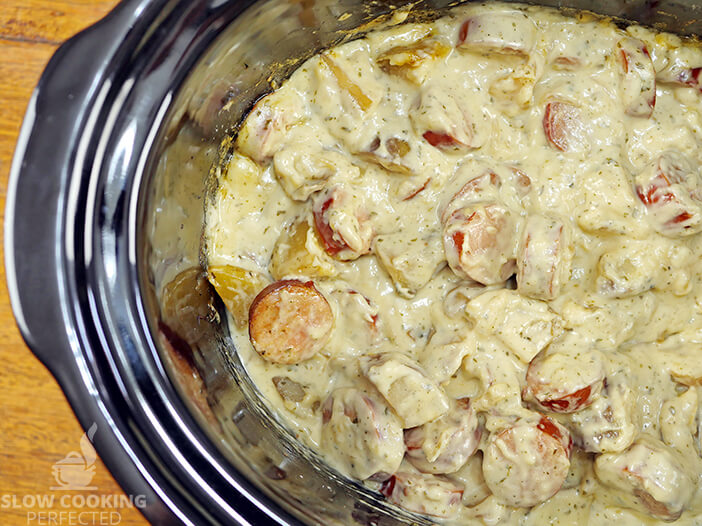 This slow cooker sausage and potato casserole is very creamy. If you're looking for something less creamy, then be sure to check out our regular sausage casserole. It has a lovely rich gravy sauce, so I highly recommend it.
If you do a variation be sure to let us know how it goes in the comment section at the bottom of this page.
What to Serve with Sausage & Potatoes
I don't recommend sides with this dish as it is pretty fulfilling on its own. However, if you need something, then a good stick of garlic bread goes excellent on the side.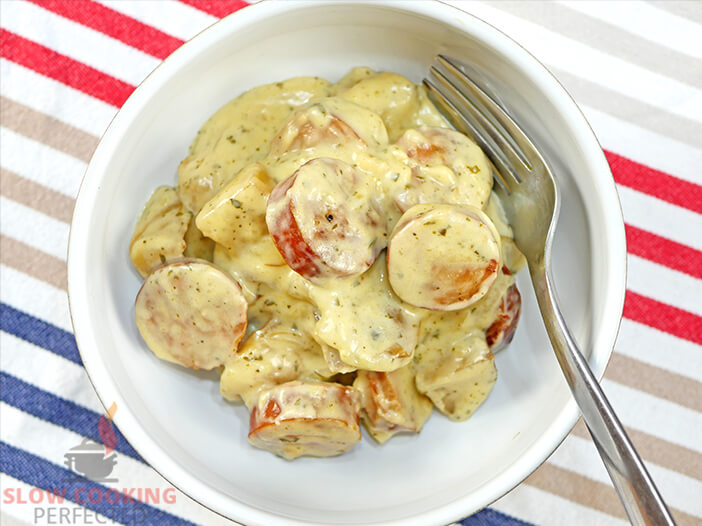 If you somehow end up with leftovers, then you can refrigerate them for lunch or dinner the next day. As with most creamy dishes, I don't find that it reheats too well. So, I highly recommend eating it all in one day.
I have put together a short but informative video on how to make this delicious sausage and potatoes dish. You can find it right below. Alternatively, you can find the full written recipe right under the video.
Slow Cooker Sausage and Potatoes Recipe
Ingredients
500 g (1.1 lb) smoked sausage, cut into 1cm (0.4 in) pieces
500 g (1.1 lb) potatoes, cut in chunks
1 onion, sliced
2 tsp garlic, crushed
1 cup chicken stock
2 Tbsp Worcestershire sauce
2 tsp parsley, chopped
1 cup heavy cream
Thickener
Instructions
In a slow cooker, add the smoked sausage, potatoes, onion, garlic, chicken stock, Worcestershire sauce, and parsley.
Cook on low for 6-8 hours or until the potatoes are cooked.
Mix the cornstarch with the water until smooth. Stir into the slow cooker along with the heavy cream.
Cook on high for 15-30 minutes or until thickened.
Season with salt and pepper.
Serve & Enjoy.
Recipe Tips
To ensure that this recipe is gluten-free, use a gluten-free cornstarch and Worcestershire sauce.
The type of sausage you use is entirely up to you. For example, both Polish (Kielbasa) and Italian sausages will work very well. Even the cheap supermarket sausages are delicious in this casserole.
You can use any type of potato in this recipe, but I recommend using something like Yukon for the best results.
If you have the need for cheese, then feel free to add it to this recipe. I recommend mixing it in at the same time as the cornstarch mixture.
The herb that you use in this dish can easily be swapped for something else. I made use of parsley, but plenty of others, such as chives, will work just fine.
Heavy cream is also known as thickened cream in Australia or whipping cream in the UK.
Note: I use a 5.5L (6 Quart) slow cooker for all the recipes that I have on this website unless specified. If you have a smaller or larger slow cooker, then you might need to adjust the ingredients.
Nutrition Information
Serving Size: 269g (9.5 oz)
Servings Per Recipe: 4
Calories Per Serving: 488
Amount Per Serving
Saturated Fat: 17g
Trans Fat: 0g
Dietary Fiber: 2g
Sugars: 3g
Cholesterol: 115mg
Sodium: 840mg
Protein: 14g
The information above is an estimate generated by an online nutrition calculator.
More Slow Cooker Recipes
If you love comfort food and looking for something potato-based, then you need to check out the cheesy potatoes with bacon. They're super loaded with cheese, a whole heap of bacon. Not hugely recommended if you're on a health kick.
There are also a ton of other sausage recipes that you can do in the slow cooker. The curried sausages are worth trying out. They cook to have a good amount of flavor.
I enjoy this slow cooker sausage and potatoes recipe as it's easy and delicious. I hope that you will love this dish as much as I do. If you have any variations, tips, or anything else, then please don't hesitate to leave a comment below.