One great dish you need to try is the slow cooker cheesy potatoes with crispy bacon. It's incredibly addictive and perfect if you're looking for a delicious treat.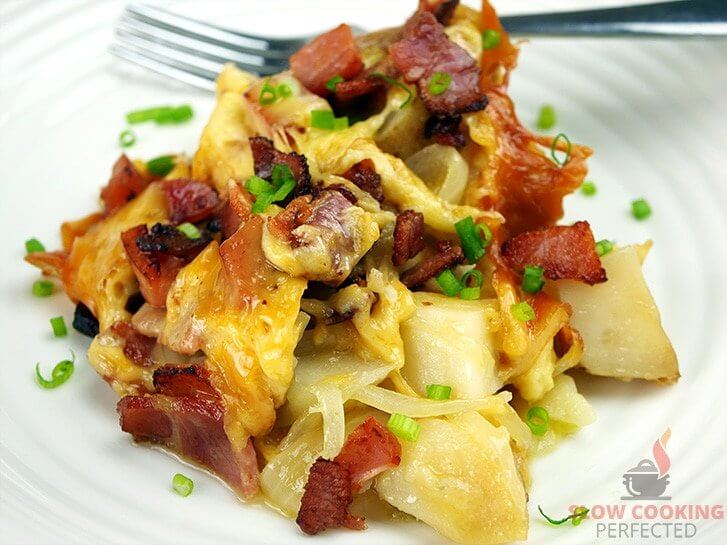 While this dish isn't the healthiest, it certainly is tasty. The combination of cheese, potatoes, bacon, and onion will leave you craving this dish all the time. You can eat it as a side dish or as an entire meal.
These cheesy potatoes are so good, but they're even better when topped with some fresh guacamole and sour cream. Of course, this will add a few more calories to the dish, but it's so worth it if you want a flavor-packed meal.
Tweaking the Recipe
In addition to the bacon, you can add some ground beef, pulled beef, or shredded chicken. This addition will give you some meatier cheesy potatoes that taste incredible. Very similar to the tater tot beef casserole but with fresh potatoes.
For creamy potatoes, you can add a can of chicken soup and a cup of sour cream. The potatoes will instead cook in a thick cheesy, creamy sauce. It's undoubtedly delicious but will make this dish even unhealthier.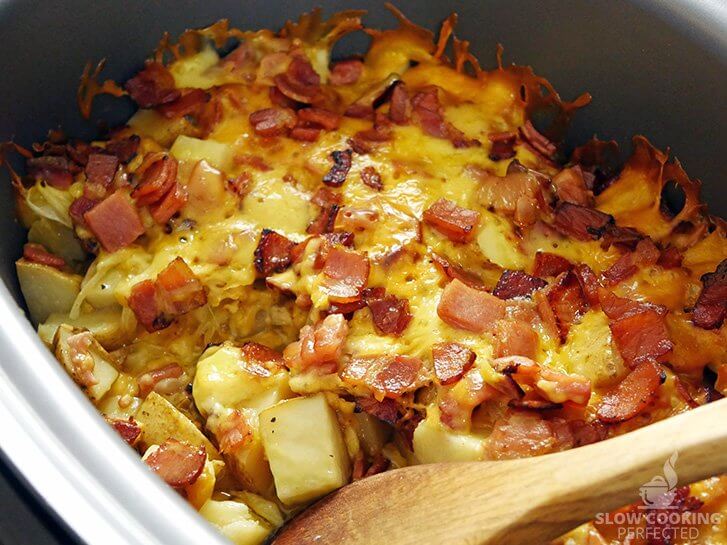 Some seasoning can help elevate this dish to a whole new level. A couple of teaspoons of Cajun spice will not just add a whole heap of flavor but a bit of spice too. You can also try something a little more traditional such as rosemary and thyme.
There are dozens, if not hundreds of tweaks that you can make to this recipe. If you have any suggestions, please don't hesitate to leave a comment.
Cheesy Potatoes as a Side Dish
These potatoes you can have as a main meal, or you can have them as a side dish. If you have multiple slow cookers, then I highly recommend cooking up another delicious dinner recipe to go with these potatoes.
For example, the Mississippi roast beef goes excellent as a main to this dish. It is super easy to prepare, and much like this dish, cooks to be deliciously tender and packed full of flavor.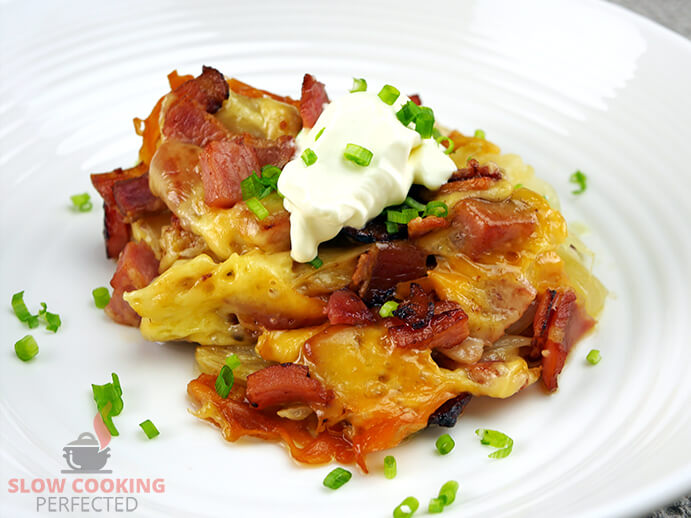 One of my favorites is cooking a whole chicken in the slow cooker. The slow cooker retains moisture so the chicken comes out to be succulent and packed with flavor. It's one of my favorite recipes.
My last recommendation is doing a slow-cooked pork roast. Much like the chicken, it cooks to be tender and packed with the flavors of the dry rub. These cheesy potatoes go excellent on the side.
What to do with Leftovers
You will find that this dish will reheat quite nicely, so make sure you don't go throwing out any leftovers.
I recommend only storing it in the fridge as cheese doesn't freeze that well. It should last up to about a week in the refrigerator; however, if it smells terrible, just throw it out.
You can store the leftover potatoes in the freezer, and they should last for up to three months. I recommend doing this only if you don't see yourself eating the leftovers any time soon.
If you want to see how to make cheesy potatoes in the slow cooker, then the video I have prepared below will take you through all the steps. Alternatively, you can find the full written recipe right below the video.
Slow Cooker Cheesy Potatoes Recipe
Ingredients
500 g (1.1 lb) crispy bacon, diced
2 medium onions, sliced
4 medium potatoes, cut into chunks
500 g (1.1 lb) cheddar cheese, grated
30 g (1.1 oz) butter, cubed
Instructions
In a slow cooker, add the potatoes and onions. Scatter the butter across the potatoes, season lightly with salt & pepper.
Lastly, top with the cheddar cheese and bacon.
Cook on low for 6 hours.
Serve & Enjoy.
Recipe Tips
You can always place raw bacon into the slow cooker instead of pre-cooked bacon. However, it won't have that delicious crispy taste as fried bacon does.
Swapping the potatoes for a different variety, such as sweet potato, will radically change the outcome. Indeed, something to try if you love experimenting a little.
If you're worried the potatoes are uncooked, then you can check them by simply using a cake skewer. Simply skewer the potato, and if it goes in easily, the potato is cooked and ready to eat.
Mixing up the cheese you use is a great way to get some very different tasting potatoes. A few kinds of cheese you can try adding include some brie, mozzarella, goats cheese, or even some gouda cheese.
Turn the slow cooker to high and cook for three to four hours if you want this dish faster.
Note: I use a 5.5L (6 Quart) slow cooker for all the recipes that I have on this website unless specified. If you have a smaller or larger slow cooker, then you might need to adjust the ingredients.
Nutrition Information
Serving Size: 316g (11.1 oz)
Servings Per Recipe: 8
Calories Per Serving: 540
Saturated Fat: 13.8g
Trans Fat: 0.4g
Dietary Fiber: 4g
Sugars: 7g
Cholesterol: 73mg
Sodium: 1114mg
Protein: 20g
The information above is an estimate generated by an online nutrition calculator.
More Tasty Slow Cooker Recipes
If this isn't taking your fancy, then you might be interested in the cheesy hash brown casserole. Very similar to this dish, but uses hash brown potatoes with a whole bunch of cheese and cream of chicken soup.
Another recipe that I highly recommend that you try making in the slow cooker is scalloped potatoes. They cook to be creamy and packed full of flavor. It's the perfect side dish that goes great with lots of different meals.
I hope that you enjoy these slow cooker cheesy potatoes and that they have cooked out to be as good as they were for me. If you have some feedback, tips or anything else, then please feel free to leave a comment right below.