I love this slow cooker Tater Tot casserole as it is an incredibly cheesy dish that is packed with flavor. It is well worth the time and effort it takes to make.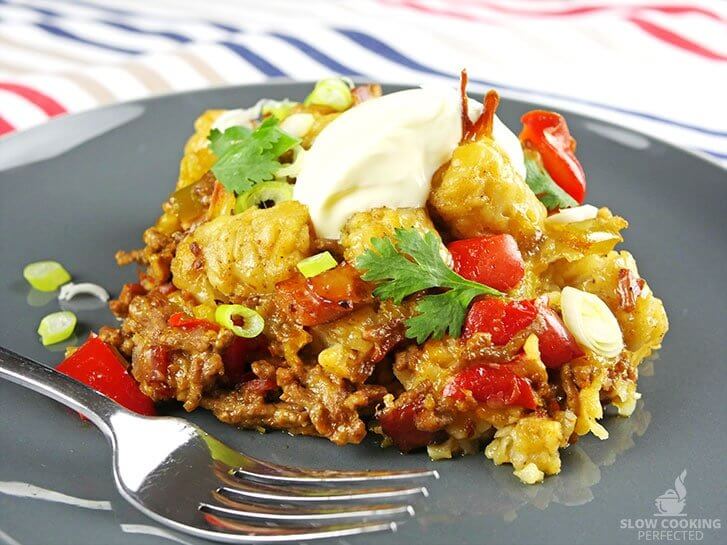 This tater tot casserole has ground beef, cheese, crispy bacon, bell peppers, and a taco seasoning mix. It is an excellent combination of ingredients that results in a casserole that is packed full of flavor. It is bound to be a hit with your friends and family.
If you did not already know, Tater Tots are a potato dish made from grated potatoes and are a cylindrical shape. You can find these in the frozen aisle at your local supermarket. You may also find them under different names such as here in Australia we call them potato gems.
Apart from being one of the best comfort food recipes that you can make in your slow cooker, it is also a great dish if you need to feed a crowd. A single batch of this casserole should feed roughly eight people.
This cheesy casserole is the perfect dish for any time of the day. However, one downside to this dish is that the cooking time is not ideal for breakfast unless you only sleep for four to six hours.
Make sure you keep the leftovers as they will reheat the next day nicely. Keep the leftovers covered in the fridge until you need them, they will last for about three days. Simply heat in either an oven or the microwave.
Tweaking the Recipe
There is a vast amount of variations that you can do on this dish.
The ground beef can easily be swapped for another meat such as ground turkey, shredded buffalo chicken, or even ground pork. You could leave the meat out entirely if that is what you prefer.
I prefer this casserole without any extra liquid. However, if you feel like it needs something, then enchilada sauce or cream of mushroom soup will work nicely.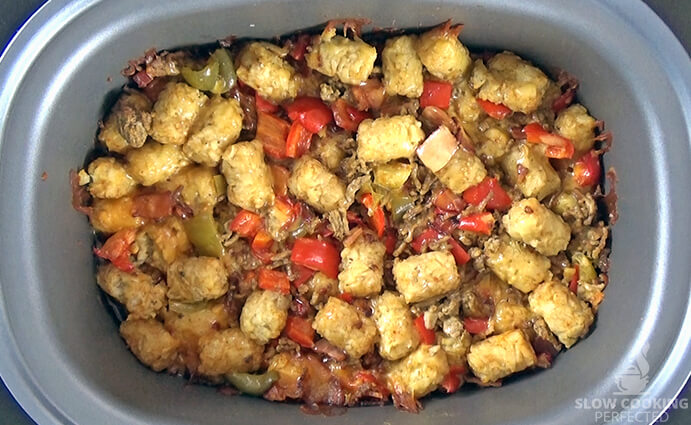 You can double the amount of taco seasoning used in this recipe if you love the taste of the seasoning. Be careful to not go overboard as it can make the casserole too salty.
More vegetables can easily be added into this casserole for a bit of extra flavor and nutrition. For example, some chopped mushrooms will match perfectly with the rest of the ingredients.
Tater Tot Casserole Accompaniments
You do not need to have side dishes or extras with this casserole as it is perfect on its own. However, if you want something extra to go with it, then below are some ideas.
My favorite addition to have with this casserole is some sour cream and homemade guacamole. I usually add a dollop of each condiment to the top of the casserole.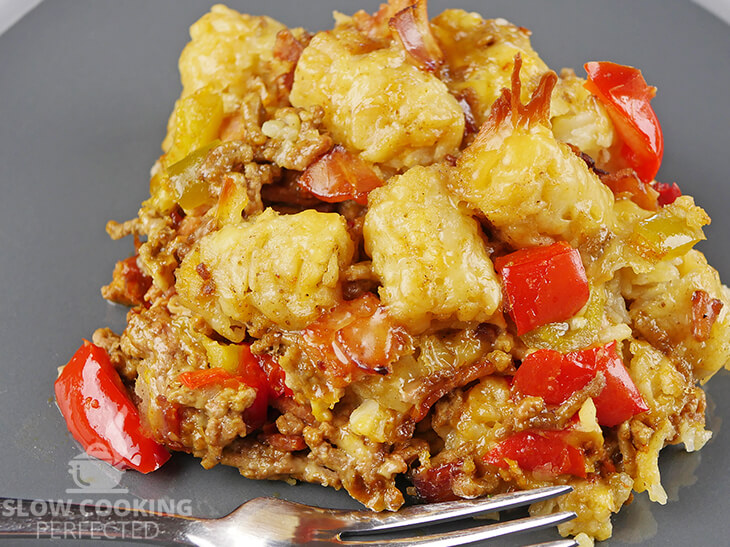 A side dish that I reckon will work nicely is a light green salad as it will help offset this heavy casserole. I usually make a basic salad that consists of lettuce, cherry tomatoes, cucumber, red onion, and a delicious homemade dressing.
If you want to see how to make this Tater tot casserole in the slow cooker, be sure to check out the video below. Alternatively, the full written recipe can be found right below the video.
Slow Cooker Tater Tot Casserole
Ingredients
1 kg (2.2 lb) frozen tater tots
500 g (1.1 lb) ground beef
250 g (8.8 oz) bacon, roughly chopped
2 bell peppers, chopped
1 packet taco seasoning (30g/1 oz)
2 cups cheddar cheese, shredded
Instructions
Firstly, in a pan over high heat, fry the bacon until it is crispy. Once crispy, put to the side.
In the same pan, fry the ground beef until browned. Once browned, drain and put to the side.
In the slow cooker, add all the ingredients and mix.
Cook on low for 4-6 hours.
Serve & Enjoy.
Recipe Tips
You can use a different type of cheese if you are not a huge fan of cheddar.
To help avoid this casserole becoming too soupy, I highly recommend that you pre-cook the ground beef. The bacon can be added uncooked, but it will not crisp up in the slow cooker.
You do not have to use crispy bacon, but it certainly does add to the texture and taste of the dish.
Add more cheese if you can never get enough of it. Simply scatter another cup over the top of the casserole.
You can always make taco seasoning from scratch if you cannot get your hands on some packet taco seasoning. All you need is a few key spices in your cupboard.
Note: I use a 5.5L (6 Quart) slow cooker for all the recipes that I have on this website unless specified. If you have a smaller or larger slow cooker, then you might need to adjust the ingredients.
Nutrition Information
Serving Size: 281g (9.9 oz)
Servings Per Recipe: 8
Calories Per Serving: 448
Saturated Fat: 7g
Trans Fat: 0.5g
Dietary Fiber: 3g
Sugars: 2g
Cholesterol: 68mg
Sodium: 669mg
Protein: 27g
The information above is an estimate generated by an online nutrition calculator.
More Slow Cooker Recipes
Below are some more slow cooker recipes that I reckon you will love.
If you love this Tater tot casserole, you might be interested in something like a cheesy hash brown casserole. It's incredibly delicious and will fill you up fast.
There are plenty more casserole recipes that you can do in the slow cooker. If you are looking for a recipe that is creamy, then you have to try the sausage and potato casserole. It is deliciously creamy and has a fantastic range of rich flavors.
I hope that you enjoy this incredible slow cooker Tater tot casserole. If you have any feedback, tips, or anything else that you want to share, then please do not hesitate to leave a comment below.