This creamy slow cooker chicken and bacon casserole is a fulfilling meal that will feed the entire family.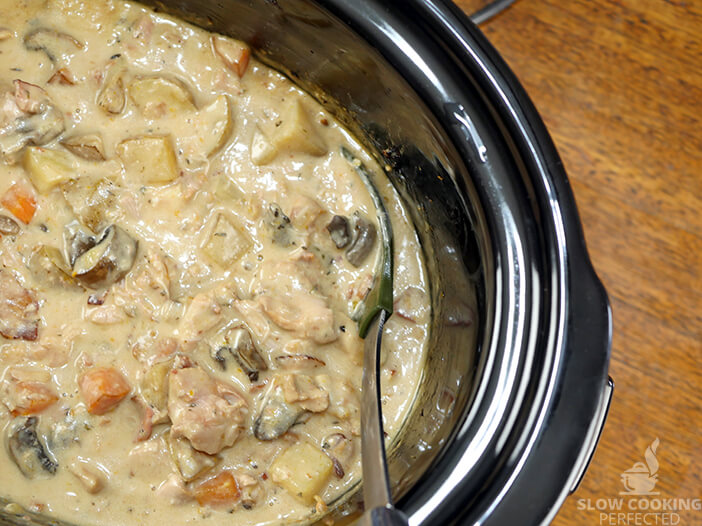 The casserole has a lovely creamy sauce that is packed full of flavor thanks to the wonderful range of ingredients. The chicken will cook to be tender, just like the potato, and carrots. It is the perfect dish to get cooking early in the day so that it is ready for dinner.
You will be amazed by how many people you can feed with a single batch of this delicious casserole. I found that it was able to feed about six to eight people, but you can probably feed more if you had some tasty sides to go with the casserole.
The leftovers of this dish will freeze or refrigerate nicely. If you find yourself with leftovers, make sure you keep them as they are pretty good for an easy lunch or dinner the next day.
What to Serve with Chicken and Bacon Casserole
Like most slow cooker casseroles, you can enjoy this on its own without side dishes. With that said, below are a couple of ideas on what you can serve with this casserole.
This casserole goes excellent with some freshly blanched greens such as broccoli and snow peas. Alternatively, a delicious salad will also work nicely as a side dish. Something basic is all you need, such as lettuce, tomatoes, cucumber.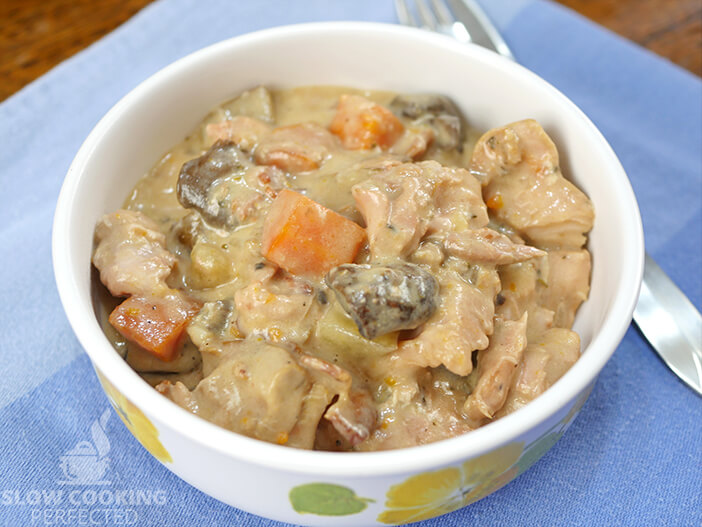 Some mashed potatoes are great as a side dish, but you might want to omit the potato from the recipe. The creamy chicken and bacon match perfectly with the mashed potatoes.
My last idea for the perfect side dish is some homemade garlic bread. It is delicious to eat plain but even better dipped into the creamy sauce of this casserole. I highly recommend giving it a try if you have spare time.
A video on how to make this chicken and bacon casserole in the slow cooker is right below. If you love a written recipe, then you can find one right underneath the video.
Slow Cooker Chicken & Bacon Casserole Recipe
Ingredients
1 kg (2.2 lb) chicken thighs, cubed
200 g (7.1 oz) crispy bacon, diced
200 g (7.1 oz) mushrooms, sliced
1 onion, diced
1 tsp garlic, crushed
2 large potatoes, cut into chunks
2 carrots, cut into chunks
1 tsp thyme
1 Tbsp tomato paste
250 ml (8.5 fl oz) chicken stock
250 ml (8.5 fl oz) heavy cream
Thickener
2 Tbsp cornstarch
3 Tbsp water
Instructions
Add the chicken, bacon, mushrooms, onion, garlic, potatoes, carrot, thyme, tomato paste, and chicken stock to the slow cooker. Gently stir the ingredients.
Cook on low for 6-8 hours.
Mix the water with the cornstarch. Gently stir the cornstarch mixture into the slow cooker along with the cream.
Cook on high for 15 minutes or until thickened.
Serve & Enjoy.
Recipe Tips
If you want to slim down the ingredient list, then you can leave the potatoes out of the recipe. The result will still be delicious and packed full of flavor. Of course, it may not feed as many people.
Some diced celery is an excellent addition to this slow cooker chicken and bacon casserole. Still, it is not necessary for a tasty dish.
You can use other cuts of chicken such as drumsticks or chicken breasts. I prefer to use chicken thigh as I find they cook the best in a slow cooker.
Always add cream at the end of cooking as it has a high chance of splitting.
The bacon does not have to be crispy, but I do highly recommend precooking it.
Note: I use a 5.5L (6 Quart) slow cooker for all the recipes that I have on this website unless specified. If you have a smaller or larger slow cooker, then you might need to adjust the ingredients.
Nutrition Information
Serving Size: 349g (12.3 oz)
Servings Per Recipe: 8
Calories Per Serving: 586
Amount Per Serving
Saturated Fat: 16.8g
Trans Fat: 0g
Dietary Fiber: 2g
Sugars: 4g
Cholesterol: 186mg
Sodium: 197mg
Protein: 28g
The information above is an estimate generated by an online nutrition calculator.
More Slow Cooker Casseroles
There are many casserole dishes that you can make in the slow cooker.
The pizza casserole is yet another family favorite that even the kids will enjoy. Delicious pepperoni and generous amounts of cheese make it a must-have.
A hearty dish that I highly recommend trying is the cheesy hash brown casserole. It is super simple and is extremely addictive. I can never stop eating it.
I absolutely love this slow cooker chicken bacon casserole. It continues to be a dish that I regularly return to for a hearty meal. If you have any feedback, then please do not hesitate to leave a comment below.