Creamy slow cooker chicken and mushrooms are a delicious dinner dish and are super easy to prepare.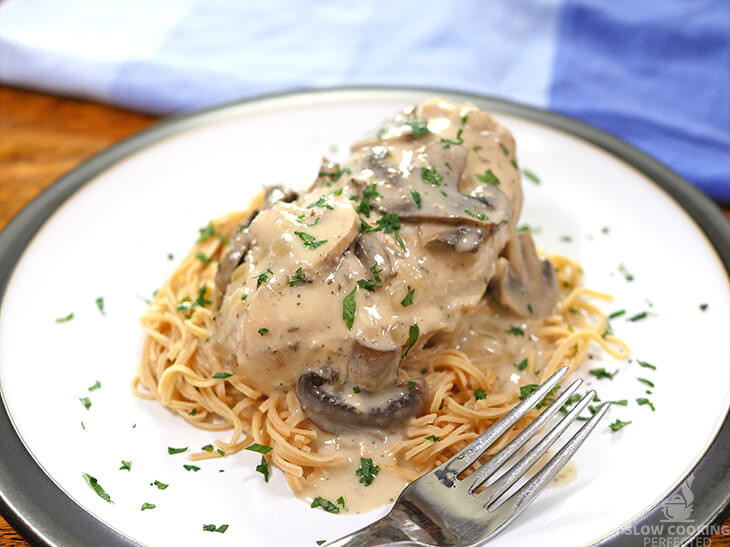 The creamy sauce cooks to be loaded with flavor thanks to the mushrooms, mustard, chicken, and herbs. The chicken itself takes on loads of flavor from the sauce and can be served whole or shredded.
Typically, I will serve one chicken breast per person. So, you should get roughly six or more servings out of a single batch of this recipe. I recommend cooking some side dishes to go with the chicken, for example, I love to serve it with noodles.
The leftovers of this dish will be great reheated for lunch or dinner the next day. I recommend keeping the leftovers in the refrigerator, but you can also keep them in the freezer. They should keep frozen for three months or three days in the refrigerator.
Adjusting the Recipe
There are lots of ways that you can tinker with this recipe. Below are just a couple of ideas on what you can do.
To make this a little cheesy and even creamier, you can add some cream cheese into the sauce. Roughly 250g (8 oz) of cream cheese will be more than enough. It will also thicken the sauce so you might not need the cornstarch mixture.
Any cut of chicken will work nicely in this recipe. I recommend chicken breasts, but something like chicken thighs or chicken drumsticks will also work.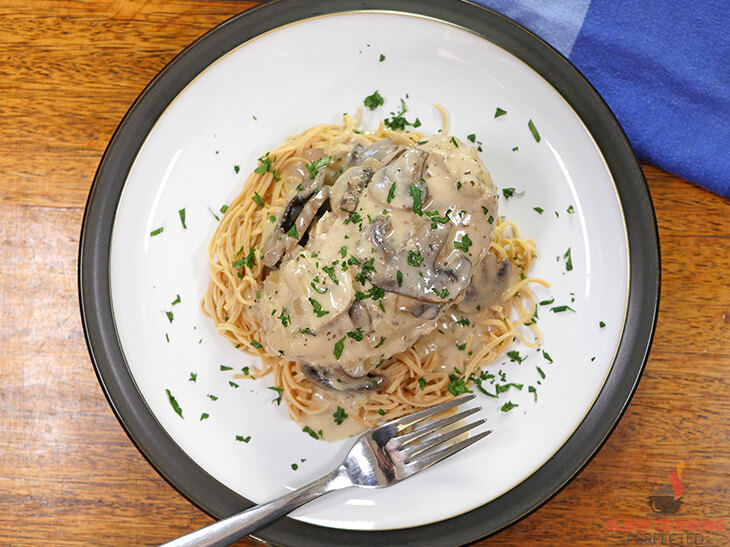 You can tinker with the herbs in this recipe. I only use oregano, but other herbs like thyme or tarragon will work nicely with the rest of this dish's flavors. Feel free to experiment a little to get the best flavors.
There are lots of other ways you can personalize this recipe. If you have a delicious adjustment that you want to share, then please do not hesitate to leave a comment at the bottom of this page.
What to Serve with Chicken and Mushrooms
Many different side dish combinations will work nicely with this meal. Below are a few ideas on how to serve this dish.
Some freshly cooked pasta will work very nicely with the creamy sauce and chicken. You can shred the chicken so that it works better with the pasta. I recommend cooking the pasta separate from the cream sauce for the best results.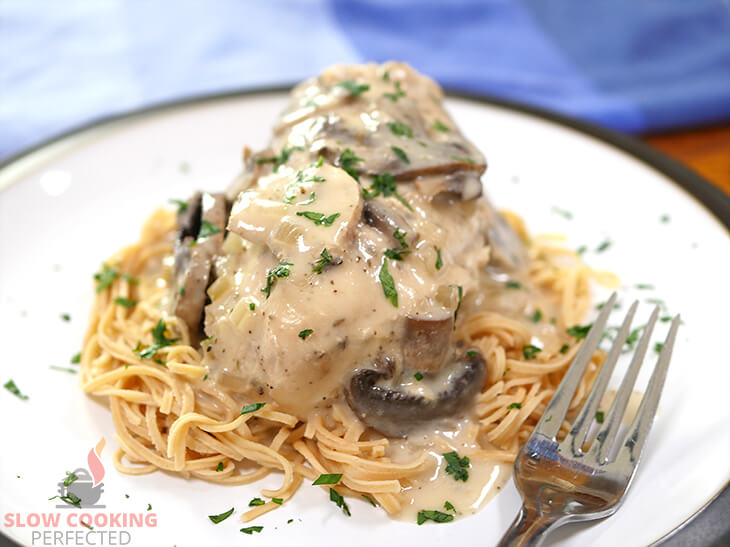 I love to serve this dish over the top of some homemade mashed potatoes. The creamy sauce of this dish and the mashed potatoes match perfectly. I always end up going back for seconds.
Steamed vegetables such as broccoli and cauliflower will work very nicely as a side dish. You can also make steak fries, herby baby potatoes, or sweet potato fries to go alongside the vegetables and chicken.
The video right below will take you through all the steps on how to make creamy chicken and mushrooms in the slow cooker. Alternatively, there is a full written recipe just after the video.
Slow Cooker Chicken and Mushrooms Recipe
Ingredients
1 kg (2.2 lb) chicken breasts
1 onion, diced
2 tsp garlic, minced
250 g (8.8 oz) mushrooms, sliced
2 tsp Dijon mustard
1 tsp oregano, chopped
250 ml (8.5 fl oz) chicken stock
125 ml (4.2 fl oz) heavy cream
Thickener
3 Tbsp cornstarch
3 Tbsp water
Instructions
In a slow cooker, add the onion, garlic, mushrooms, Dijon mustard, oregano, and chicken stock. Next, add the chicken breasts.
Cook on low for 6 hours.
Remove the chicken breasts from the slow cooker.
In a bowl, mix the cornstarch and water until it forms a paste. Stir the cornstarch mixture and the cream into the liquid in the slow cooker. Return the chicken to the slow cooker.
Switch the slow cooker to high and cook for 30 minutes or until thickened.
Season with salt and pepper.
Serve & Enjoy
Recipe Tips
The chicken breasts can be replaced with a different cut of chicken, such as chicken thighs.
Wholegrain mustard is a suitable replacement for the Dijon mustard.
To cook this dish faster, switch the slow cooker to high and reduce the cooking time by half.
I recommend using oregano, but other herbs will also work nicely in this dish. For example, tarragon is an excellent match for a creamy sauce.
Note: I use a 5.5L (6 Quart) slow cooker for all the recipes that I have on this website unless specified. If you have a smaller or larger slow cooker, then you might need to adjust the ingredients.
Nutrition Information
Serving Size: 304g (10.7 oz)
Servings Per Recipe: 6
Calories Per Serving: 408
Amount Per Serving
Saturated Fat: 9.4g
Trans Fat: 0.2g
Dietary Fiber: 1g
Sugars: 3g
Cholesterol: 137mg
Sodium: 195mg
Protein: 38g
The information above is an estimate generated by an online nutrition calculator.
More Chicken Recipes
There are so many chicken recipes that you can do in the slow cooker. Below is a couple that I reckon you would like if you enjoyed this recipe.
The creamy chicken and bacon casserole is always a hit when I make it for friends and family. It features delicious pieces of chicken, potatoes, carrot, and bacon. I also love it as it can easily feed a crowd.
Another creamy style dish that I reckon you will love is the chicken marsala. The dish features a deliciously creamy sauce that is loaded with flavor thanks to the marsala wine. It is remarkably like this dish in a lot of ways.
I hope that the recipe has helped you make some slow cooker chicken and mushrooms. If you have some feedback, then please do not hesitate to leave a comment below.