This delicious slow cooker chicken marsala is a fantastic dinner dish that is great for feeding a crowd.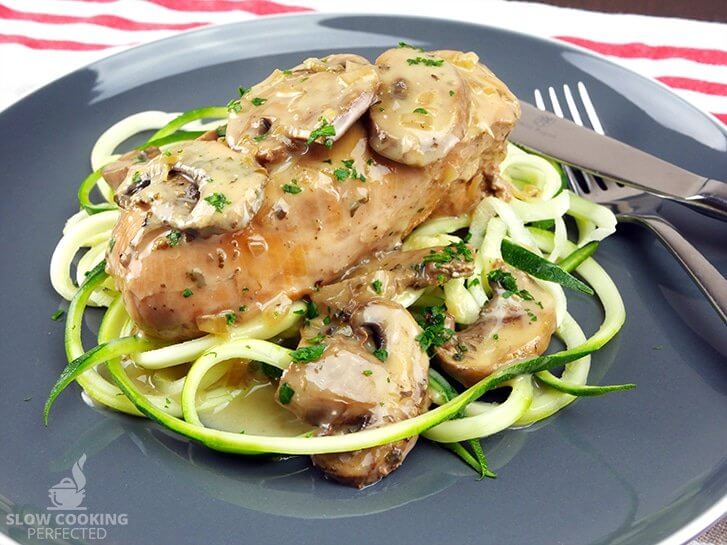 By the time you eat this dish, the chicken will be loaded with flavor thanks to the delicious marsala sauce. Speaking of the sauce, it cooks to be creamy and has lots of juicy mushrooms. It is all a delightful combination that I reckon you will enjoy.
Traditionally this dish is cooked in a frypan and usually has a much thicker sauce that is similar to a syrup. This slow cooker variation has a lot more sauce and tends to be runnier. The flavors are a lot more subtle when compared to the traditional frypan version.
A single batch of this chicken will feed roughly six people. However, I do recommend that you serve the dish with something else, such as mashed potatoes. You can easily adjust the recipe to feed more people if needed.
Leftovers for this dish are worth keeping and will reheat the next day nicely. Make sure you heat the chicken as it is best served hot. The leftovers will last a few days in the fridge. Alternatively, you can try freezing the leftovers.
Perfecting this Recipe
Cooking wine in the slow cooker is much different from cooking it over the stove. The lack of vigorous cooking can leave you with a much harsher wine flavor. Personally, I did not have any issues. However, if you are worried, you can boil the wine for a few minutes before adding it to the slow cooker.
Do not be afraid to add some crispy bacon as it will add loads of flavor into the sauce. I do recommend that you fry the bacon first so that it has a much nicer texture and will be less oily.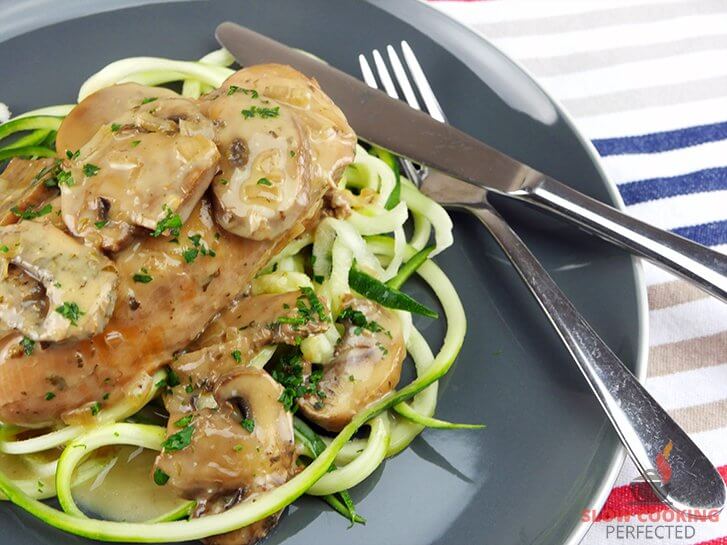 I made use of button mushrooms, but they can easily be swapped for a different variety. Some mushrooms will add a very different flavor to the dish, so keep this in mind when looking for mushrooms.
For the best slow-cooked chicken marsala, I recommend using a sweet marsala and not the dry variety. You may find that using a dry marsala will result in a more acidic sauce.
What to Serve with Chicken Marsala
There are a ton of side dishes that you can cook to go with this dish.
If you want to be healthy, then this dish goes perfectly on top of some vegetable pasta. As you can tell in the photos, I made some zucchini pasta to go with the chicken. It was certainly delicious.
The chicken goes very nicely over some creamy mashed potatoes. You can make the mashed potatoes in the slow cooker, but you will need two slow cookers to cook it at the same time as the chicken.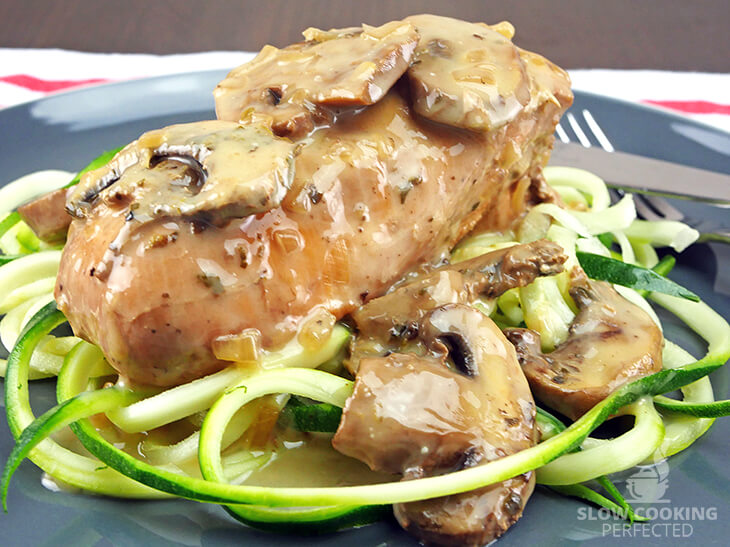 I also highly recommend making some scalloped potatoes in the slow cooker to go with the chicken. It is undoubtedly a delicious dish but will involve a bit of extra work and an additional slow cooker.
Lastly, some steamed rice will work very nicely with the chicken. I recommend cooking the rice in the rice cooker as it is super easy. For something a little healthier, you can try making some cauliflower rice.
The video below will take you through all the steps on how to make chicken marsala in the slow cooker. If you like the video, then be sure to subscribe to the YouTube channel. Alternatively, you can find the written recipe below the video.
Slow Cooker Chicken Marsala Recipe
Ingredients
1 kg (2.2 lb) chicken breasts
4 shallots, diced
500 g (1.1 lb) mushrooms, sliced
1 cup sweet marsala wine
1 tsp oregano
1 tsp parsley
1 tsp lemon juice
1 cup heavy cream
To Thicken
2 Tbsp cornstarch
2 Tbsp water
Instructions
In a slow cooker, add the chicken, shallots, mushrooms, marsala wine, oregano, parsley, and lemon juice.
Cook on low for 6 hours.
Remove the chicken from the slow cooker.
In a bowl, mix the cornstarch and water until it forms a paste. Mix into the slow cooker along with the cream.
Return the chicken to the slow cooker and cook until the sauce has thickened.
Serve & Enjoy.
Recipe Tips
The cream can be left out of this recipe if you are trying to keep this dish as healthy as possible. However, the cream really does help add a ton of depth and flavor to this dish.
If the sauce is still a little too runny for your liking, then add some more cornstarch. Just make sure you mix it with some water before adding it to the slow cooker.
Heavy cream is also known as whipping cream in the United Kingdom or thickened cream in Australia.
Note: I use a 5.5L (6 Quart) slow cooker for all the recipes that I have on this website unless specified. If you have a smaller or larger slow cooker, then you might need to adjust the ingredients.
Nutrition Information
Serving Size: 319g (11.3 oz)
Servings Per Recipe: 6
Calories Per Serving: 401
Amount Per Serving
Saturated Fat: 9.1g
Trans Fat: 0.2g
Dietary Fiber: 1g
Sugars: 4g
Cholesterol: 134mg
Sodium: 360mg
Protein: 38g
The information above is an estimate generated by an online nutrition calculator.
More Slow Cooker Chicken Recipes
There are a ton of chicken dishes that you can cook in a slow cooker. Below are a couple of my favorite chicken recipes.
If you like this recipe, then you might also like honey mustard chicken breasts. These are cooked in a rich honey and mustard sauce. Much like this dish, it goes great with some rice and vegetables.
The sesame chicken is another slow cooker meal that I have to recommend. It features some chicken cooked in a delicious sauce of honey, ketchup, soy sauce, rice vinegar, sesame oil, and more. It is a very tasty recipe.
I hope that you enjoy this slow cooker chicken marsala as much as I did and that you do not run into any issues while making it. If you have some feedback, then please do not hesitate to leave a comment below.