This tasty slow cooker honey balsamic chicken is a great dinner dish that you can prepare before you start your day.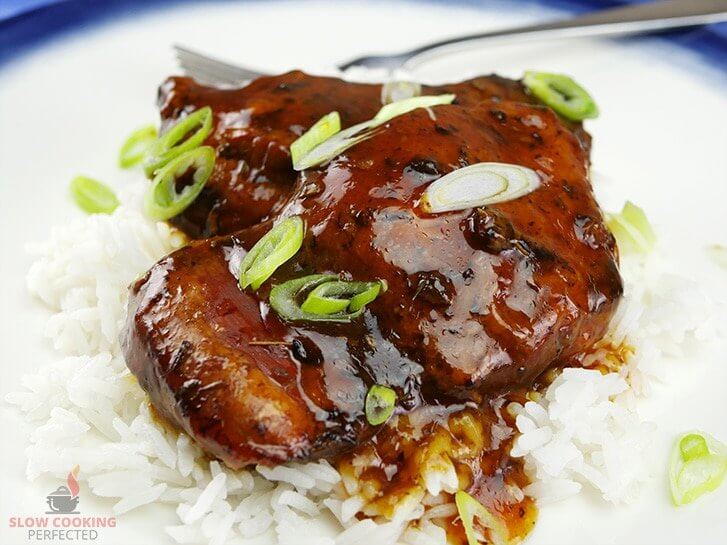 The result of this recipe is some tender chicken in a sweet sauce that has the taste of balsamic vinegar with a slight hint of honey. The herbs help add even more flavor but can be left out or swapped with different herbs.
I should mention that this honey balsamic chicken will feed roughly four people without any extra side dishes. If you are having extra food such as rice or potatoes, you will be able to get a few more serves.
Leftovers can be kept in the fridge for roughly three days. You can also freeze the leftovers and keep them for roughly three months. Thankfully, the sauce will help keep the chicken tasting great.
Perfecting the Recipe
A good quality balsamic vinegar is a must for this dish as it will heavily impact the final result. A poorer tasting balsamic vinegar may leave you feeling a little disappointed. I recommend using a brand that you know and love for the best results.
The sugars in this dish are hugely important. They help take away a lot of the bitterness from the balsamic vinegar. The result should be a nice balanced sauce that is not bitter but also not too sweet. If you love your sauce sweeter, I recommend adding more honey.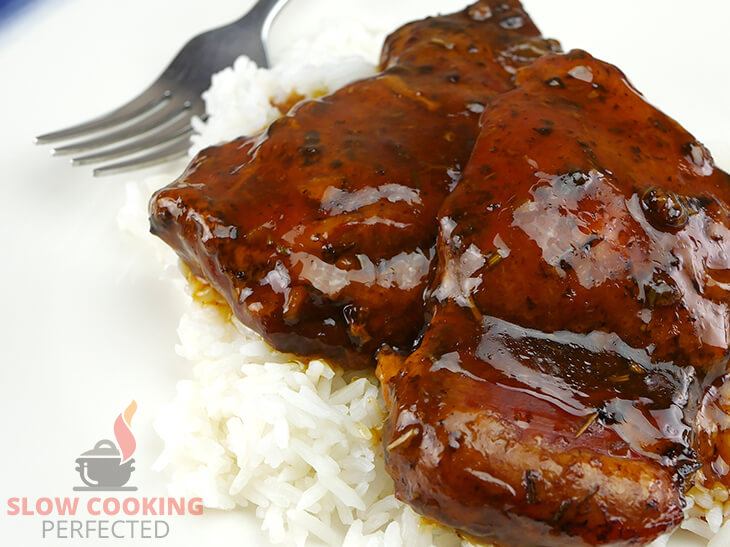 I chose to use chicken thighs in this dish, but feel free to use any chicken cut. This recipe will work nicely with chicken breasts, drumsticks, and even chicken wings.
As I mentioned earlier, you can tinker with the herbs if you want to. I find the herbs add some much needed additional flavors. However, you can leave them out entirely and still have a great tasting dish. Feel free to tinker to get the best results.
Honey Balsamic Chicken Serving Ideas
If you are looking for side dishes to serve with this dish, below are a few ideas on what you can do.
You can cook some vegetables such as carrots and potatoes in the slow cooker with the chicken. The vegetables will darken to the color of the sauce and take on a lot of the flavor, so you might find it is better to cook the vegetables separately.
Rice is an excellent side dish and will match very nicely with the flavors of the chicken. I like to make my rice in a rice cooker as it is super easy. If you want to be a little healthier, you could try making cauliflower rice.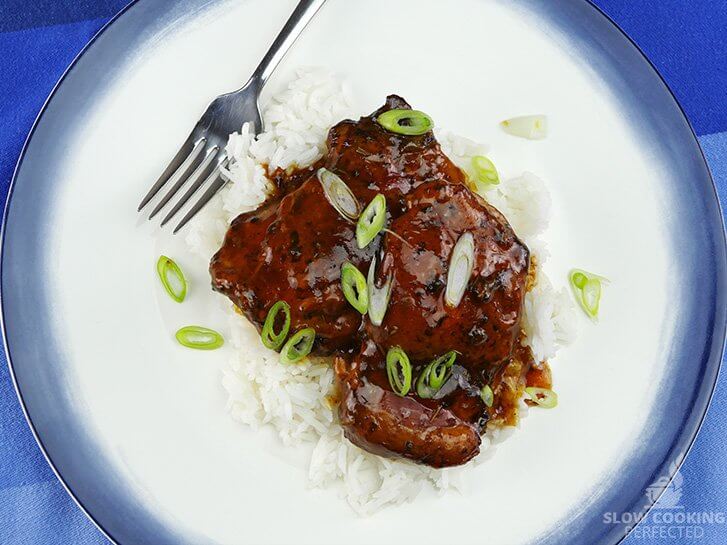 If you have another slow cooker, you can cook some cheesy scalloped potatoes. It is a great side dish to have with this chicken if you love cheesy potatoes loaded with flavor.
The video below will take you through all the steps on how to make honey balsamic chicken in the slow cooker. Alternatively, you can find the full written recipe right beneath the video.
Slow Cooker Honey Balsamic Chicken Recipe
Ingredients
1 kg (2.2 lb) chicken thighs
1 tsp garlic, crushed
1 tsp ginger, minced
1/3 cup balsamic vinegar
½ cup honey
½ tsp thyme
½ tsp rosemary
Thickener
2 Tbsp cornstarch
1/4 cup water
Instructions
In a slow cooker, add the garlic, ginger, balsamic vinegar, honey, thyme, rosemary, and stir to combine.
Add the chicken to the slow cooker.
Cook on low for 6-8 hours.
Remove the chicken from the slow cooker.
Mix the cornstarch and water until it forms a paste. Stir into the sauce.
Return the chicken to the slow cooker.
Cook on high for 15 minutes or until the sauce has thickened.
Serve & Enjoy.
Recipe Tips
Cook some vegetables in the slow cooker if you want some extra flavor and nutrition. However, they will take on the color of the sauce and sometimes end up less enjoyable than doing them separately.
You can skip adding the cornstarch paste, but you will find the sauce will likely be quite runny.
I recommend using chicken thigh, but you can use any cut of chicken that you would like.
You can use either fresh or dried herbs, both will work just fine, but if you have some fresh herbs, I recommend using those.
Note: I use a 5.5L (6 Quart) slow cooker for all the recipes that I have on this website unless specified. If you have a smaller or larger slow cooker, then you might need to adjust the ingredients.
Nutrition Information
Serving Size: 326g (11.5 oz)
Servings Per Recipe: 4
Calories Per Serving: 717
Saturated Fat: 11.3g
Trans Fat: 0.2g
Dietary Fiber: 0g
Sugars: 38g
Cholesterol: 245mg
Sodium: 210mg
Protein: 42g
The information above is an estimate generated by an online nutrition calculator.
More Slow Cooker Recipes
Below are a few of my favorite chicken recipes for the slow cooker.
If you love this dish, you should certainly check out honey garlic chicken for the slow cooker. It is very similar to this dish but has a different combination of flavors. You can cook some vegetables in the same pot if you do not mind them tasting like the delicious sauce.
The Mongolian chicken is another slow-cooked recipe that you have got to try. It features chicken cooked in a delicious sauce loaded with garlic, soy, hoisin, and more. I really do recommend it.
I hope that you enjoy this slow cooker honey balsamic chicken as much as I did. If you have some feedback, tips, or anything else, then please feel free to leave a comment below.