Slow cooker honey garlic chicken is an amazing dish that blends the sweetness of honey with soy and garlic.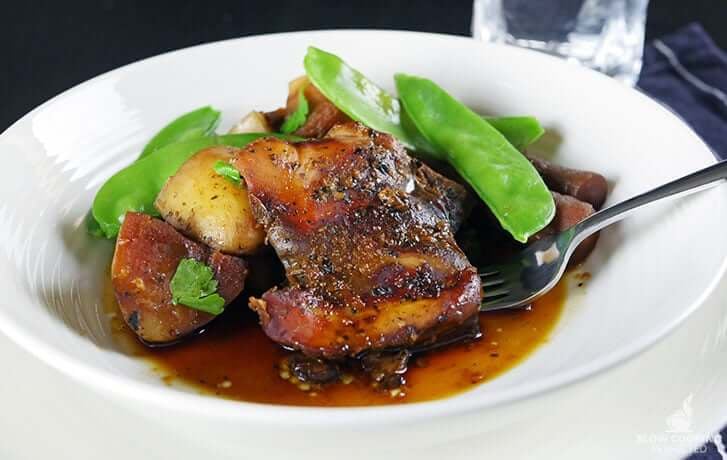 By the end of cooking, you will have chicken thighs that have been infused with a lovely honey and garlic sauce. The vegetables will also be tender and packed with all the flavors of the sauce.
One thing that I love about this dish is how incredibly simple it is. If you add the vegetables, then you will unlikely need any extra food to go with the chicken. However, that's entirely up to you.
You should be able to feed roughly four people from this recipe. However, this is including the extra vegetables, so if you decide not to add these, then you may need to make some additional sides.
What to Serve with Honey Garlic Chicken
This dish is perfect just by itself, especially if you have the vegetables with it. However, if you're looking for something else to go with it, then below are a couple of suggestions.
The easiest side dish to go alongside this recipe is some freshly cooked rice. I use a rice cooker as it's the easiest way to cook the rice perfectly.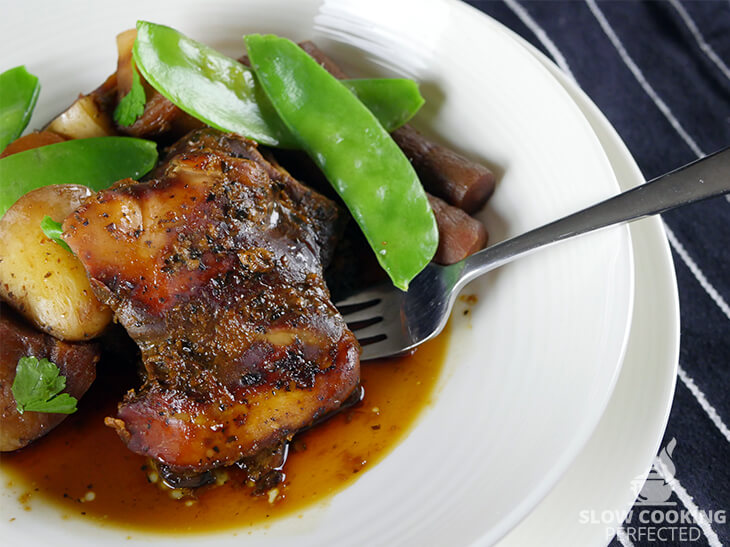 If you have multiple slow cookers, then you can make a delicious side dish such as some creamy mashed potatoes or buttery baby potatoes. It's an excellent way of making enough food to feed a crowd.
You can blanch some greens such as broccoli, Brussels sprouts, or green beans to go alongside the chicken. Another option is to simply add them straight into the slow cooker for the last hour or two of cooking.
Personalizing the Recipe
I recommend using a low sodium soy sauce when you go to make this slow-cooked honey garlic chicken. I tried it with both variations and found the regular soy to be a bit too heavy and salty. With that said, it was still fine to eat.
If you love garlic, then I would recommend adding maybe another two tablespoons to this recipe. I prefer to use jar garlic as it's easier, but fresh garlic will work very nicely.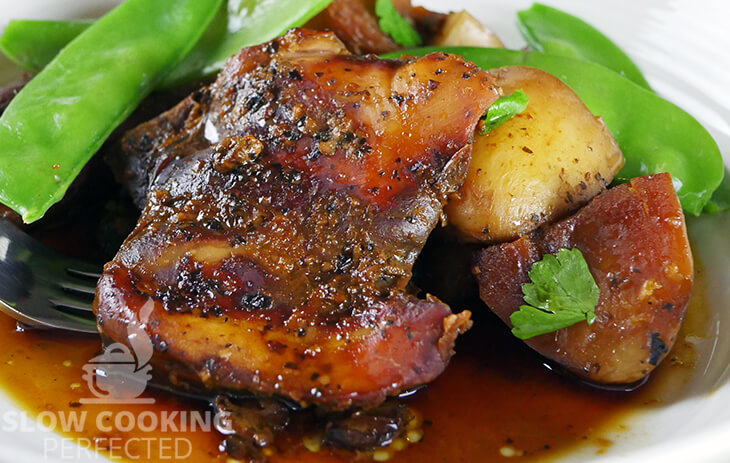 You can use any cut of chicken in this recipe, so feel free to change it. For example, chicken drumsticks, breast, chicken wings, or bone-in thigh will all work excellently in this dish.
For a little bit of an extra bite, you can add some tabasco sauce to this recipe.
More vegetables can be added to the slow cooker for more flavor and different textures. Vegetables such as broccoli, bell peppers, baby corn, or green beans will work nicely with the sauce and chicken.
If you want to see how to make honey garlic chicken in the slow cooker, then be sure to check out the video below. It goes through all the steps to making this delicious dish. If you like the video, then be sure to subscribe to our YouTube, so you're kept up to date on all the latest videos.
Slow Cooker Honey Garlic Chicken Recipe
Ingredients
4 boneless chicken thighs
2 Tbsp garlic, crushed
½ cup low sodium soy sauce
½ cup honey
1 tsp basil, chopped
1 tsp tabasco or sriracha sauce (Optional)
Extra Vegetables
16 baby carrots
4 potatoes, quartered
Instructions
In a bowl, combine the crushed garlic, honey, soy sauce, Tabasco, and basil.
Place the chicken into the slow cooker.
If you're adding the vegetables, place these to either side of the chicken.
Pour the honey garlic sauce over the top of the chicken and vegetables.
Cook on low for 6 hours.
Serve & Enjoy.
Recipe Tips
Cooking the vegetables in with the chicken not only adds flavor to the dish but also means less washing up as you won't need to cook any extras.
You can easily swap the chicken thigh for a different cut of chicken such as breasts, drumsticks, or chicken wings.
Green beans, snow peas, and most other green vegetables are best added towards the end. If you add them at the start, they will discolor and be very ugly green by the end of cooking.
You shouldn't need to add any extra salt as the soy will provide plenty.
If you find the sauce too runny at the end and would like it to be a bit thicker, then simply use some cornstarch to thicken it. You will find one tablespoon will be more than enough. It might also be easier transferring the sauce to a pot over high heat to complete this extra optional step.
Assuming you add potatoes, make sure you don't make them too large as they may not cook all the way through, and there is nothing worse than hard potato. I find that if they are quartered or halved, they will always be thoroughly cooked at the end.
If you're cooking on high, reduce the cooking time to three hours.
You can use regular soy, but replace half the soy with water instead.
Note: I use a 5.5L (6 Quart) slow cooker for all the recipes that I have on this website unless specified. If you have a smaller or larger slow cooker, then you might need to adjust the ingredients.
Nutrition Information
Serving Size: 205g (7.2 oz)
Servings Per Recipe: 4
Calories Per Serving: 390
Amount Per Serving
Saturated Fat: 2.5g
Trans Fat: 0g
Dietary Fiber: 0g
Sugars: 35.4g
Cholesterol: 111mg
Sodium: 1180mg
Protein: 38.2g
The information above is an estimate generated by an online nutrition calculator.
More Slow Cooker Chicken Recipes
Another cool thing you can try is using the honey garlic sauce in place of the seasoning in the whole chicken recipe. This tweak will leave you with a sticky sweet whole chicken that is incredibly enjoyable.
A similar recipe to this dish that you might like is the honey and balsamic chicken. The delicious blend of honey and balsamic will give you an interesting range of flavors. I highly recommend serving it with a side of rice.
If you have something you would love to share about this slow cooker honey garlic chicken recipe, then be sure to leave a comment below!