This slow cooker honey BBQ chicken is absolutely delicious, and I can eat it by the bucket load.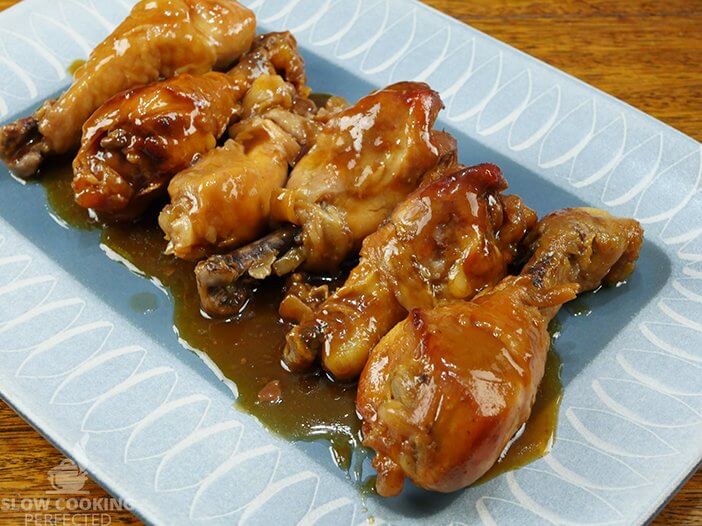 The combination of BBQ sauce and honey is an absolute classic and works great in the slow cooker. The long cook time allows for the flavors of the sauce to infuse into the chicken. The chicken also becomes incredibly tender.
I find that this recipe will cook enough chicken to feed six people. However, it heavily depends on whether you are cooking side dishes to go with the chicken.
If you somehow end up with leftovers, then I highly recommend shredding the chicken and using it in sandwiches or pasta. The honey BBQ flavors will go great in those dishes.
Tweaking the Recipe
Using a different type of BBQ sauce will change the outcome of this dish quite a bit. If you use a smoky BBQ sauce, you will get lovely honey and smoky BBQ sauce flavors. I highly recommend trying it out if you love different flavors. Also, our homemade BBQ sauce is pretty amazing.
You can easily replace the chicken drumsticks for a different cut of meat. Both chicken thigh or chicken breast will work well with this marinade. You can even try using some beef if you want to.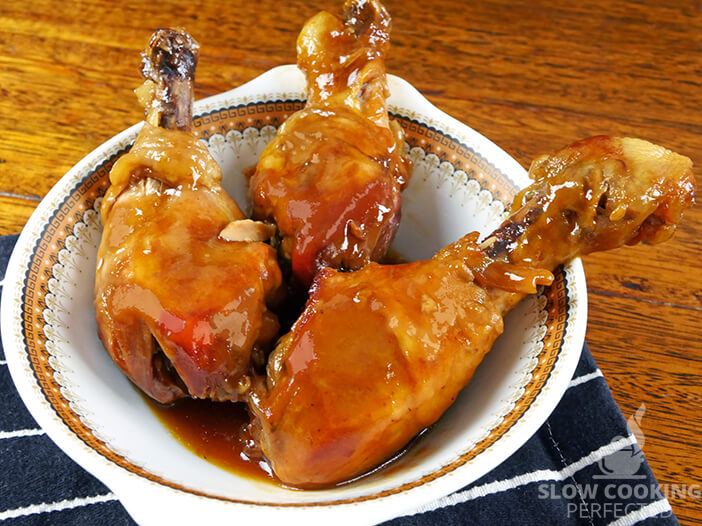 Broiling the chicken is a great way to achieve crispy skin and an excellent caramelized marinade. It will only need a few minutes under the broiler before being ready.
The hot sauce that we use in the marinade is entirely optional. I believe it helps add a bit more flavor and depth to the sauce. However, I can understand if you do not want to add it.
Side Dishes to go with Honey BBQ Chicken
Many different side dishes go great with this BBQ chicken. Below are some of my favorite recipes that I highly recommend giving a try.
I love to serve this chicken over the top of some freshly cooked rice. For something a little healthier, you can make some fresh cauliflower rice to go with the chicken.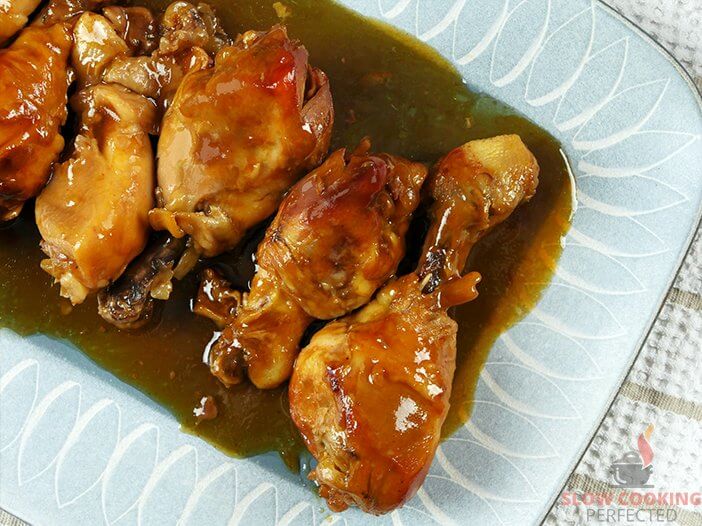 There are many side dishes that you can do in the slow cooker, such as scalloped potatoes or mashed potatoes. You will need a second slow cooker to be able to cook these at the same time.
As with all our slow cooker recipes, you can find the full recipe right below. The video is excellent if you wish to familiarize yourself with making this super easy honey BBQ chicken in the slow cooker.
Slow Cooker Honey BBQ Chicken Recipe
Ingredients
Thickener
2 Tbsp cornstarch
3 Tbsp water
Instructions
In a bowl, mix the BBQ sauce, honey, and hot sauce.
In a slow cooker, add the chicken drumsticks and pour the honey BBQ marinade over the top.
Cook on low for 6 hours.
Remove the chicken from the slow cooker.
In a small bowl, combine the cornstarch with the water until it forms a paste.
Slowly mix the cornstarch mixture into the marinade.
Add the chicken back into the slow cooker and cook on high for 15 minutes or until thickened.
Optional: Baste the chicken with the sauce and place it under a broiler to caramelize.
Serve & Enjoy.
Recipe Tips
You can make this recipe gluten-free by using gluten-free variants of BBQ sauce, cornstarch, and hot sauce.
I highly recommend that you thicken the marinade with the cornstarch mixture for the best results.
Be careful with your cooking times if you are using chicken drumsticks. If you cook them for too long, the chicken will just fall off the bone when you remove it from the slow cooker.
As I mentioned above, you can use a different type of BBQ sauce. Personally, the plain BBQ sauce is tasty enough for me.
If you need this dish cooked fast, simply turn the slow cooker to the high setting and reduce the cooking time to three hours.
Note: I use a 5.5L (6 Quart) slow cooker for all the recipes that I have on this website unless specified. If you have a smaller or larger slow cooker, then you might need to adjust the ingredients.
Nutrition Information
Serving Size: 341g (12 oz)
Servings Per Recipe: 6
Calories Per Serving: 581
Amount Per Serving
Saturated Fat: 6.2g
Trans Fat: 0.1g
Dietary Fiber: 1g
Sugars: 39g
Cholesterol: 230mg
Sodium: 786mg
Protein: 46g
The information above is an estimate generated by an online nutrition calculator.
More Slow Cooker Chicken Recipes
There are plenty more chicken recipes that taste and look as good as this one. Below is a couple that I reckon you will love.
If you love this chicken recipe, then be sure to check out the honey soy chicken. It is very similar to this recipe but uses an incredible blend of honey and soy. I highly recommend giving it a try.
I also love making the orange chicken, as it is incredibly delicious. The citrus sauce is loaded with delicious orange flavors and tastes absolutely amazing. It is the perfect sweet chicken dish.
I really hope that you enjoy this slow cooker honey BBQ chicken as much as I did. If you have some feedback, then please do not hesitate to leave a comment below.