This incredible slow cooker orange chicken is super easy and will please anyone who loves the flavors of citrus.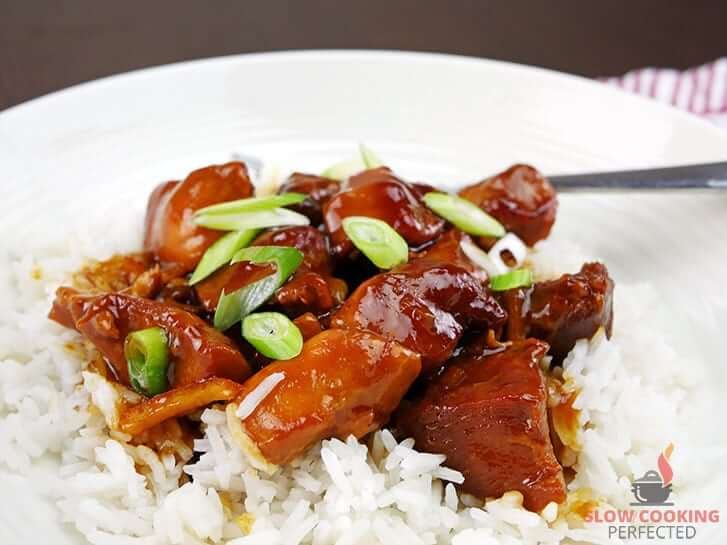 By the time this dish is ready, the chicken will be tender and coated in a delicious citrus sauce. You can eat the chicken by itself, but I recommend that you cook some rice to go along with it.
You should be able to feed roughly four people with this delicious orange chicken. I highly recommend making a side dish to go with it. You can easily double or triple the recipe if you need to feed a crowd.
If you prefer a crispy orange chicken dish, then you are best to prepare and cook this out of the slow cooker. By the time you have finished coating and frying the chicken, you might as well whip up the sauce that usually takes just a few minutes.
Make sure you keep the leftovers as they are great for lunch the next day. Just cover the food and store it in the fridge until needed. The leftovers will last roughly three days in the refrigerator. You may also freeze this dish, but keep in mind once you reheat the food, the chicken may become overcooked.
Tweaking the Recipe
If you are looking to bulk out this recipe with vegetables, then some sliced carrot, bell peppers, or even chunks of onion are great additions.
Changing the type of BBQ sauce will result in some very different flavors. For example, if you are feeling experimental, try using a smoky BBQ Sauce or one with added honey.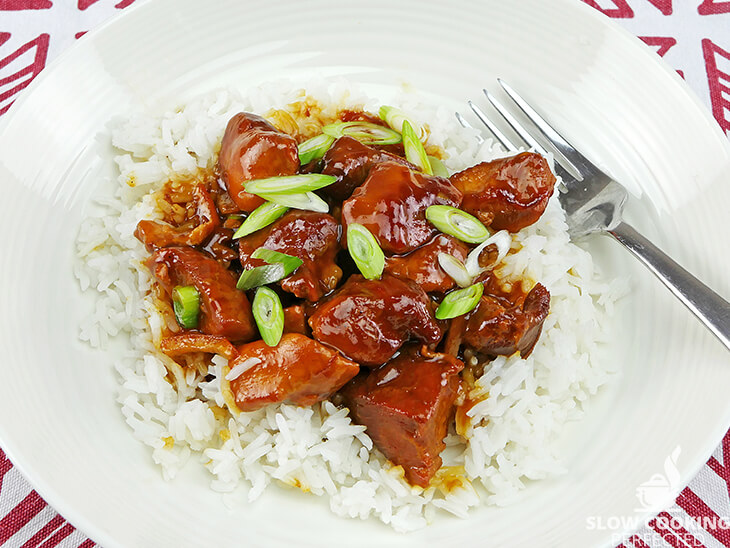 This dish is already on the sweet side, so I do not recommend adding any more sugar into the sauce. If you are worried about it not being sweet enough, you can add a tablespoon or two of honey.
You can use chicken thigh for this recipe if you do not have chicken breasts. Other cuts of chicken, such as drumsticks, will also work very nicely with the sauce's flavors.
What to Serve with Orange Chicken
Several different side dishes will work nicely with this dish. Below are a couple of my favorites.
As you can tell in the photos, I love to serve this chicken with some freshly cooked steamed rice. For something a little healthier, you can try making cauliflower rice instead.
Most noodles will work very nicely with the flavors of the orange chicken. I love soba noodles, but others such as Hokkien noodles, egg noodles, or even udon noodles will work very nicely.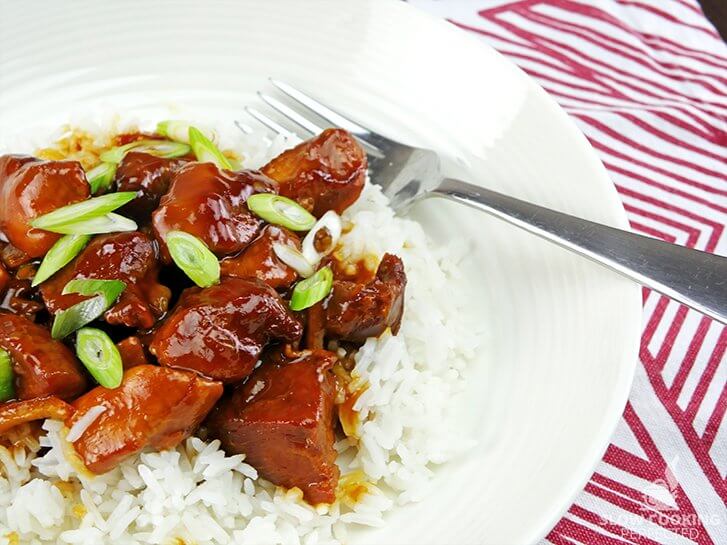 You might also want to have this dish with some stir-fried vegetables. I love cooking a combination of broccoli, snow peas, bell peppers, bok choy, and onion. It is a delicious mixture of vegetables and works nicely with this chicken.
The video below will take you through all the steps to making this orange chicken in the slow cooker. It is super easy to follow, and you can see how it should look through all the different stages.
Slow Cooker Orange Chicken Recipe
Ingredients
500 g (1.1 lb) chicken breasts, cubed
1 tsp garlic, crushed
1 tsp ginger, minced
½ cup sweet orange marmalade
½ cup BBQ Sauce
2 Tbsp teriyaki sauce
Thickener
1 Tbsp cornstarch
1 Tbsp water
Instructions
In a slow cooker, mix together the garlic, ginger, sweet orange marmalade, BBQ sauce, and the teriyaki sauce. Mix until well combined.
Mix in the cubed chicken breasts.
Cook on low for 6 hours.
Roughly 15 minutes before you serve, mix the cornstarch and water until it forms a paste.
Mix the cornstarch paste into the slow cooker.
Cook on high for 15 minutes.
Serve & Enjoy.
Recipe Tips
You can add some red chili flakes for a bit of extra spice.
Chicken can overcook if left in the slow cooker for too long. This overcooking results in dry chicken that is not very enjoyable. If this happens, try shredding the chicken, so it mixes with the sauce even more.
If you need this dish faster, simply turn the slow cooker to the high setting and reduce the cooking time by half.
Note: I use a 5.5L (6 Quart) slow cooker for all the recipes that I have on this website unless specified. If you have a smaller or larger slow cooker, then you might need to adjust the ingredients.
Nutrition Information
Serving Size: 214g (7.5 oz)
Servings Per Recipe: 4
Calories Per Serving: 402
Saturated Fat: 2.6g
Trans Fat: 0g
Total Carbohydrate: 41.9g
Dietary Fiber: 0.6g
Sugars: 33.4g
Cholesterol: 111mg
Sodium: 825mg
Protein: 37g
The information above is an estimate generated by an online nutrition calculator.
More Slow Cooker Chicken Recipes
There are plenty of other chicken recipes that you can make that are similar to this dish.
One of my all-time favorites is the sweet and sour chicken. Much like this dish, it is on the sweet side and goes amazingly well with some freshly cooked rice.
Fruity chicken is always delicious. If you are looking for another dish that has a ton of flavor, then you should check out the Hawaiian chicken. It has delicious chunks of pineapple, a sweet sauce, and so much more.
I hope that this delicious slow cooker orange chicken cooks to be as great as it did for me. If you have feedback that you would like to share, then feel free to leave a comment below.