You only need a few simple ingredients to make this slow cooker apricot chicken. It is the perfect dinner dish that you can quickly get cooking early in the day.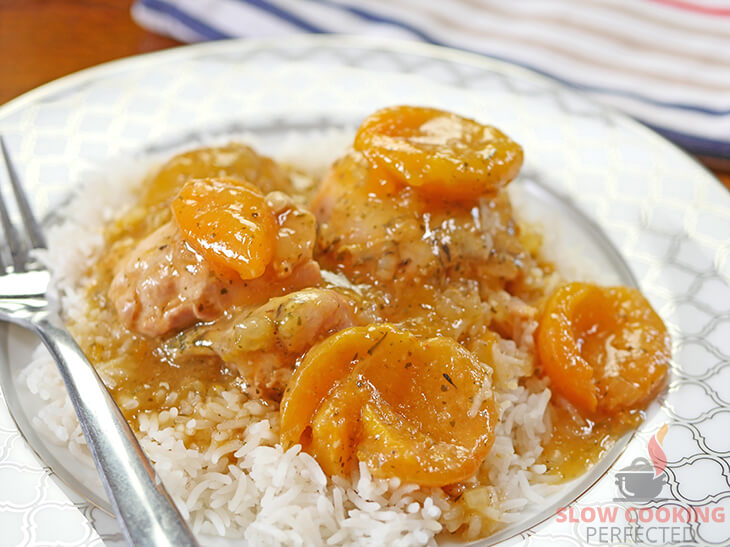 By the end of cooking, you will be left with some deliciously fruity chicken that's so tender it will melt in your mouth. You will immediately be able to tell that it's apricot chicken thanks to all the lovely flavors from the fruit and apricot nectar. I highly recommend giving this recipe a try.
A single batch of this recipe will feed roughly four to six people. However, the number of people can vary depending on the side dishes you serve and how hungry people are.
What to Serve with Apricot Chicken
As you could imagine, this dish is best served with some freshly cooked rice. You can cook the rice in a rice cooker or over the stove. If you want to go the extra step, you can always make some cauliflower rice instead. It really depends on how much time you have.
Couscous is an excellent alternative to rice and matches very nicely with the apricot chicken. You will need to spend a bit of time preparing the couscous over the stove. Personally, I prefer rice with this chicken dish.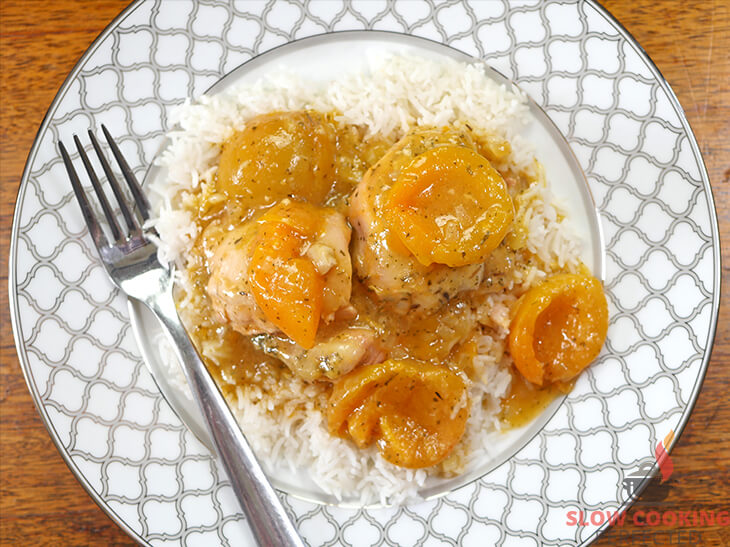 Some blanched greens such as green beans or broccoli will work very nicely on the side. If I do not have rice or couscous, I instead prepare some buttery baby potatoes to go alongside the chicken.
There are lots more ways you can serve apricot chicken, but the suggestions above are my favorite choices.
Tweaking the Recipe
Below are a couple of ways you can adjust this recipe so that it is more to your liking. I like the recipe without any changes, so only do these if you want to be experimental.
Dried apricots are an excellent way of adding more flavor and different textures to this dish. I recommend adding roughly half a cup if you feel like lots of apricot flavors.
You can use tinned apricot halves or fresh apricots. If you're using tinned, drain them and don't add any extra juice or syrup as this may make the sauce too soupy.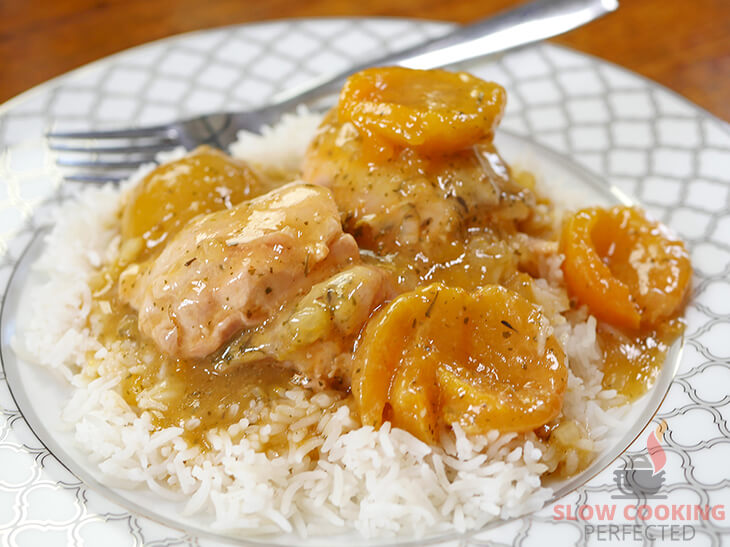 For a sweeter dish, you can replace the apricot nectar with some apricot preserve. Using a preserve will result in more flavor. You might not need to add the cornstarch mixture if you're using the preserve.
You can make some mango chicken by simply swapping the apricot nectar out for mango nectar. This will give you a much different fruity tasting dish that is just as delicious.
How Long to Keep Leftovers
The leftovers for this dish are well worth keeping, so make sure you store them in the fridge. You can also freeze the leftovers and heat whenever you feel like an easy meal.
You should find that the leftovers will last for roughly three days in the refrigerator or six months in the freezer.
The video below will take you through all the steps to making apricot chicken in the slow cooker. If video is not your thing, then you can find the full written recipe below.
Slow Cooker Apricot Chicken Recipe
Ingredients
1 kg (2.2 lb) chicken thighs
1 onion, diced
1 tsp garlic, crushed
400 ml (13.5 fl oz) apricot nectar
400 g (14.1 oz) apricot halves
½ tsp parsley
½ tsp thyme
Thickener
2 Tbsp cornstarch
2 Tbsp water
Instructions
In a slow cooker, add the onion, garlic, apricot nectar, apricot halves, parsley, and thyme. Mix slightly to combine.
Next, add the chicken, and make sure it's covered in the apricot sauce.
Cook on low for 6 hours.
Remove the chicken from the slow cooker.
Mix the cornstarch and water until it forms a paste. Pour into the slow cooker and stir until combined.
Season with salt and pepper.
Return the chicken to the slow cooker.
Cook on high for a further 30 minutes or until hot and thick.
Serve & Enjoy.
Recipe Tips
To ensure that this recipe is gluten-free, make use of a gluten-free cornstarch.
The cut of chicken you use is totally up to you. For the best results, I recommend you use chicken thigh, but you can use chicken breasts, drumsticks, wings, or basically any cut you want.
If you absolutely love apricots, then feel free to add some dried apricots as well. Half a cup of dried apricots will be more than enough to add a bit more depth to the dish.
Apricot nectar can be swapped for an apricot preserve. It will be much sweeter and thicker, but depending on your taste buds, this might be better suited for you.
You can cook this recipe on the high setting for three hours instead of six hours on low. However, I highly recommend sticking to cooking low and slow.
Note: I use a 5.5L (6 Quart) slow cooker for all the recipes that I have on this website unless specified. If you have a smaller or larger slow cooker, then you might need to adjust the ingredients.
Nutrition Information
Serving Size: 323g (11.4 oz)
Servings Per Recipe: 6
Calories Per Serving: 305
Amount Per Serving
Saturated Fat: 1.8g
Trans Fat: 0g
Dietary Fiber: 3g
Sugars: 23g
Cholesterol: 157mg
Sodium: 164mg
Protein: 34g
The information above is an estimate generated by an online nutrition calculator.
More Slow Cooker Chicken Recipes
There are lots of chicken recipes that you can make in the slow cooker. Below are a couple of meals that are worth the time and effort.
If you love fruity chicken, then you might also be interested in the incredible orange chicken that you can cook in the slow cooker. It's super easy and only requires just a few ingredients to make.
Another chicken dish that I rate highly is the honey soy chicken. The chicken cooks to be deliciously tender and has a delicious blend of flavors that will leave you wanting seconds. Much like this dish, it's perfect with a side of rice.
I really hope that you enjoy this slow cooker apricot chicken and that it cooks out to be as great as it was for me. If you have any feedback, tips, thoughts, or something else that you want to mention, then be sure to leave a comment below.