This sweet n sticky slow cooker Hawaiian chicken is a delicious dish that goes great on a bed of rice.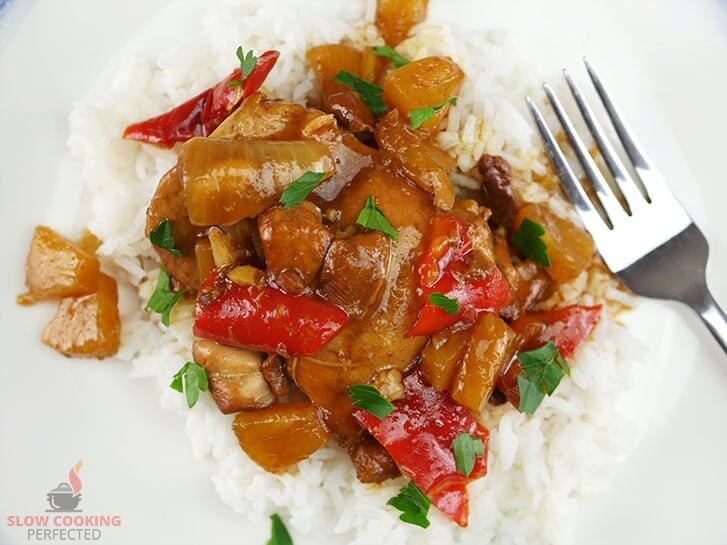 If you love sweet dishes, then you're going to love this recipe. It has a fantastic sauce that combines pineapple juice, soy, ketchup, brown sugar, and honey. This combination gives you a lovely rich sauce that will have you going back for seconds.
You will be able to feed roughly six people using this recipe without any adjustments. You can easily double or triple the recipe if you need to feed more people. Alternatively, some side dishes are a great way to feed a crowd.
Side Dishes to Serve with the Chicken
There are so many sides that you're able to serve with this chicken. Below are just a couple of my favorite side dishes for this type of meal.
I typically make some rice to go with this chicken as it's easy to cook in a rice cooker. For something a little healthier than rice, you can instead try making some cauliflower rice.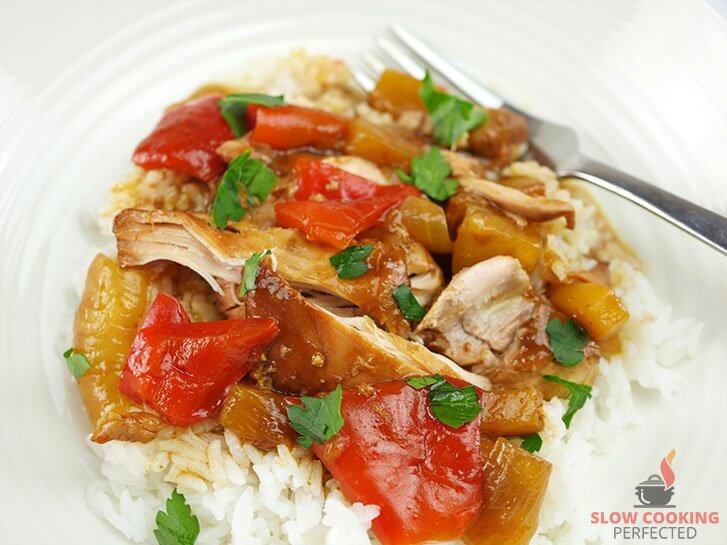 Fried greens are excellent on the side and match nicely with this Hawaiian chicken. I recommend frying a variety of greens such as broccoli, green beans, baby spinach, and some Brussels sprouts.
For a super healthy accompaniment, you can make some zucchini noodles. For the best noodles, you will need a piece of equipment called a spiralizer. The spiralizer is super easy to use, and you can turn lots of vegetables into delicious noodles.
Tweaking the Hawaiian Chicken Recipe
There are a few tweaks that you can do to this recipe to make it more to your liking. Below are a couple of suggestions on what you can do.
You don't need to add the bell peppers into the slow cooker if you don't like them. You will lose a bit of flavor, but it will still be great thanks to the tasty chunks of onion, chicken, and pineapple.
The chicken thigh is my suggested cut of chicken, but other cuts of chicken will also turn out great. For example, chicken drumsticks, breasts, or chicken wings will also work nicely with the flavors of the sauce.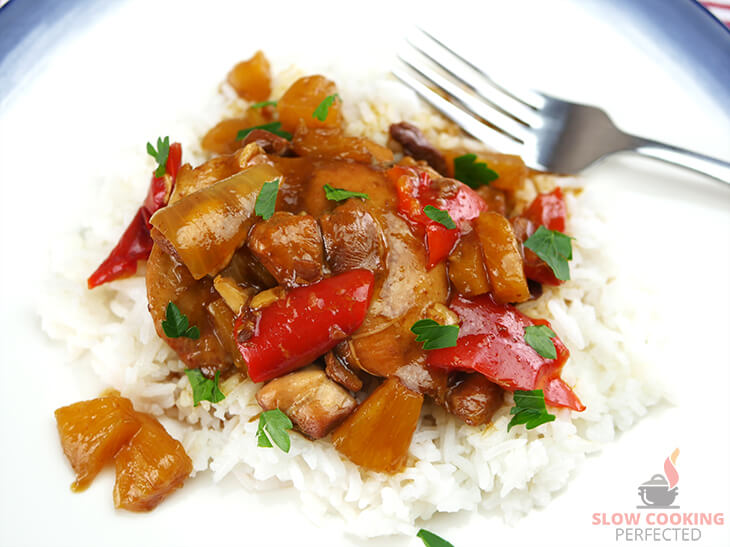 The ketchup can easily be replaced with a tomato sauce or tomato paste. For the best results, I recommend sticking with ketchup, but the other alternatives will work nicely.
One thing to be aware of with slow cooker chicken recipes is that the meat can go a bit dry and overcooked. To avoid this from happening, try not to cook for any longer than the recommended time. Six hours or longer may result in overcooked chicken.
Be sure to let us know if you have any other suggestions regarding this recipe, as we will love to hear them.
How Long to Keep Leftovers
This dish is leftover friendly so you can keep any leftovers in either the fridge or freezer. If you're just storing it in the refrigerator, then it will last a couple of days. Alternatively, it will last for roughly six months in the freezer.
When you go to reheat the leftover chicken, I recommend using the microwave or a hot oven. I do not recommend using a slow cooker to reheat cooked meals.
If you want to see how to make this Hawaiian chicken in the slow cooker, then be sure to check out the video below. It will take you through all the steps to making this delicious slow cooker recipe.
Slow Cooker Hawaiian Chicken Recipe
Ingredients
1 kg (2.2 lb) chicken thigh
1 onion, cut into chunks
1 red bell pepper, cut into chunks
1 tsp garlic, crushed
1 tsp ginger, crushed
500 g (1.1 lb) can pineapple chunks (not drained)
2 Tbsp honey
2 Tbsp soy sauce
2 Tbsp ketchup
1/4 cup brown sugar
Thickener
1 Tbsp cornstarch
1 Tbsp water
Instructions
Place all the ingredients into the slow cooker except for the cornstarch and water.
Cook on low for 6 hours.
15 minutes before you go to serve, mix the cornstarch with the water.
Remove the chicken from the slow cooker. Pour the cornstarch paste into the slow cooker and mix in.
Return the chicken to the slow cooker.
Allow to cook for 15 minutes or until nice and thick.
Serve & Enjoy.
Recipe Tips
Skim the oil off the top of the sauce if there is an excess amount towards the end of cooking. It's best to do this before you mix in the cornstarch to thicken the sauce.
You can add more vegetables to this recipe. Alternatively, you can remove the vegetables that are currently in it, so you're left with just chicken and pineapple.
Tomato paste or sauce can be used instead of the ketchup. This alternative is the perfect replacement if you're not a fan of store-bought ketchup.
You can swap the chicken thigh for any cut of chicken such as chicken breast, drumsticks, and so on. For the best results, I recommend using chicken thigh.
There are plenty more cooking tips for the slow cooker that might help improve your next meal. It's amazing what a few tweaks can do to the result of a dish.
Note: I use a 5.5L (6 Quart) slow cooker for all the recipes that I have on this website unless specified. If you have a smaller or larger slow cooker, then you might need to adjust the ingredients.
Nutrition Information
Serving Size: 357g (12.6 oz)
Servings Per Recipe: 6
Calories Per Serving: 513
Amount Per Serving
Saturated Fat: 7.6g
Trans Fat: 0.1g
Dietary Fiber: 2g
Sugars: 32g
Cholesterol: 163mg
Sodium: 489mg
Protein: 29g
The information above is an estimate generated by an online nutrition calculator.
More Slow Cooker Chicken Recipes
If you love sweet chicken dishes like this one, then I highly recommend checking out the sweet and sour chicken. It too goes perfectly with some rice and is easy to make.
Another recipe that I reckon you will like is the orange chicken. It's sweet and has lots of lovely orange flavors from the marmalade. I personally love the recipe and highly recommend giving it a try.
I hope that you and your family enjoy this slow cooker Hawaiian chicken as much as I did. I am always open to feedback, tips, and variations, so if you have any, be sure to leave a comment right below.