This incredible slow cooker sweet and sour chicken will be a huge hit if you are a fan of the traditional version of this dish.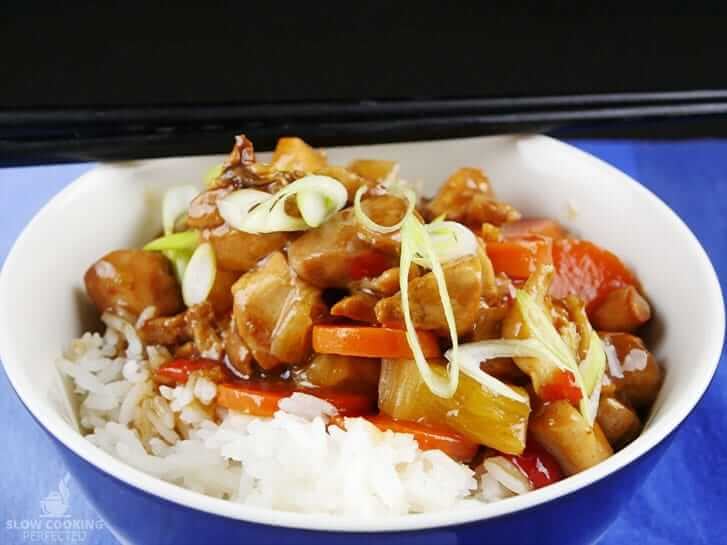 We make the sweet and sour sauce from scratch, so you will be guaranteed to be greeted with a delicious range of flavors when you eat this meal. The vegetables cook to be packed with flavor, and the chicken is so tender it will melt in your mouth.
A single batch of this recipe will easily feed four people. You can make some side dishes so that it will feed even more. If you are cooking for a crowd, then you may need to double or triple the recipe.
If there are leftovers, then you should certainly keep them as they will reheat nicely. Make sure you keep them stored in an airtight container in the fridge.
Side Dishes to Serve with Sweet & Sour Chicken
As you would expect, rice goes amazingly well with any sweet and sour dish. I recommend cooking it in a rice cooker or over the stove. For something a little healthier, you can try making cauliflower rice instead of regular rice.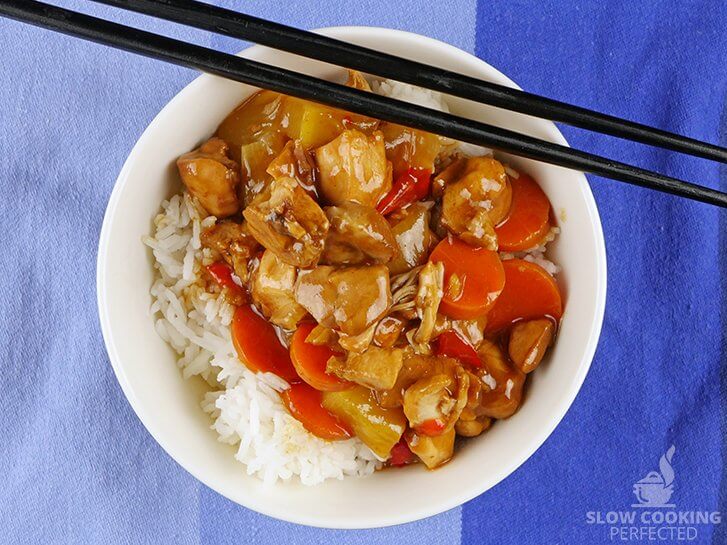 This dish also goes great with some noodles. You can use your favorite type of noodles, but for me, something like rice noodles, udon noodles, or hokkien noodles is perfect.
If you do not feel like any extras, then this dish is perfect on its own. So, do not feel like you have to make side dishes.
Adjusting the Recipe
Below are some ideas on how you can tweak this recipe so that it is more to your liking.
You can use chicken thigh or chicken breast in this dish. Sometimes I find chicken breast will become very dry after hours of cooking in the slow cooker. So, I usually stick to chicken thigh, but it depends on the meal I am making.
If you do not like ketchup or do not have any, you can swap it for tomato paste or something similar. The taste will be slightly different but not enough to hugely notice.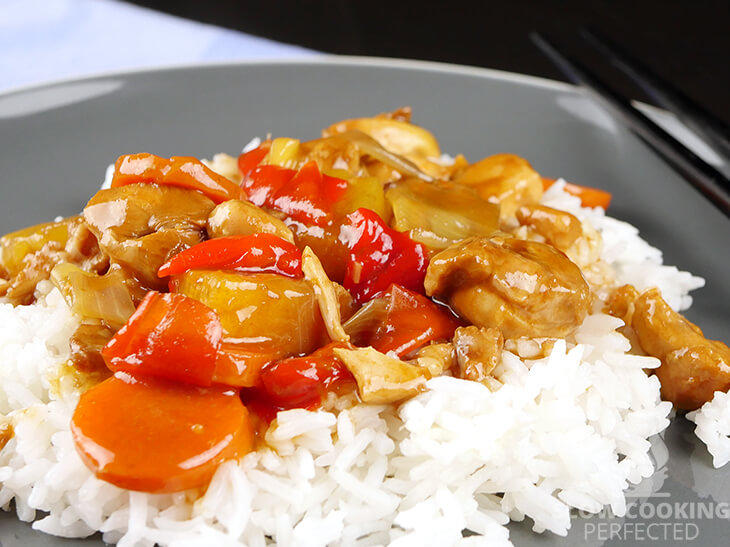 There are quite a few different types of vegetables that you can add to this dish. For example, something like water chestnuts or even some baby corn will go well in it. You can add these vegetables at the start of cooking.
If you want to see how to make sweet and sour chicken in the slow cooker, then be sure to check out the video below. Alternatively, there is a full written recipe immediately below the video.
Slow Cooker Sweet and Sour Chicken Recipe
Ingredients
500 g (1.1 lb) chicken thigh, cubed
440 g (15.5 oz) can pineapple Pieces with unsweetened juice (Do not drain)
1 onion, quartered
1 carrot, peeled & sliced
1 large red bell pepper, chopped
½ tsp ginger, chopped
3 Tbsp brown sugar
4 Tbsp ketchup
2 Tbsp soy sauce
¼ cup apple cider vinegar
Thickener
2 Tbsp cornstarch
2 Tbsp water
Instructions
In a slow cooker, add the chicken, pineapple, onion, carrot, red bell pepper, ginger, brown sugar, ketchup, soy sauce, and apple cider vinegar. Mix until combined.
Cook on low for 6-8 hours.
In a small bowl, mix together the cornstarch and water. Once well combined, pour into the slow cooker and mix well.
Cook on high for a further 15 minutes or until thickened.
Serve & Enjoy.
Recipe Tips
You should not need to add any more salt to this dish as the soy usually provides enough. If you are unsure, just simply taste and adjust the seasoning before you go to serve.
Increase the slow cooker to high and reduce the cooking time to four hours if you need this dish faster than usual.
Note: I use a 5.5L (6 Quart) slow cooker for all the recipes that I have on this website unless specified. If you have a smaller or larger slow cooker, then you might need to adjust the ingredients.
Nutrition Information
Serving Size: 359g (12.7 oz)
Servings Per Recipe: 4
Calories Per Serving: 383
Saturated Fat: 2.6g
Trans Fat: 0g
Total Carbohydrate: 35.7g
Dietary Fiber: 3.1g
Sugars: 24.4g
Cholesterol: 111mg
Sodium: 743mg
Protein: 38.3g
The information above is an estimate generated by an online nutrition calculator.
More Slow Cooker Dinner Recipes
Below are a couple of slow cooker dinner recipes that I reckon you will love.
If you love sweet and sour, you might be interested in the delicious sweet and sour meatballs dish. It is similar to this recipe, but instead has juicy meatballs that are worth the extra time and effort.
A slow cooker dish that I suggest you try is the Mongolian chicken. It features some delicious chicken slow-cooked in a flavor packed sauce. The sauce consists of ginger, garlic, soy sauce, hoisin, and more. I highly recommend giving it a try.
I hope that this slow cooker sweet and sour chicken cooks to be delicious. If you have a variation that you would like to share, then please do not hesitate to leave a comment below.