These slow cooker sweet and sour meatballs are an absolutely amazing dish and are well worth the time and effort it takes to prepare them.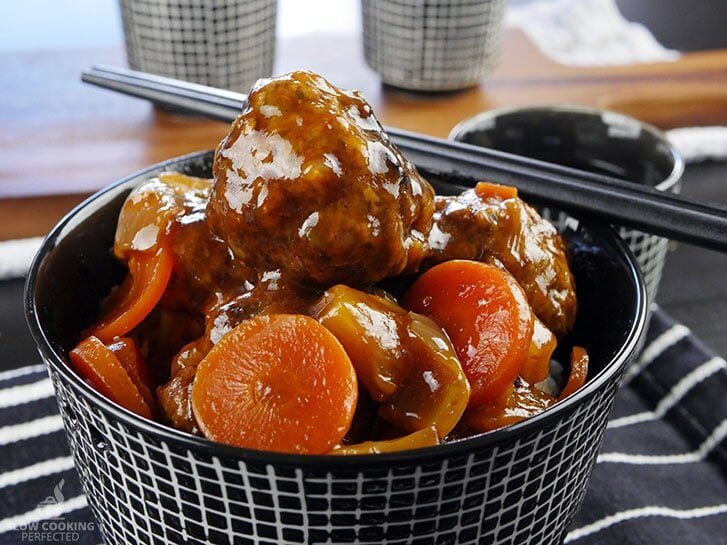 When you take a bite of this dish, you will be greeted with a delicious sauce that perfectly blends the sweet and sour flavors. The vegetables and meatballs will be tender and loaded with flavor. It is undoubtedly one of my favorite recipes.
This dish looks quite complicated because we need to make the meatballs and the sweet and sour sauce from scratch. However, it is well worth the time and effort as the result is incredibly delicious.
You should be able to feed at least six people from a single batch of this recipe. I highly recommend that you serve it alongside some rice or something similar. If you need to feed more, then you can easily double or triple the recipe.
Make sure you do not throw any leftovers out as they will heat well the next day. The leftovers are great if you need a leisurely lunch or dinner. They should keep fine for a few days in the fridge as long as they are stored correctly.
Tweaking the Recipe
Sweet and sour is one of my favorite types of meals, and there are many variations that you can do.
You can add more vegetables to the sweet and sour sauce if you are looking to add more to this dish. Mushrooms or water chestnuts are just a couple of great vegetables that will work perfectly with the other ingredients.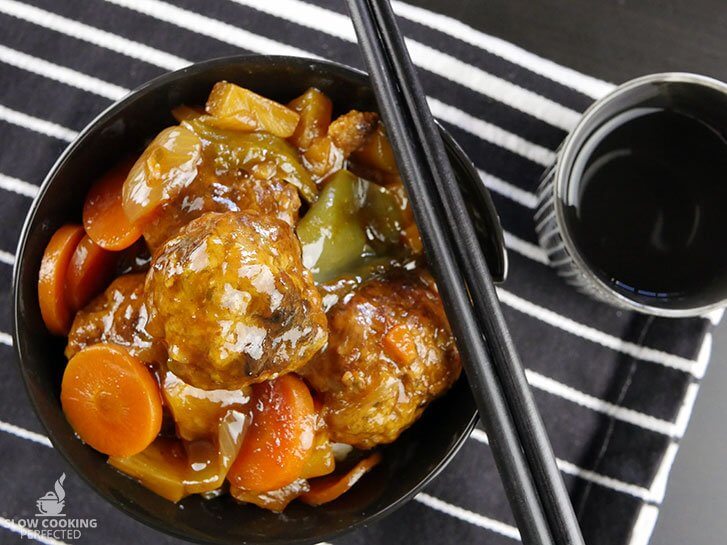 You can always prepare this dish a bit faster by buying pre-prepared ingredients such as frozen meatballs or packet sauce. The downside to packet food is that it does not taste as good and typically contains lots of additives.
You can swap the ground beef for a different type of meat. For example, pork or even chicken will go well in this dish, but it is entirely up to you.
What to Serve with Sweet and Sour Meatballs
Sweet and sour meatballs go great with a wide variety of side dishes. Below are a couple of ideas on what you can make.
Rice is one of my favorite side dishes and will match nicely with the flavors of this dish. I recommend cooking the rice in a rice cooker for the best results. If you want to be healthier, you can try making some cauliflower rice instead.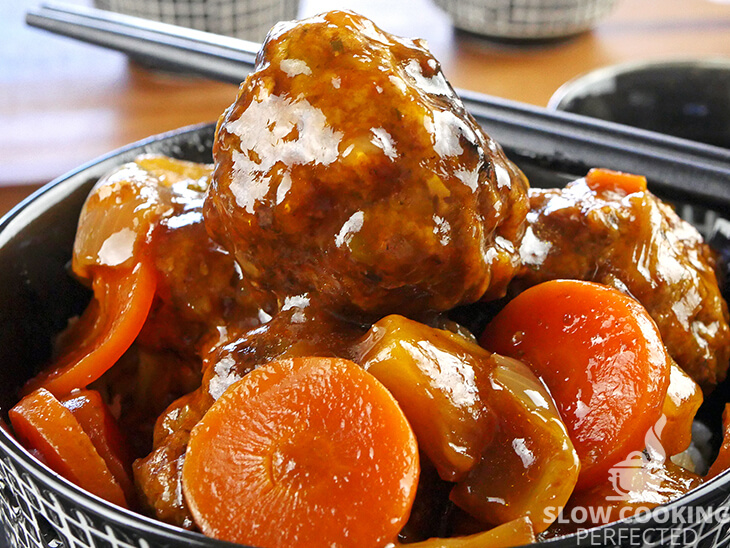 Noodles are one of the easiest and tastiest side dishes that you can make to go with this recipe. I recommend something like udon, soba, or Hokkien noodles. However, feel free to use whatever you like the most.
My last suggestion is to serve this dish over the top of some delicious mashed potatoes. They are super easy to make and can be made in bulk by using a slow cooker.
If you want to see how to make sweet and sour meatballs in the slow cooker, then be sure to check out the video below. It will take you through everything you need to know for getting this dish prepared and into the slow cooker.
Slow Cooker Sweet and Sour Meatballs Recipe
Ingredients
Meatballs
500 g (1.1 lb) ground beef
1 onion, finely diced
1 tsp garlic, crushed
1 egg
1 Tbsp parsley, chopped
1 cup breadcrumbs
Sweet & Sour Sauce
440 g (15.5 oz) can pineapple pieces, unsweetened juice (Do not drain)
3 Tbsp brown sugar
4 Tbsp ketchup
1 tsp ginger, crushed
¼ cup apple cider vinegar
2 Tbsp soy sauce
1 large bell pepper, quartered
1 onion, quartered
1 carrot, peeled & sliced
Thickener
2 Tbsp cornstarch
2 Tbsp water
Instructions
In a bowl, combine the ground beef, onion, garlic, egg, parsley, and breadcrumbs. Season lightly with salt and pepper.
Roll the mix into balls. Two tablespoons per meatball should be enough.
In a fry-pan over medium heat, brown the meatballs and then put to the side.
In the slow cooker, combine the brown sugar, ketchup, ginger, apple cider vinegar, pineapple juice, and soy sauce.
Add the meatballs, bell pepper, pineapple pieces, onion, and carrot.
Cook on low for 6-8 hours.
Just before you go to serve, mix the water and cornstarch until it forms a paste.
Add the cornstarch paste to the slow cooker and mix until well combined.
Cook on high for about 15 minutes or until thickened.
Serve & Enjoy.
Recipe Tips
As with any type of slow cooking, you do not need to fry the meatballs before adding them to the slow cooker. However, you may notice a difference in taste and texture. The meatballs, in this case, may fall apart if you do not brown them beforehand.
If you do not mind a super runny sauce, then you do not need to add the cornstarch. Unfortunately, one side effect of slow cookers is their tendency to be very soupy. This is because the cooking method does not allow moisture to evaporate.
You can cook this dish on high if you need it faster. I would reduce the cooking time to three to four hours.
Note: I use a 5.5L (6 Quart) slow cooker for all the recipes that I have on this website unless specified. If you have a smaller or larger slow cooker, then you might need to adjust the ingredients.
Nutrition Information
Serving Size: 280g (9.9 oz)
Servings Per Recipe: 6
Calories Per Serving: 339
Saturated Fat: 2.4g
Trans Fat: 0g
Dietary Fiber: 3.2g
Sugars: 17.6g
Cholesterol: 102mg
Sodium: 621mg
Protein: 30.2g
The information above is an estimate generated by an online nutrition calculator.
More Slow Cooker Recipes
There are lots of other delicious slow cooker dinner recipes that you can make. Below is a couple that I reckon you will love.
If you are a lover of pork, then you should certainly give the easy slow cooker sweet and sour pork a go. Alternatively, you can swap the ground beef for ground pork, and you will have lovely pork meatballs in this recipe.
Another recipe that I reckon you will love is the slow-cooked beef and broccoli. It features delicious chunks of beef in a delicious sauce made with soy, sugar, oyster sauce, and more. I highly recommend giving it a try.
I hope that you enjoy these slow cooker sweet and sour meatballs. If you have any feedback, tips, or anything else that you would like to ask or say, then please do not hesitate to leave a comment below.