These slow cooker meatballs are absolutely amazing and are great if you need to feed a crowd.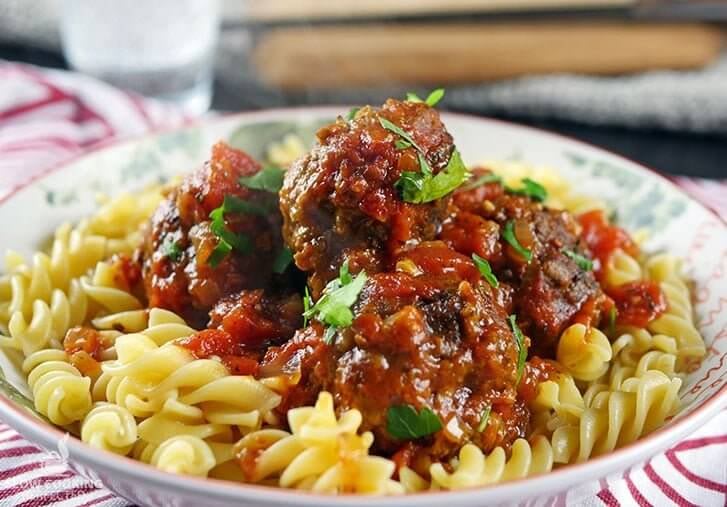 When you remove the lid from the slow cooker, you will be greeted with a delicious tomato sauce and juicy meatballs. The dish smells so good it is very hard to stop yourself from eating it right out of the slow cooker.
This dish is a little more labor-intensive than most slow cooker recipes but is well worth the time and effort. Once you have the meatballs made and fried off, it is just a matter of mixing the sauce and letting it cook.
You will get roughly four to six serves out of a single batch of this recipe. The number you can feed heavily depends on the side dishes you make and how hungry people are. If you are unsure, you can always double or triple the recipe.
These meatballs reheat nicely, so make sure you keep the leftovers. They make for a rather good lunch that you can heat in the microwave the next day. You could even make your own meatball sub using the leftovers.
What to Serve with these Meatballs
You can have this dish by itself, or you can cook something extra to go with it.
The most obvious side dish to serve with the meatballs is some delicious pasta. Spirals, tubes, or even linguine will work nicely with this dish. Pick whatever pasta you like the most.
A side dish that always matches extremely well with a bowl of pasta is garlic bread. I love to make it from scratch, but the store-bought garlic bread is pretty decent and easier to prepare.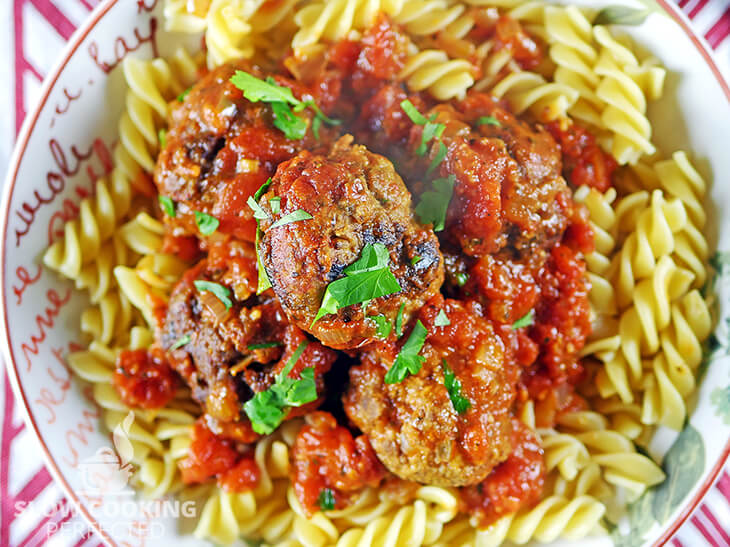 Steamed rice is an easy side dish that works perfectly with the meatballs. I love to cook it in the rice cooker rather than over the stove. I do not recommend cooking it in the slow cooker.
For something a little different, you can make some polenta to have with this dish. Alternatively, mashed potatoes are another option that will work nicely with the flavors of the meatballs and sauce.
You can try anything that you think would match nicely with the meatballs and tomato sauce. I do recommend topping the dish with some parmesan cheese no matter what you end up doing.
Perfecting the Recipe
I use ground beef in this recipe, but you can use any type of meat. For example, ground pork also works really well or even a mixture of both beef and pork.
For a bit more flavor in the sauce, add a splash of red wine. Add this at the same time as the diced tomatoes. It is a simple adjustment but can make a huge difference.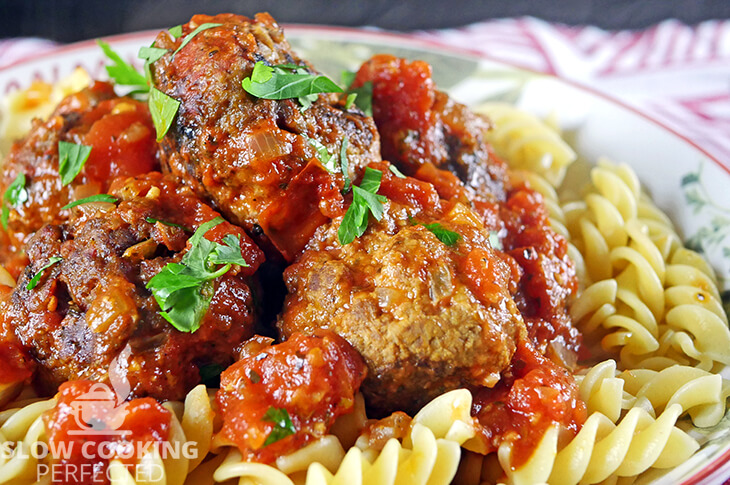 You can use frozen meatballs if you do not have the time to make them from scratch. It will save you a lot of time, and the dish still turns out to be delicious. However, I find homemade meatballs taste the best.
If you want to see a video on how to make these delicious meatballs in the slow cooker, then be sure to check out the video below. It is short, snappy, and straight to the point.
Slow Cooker Meatballs Recipe
Ingredients
Meatballs
500 g (1.1 lb) ground beef
1 onion, finely diced
1 tsp garlic, crushed
1 cup breadcrumbs
1 egg
1 Tbsp parsley, chopped
1 tsp salt
Pinch of pepper
Tomato Sauce
1 onion, diced
2 tsp garlic, crushed
800 g (1.8 lb) diced tomatoes
2 Tbsp tomato paste
1 tsp sugar
1 tsp basil, chopped
1 tsp oregano
2 bay leaves
1 tsp salt
Pinch of pepper
Instructions
In a bowl, combine the ground beef, onion, garlic, breadcrumbs, egg, parsley, salt, and pepper.
Once mixed, form the mixture into meatballs. I use roughly two tablespoons of the mix for each meatball.
In a pan over high heat, fry the meatballs, so they are lightly browned. Once done, put to the side.
In the slow cooker, mix together the onion, garlic, diced tomatoes, tomato paste, sugar, basil, oregano, bay leaves, salt, and pepper.
Lastly, add the meatballs into the slow cooker.
Cook on low for 6-8 hours.
Serve & Enjoy.
Recipe Tips
You can add the meatballs straight into the slow cooker without frying them. However, you will likely notice better results if you do fry them beforehand. Either way, just add them after you have mixed the sauce.
Do not worry about there not being enough sauce as after a few hours of cooking, there will be a lot more sauce. If you add too much liquid to the sauce, it will turn very soup-like after just a few hours of cooking.
If you do not have bay leaves, you can leave them out without them affecting the overall dish too much.
Note: I use a 5.5L (6 Quart) slow cooker for all the recipes that I have on this website unless specified. If you have a smaller or larger slow cooker, then you might need to adjust the ingredients.
Nutrition Information
Serving Size: 224g (7.9 oz)
Servings Per Recipe: 6
Calories Per Serving: 282
Amount Per Serving
Saturated Fat: 2.4g
Trans Fat: 0g
Total Carbohydrate: 23.7g
Dietary Fiber: 4.2g
Sugars: 7.3g
Cholesterol: 102mg
Sodium: 726mg
Protein: 31.1g
The information above is an estimate generated by an online nutrition calculator.
More Slow Cooker Beef Recipes
There are plenty more recipes that you can do in the slow cooker. Below are a couple of my favorites.
If you love this dish, then you may also like the beef goulash. It is basically tender beef with vegetables cooked in a rich paprika and tomato sauce. Well worth checking out if you love tomato dishes.
Another slow cooker meatball dish that you need to try is the Swedish meatballs. Compared to this dish, they are entirely different as they cook in a delicious creamy sauce. The meatballs are made with both ground pork and beef.
I hope you enjoy these slow cooker meatballs. If you have a variation or feedback, then be sure to leave a comment below.