This slow cooker meatloaf has been an absolute hit at so many of my family gatherings. The sauce is rich, and the meatloaf is tender. It is a match made in heaven.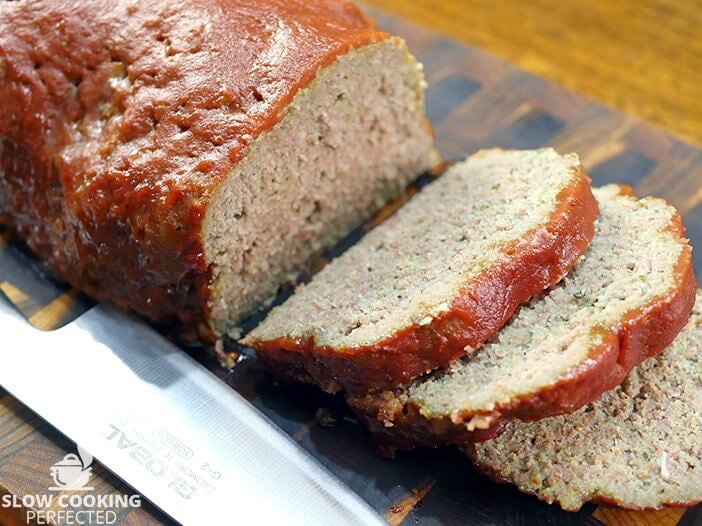 The delicious sauce that you pour over the top of the meatloaf is so good it will be hard not to have seconds. The flavors from the ketchup, mustard, and the Worcestershire sauce help elevate the dish to the next level.
With a side dish or two, this meatloaf should feed six or more people. It holds it shape pretty well so you can cut thinner slices than the slices shown in the photo at the top of this page.
The leftovers of this recipe can be kept in the fridge or freezer. Personally, I recommend that you heat the leftover meatloaf in the oven, in a frypan, or in a microwave. It is a fantastic way to have a delicious meal in no time at all.
Tweaking the Recipe
If you want a cheesy meatloaf, add some slices of cheese to the top of the beef mixture. Alternatively, you can add shredded cheese straight into the meatloaf mixture. Both options will result in a deliciously cheesy meal.
Pouring the sauce over the meatloaf at the start of cooking will allow the sauce's flavors to slowly infuse into the meat. If you rather cook the meatloaf plain, you can make the sauce separately and serve it alongside the meatloaf.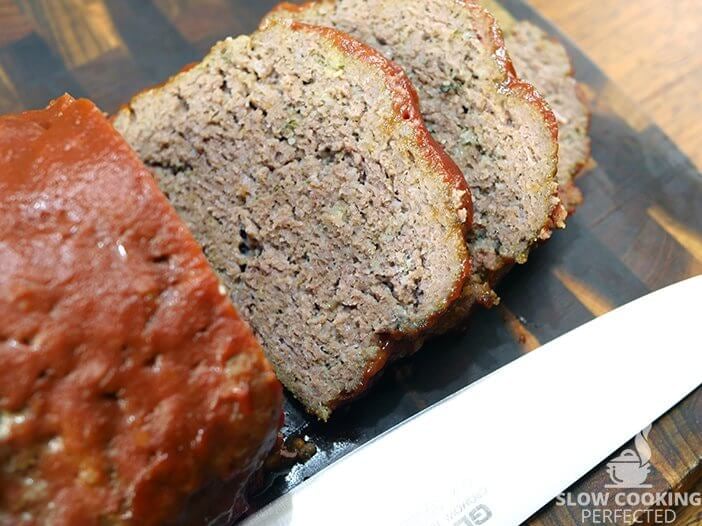 If you want to add even more flavor to this meatloaf, try replacing the breadcrumbs with dried stuffing mix. You can pick up stuffing mix at pretty much any decent supermarket.
Some ingredients can be added into the meatloaf mixture. For example, semi-dried tomatoes, diced bacon, spinach, or even bell peppers will work nicely. Be careful not to add too much as it can make the meatloaf crumbly.
What to Serve with Meatloaf
A meatloaf is delicious on its own, but it typically does need a few side dishes to go with it. Below are a few ideas on what you can serve with it.
A few of my favorite side dishes include some herby baby potatoes or even a hash brown casserole. Even better is that you can make them in the slow cooker as well, you will just need two slow cookers.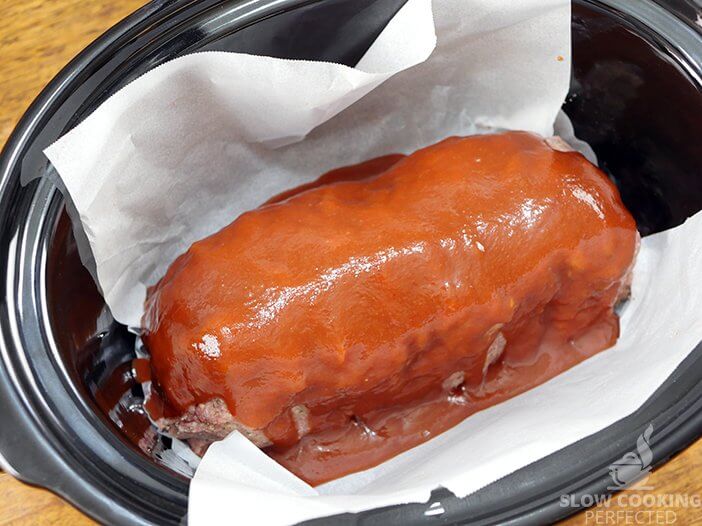 If you want some non slow-cooked food to have as a side dish, I recommend some cheesy cauliflower and some steamed greens. They will add a ton of nutrition to the meal, and they look great.
There are lots of other side dishes that match perfectly with meatloaf, so if you have any suggestions, be sure to let us know in the comments section at the bottom of this page.
The video below will take you through all the steps to making this deliciously easy meatloaf in the slow cooker. If video is not your thing, then you can find the full written recipe right underneath it.
Slow Cooker Meatloaf Recipe
Ingredients
Meatloaf
1 kg (2.2 lb) ground beef
2 tsp garlic crushed
2 eggs
1 onion, minced
½ Tbsp oregano
½ Tbsp parsley
½ cup milk
1 & ½ cups breadcrumbs
1 tsp salt
¼ tsp pepper
Sauce
½ cup ketchup
2 Tbsp brown sugar
1 Tbsp Dijon mustard
1 tsp Worcestershire sauce
Instructions
In a bowl, combine the ground beef, garlic, eggs, onion, oregano, parsley, milk, salt, pepper, and breadcrumbs.
Line a slow cooker with baking paper.
Shape the beef mixture into a round loaf and place it into the slow cooker.
In a jug, mix the ketchup, brown sugar, Dijon mustard, and Worcestershire sauce.
Pour over the meatloaf in the slow cooker.
Cook on low for 6-8 hours.
Serve Enjoy.
Recipe Tips
To make this recipe gluten-free, replace the breadcrumbs and Worcestershire sauce with gluten-free variants.
If you do not have time for the slow cooker, you can always consider doing the meatloaf in the oven. Simply preheat the oven to 175°C (350°F) and bake in a loaf tin.
Using lean ground beef will reduce the amount of fat generated throughout cooking.
Note: I use a 5.5L (6 Quart) slow cooker for all the recipes that I have on this website unless specified. If you have a smaller or larger slow cooker, then you might need to adjust the ingredients.
Nutrition Information
Serving Size: 261g (9.2 oz)
Servings Per Recipe: 6
Calories Per Serving: 534
Amount Per Serving
Saturated Fat: 11.2g
Trans Fat: 1.3g
Dietary Fiber: 1g
Sugars: 11g
Cholesterol: 203mg
Sodium: 805mg
Protein: 46g
The information above is an estimate generated by an online nutrition calculator.
More Slow Cooker Ground Beef Recipes
There are so many ground beef recipes that you can do in the slow cooker.
If meatloaf is not appealing to you right now, then maybe something like a good chili cooked in the slow cooker will satisfy you.
Another great recipe that I highly recommend checking out is the lion's head meatballs for the slow cooker. They are absolutely delicious, and the broth that goes with them is irresistible.
I absolutely love this slow cooker meatloaf, and I really hope that you do too. If you have some feedback, tips, or anything else, then please do not hesitate to leave a comment below.