The slow cooker Mississippi roast is one of the most raved about slow cooker recipes around. Although not everyone would agree it is perfect, it has indeed become a very popular meal.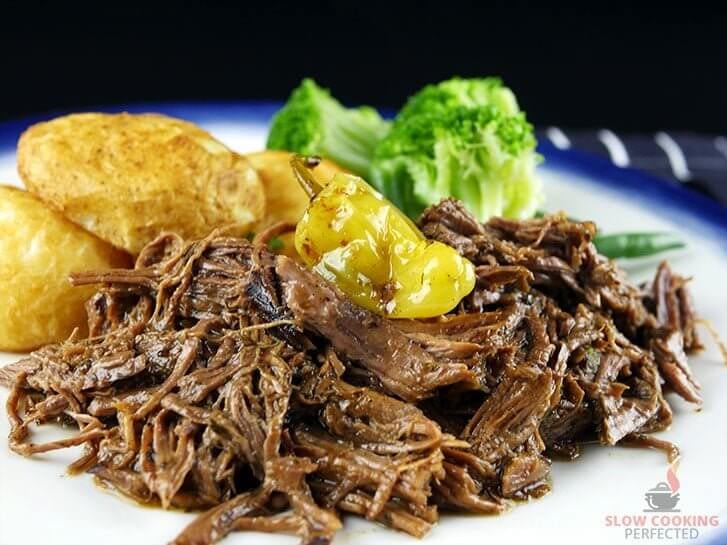 The meat cooks to be so tender you can easily pull it apart using a fork. To go along with the tender meat is a ton of flavor thanks to the ranch dressing and au jus mix. It is undoubtedly a must-try dish.
A single roast will feed roughly six people, but I recommend that you make some side dishes to go with the meat. You can also easily double or triple the recipe if you need to feed more people.
Make sure you keep any leftovers as it will make for some fantastic sandwich meat for lunch the next day. It will also reheat nicely, so it is still perfect if you just want to have it with some leftover side dishes.
Another slow cooker dish that produces amazing sandwich meat is the crack chicken, be careful as it is incredibly addictive.
Tweaking the Recipe
Pepperoncini peppers can be difficult to get your hands on. You can usually find the peppers at online stores, but you might need to use an alternative if you cannot get them online. Something like banana peppers will work as a great alternative. Jalapenos are a lot hotter, so I would avoid using them.
Using low salt packets of au jus mix and ranch dressing is a great way to reduce the amount of salt in this dish. You may find that you will need to adjust the seasoning at the end of cooking.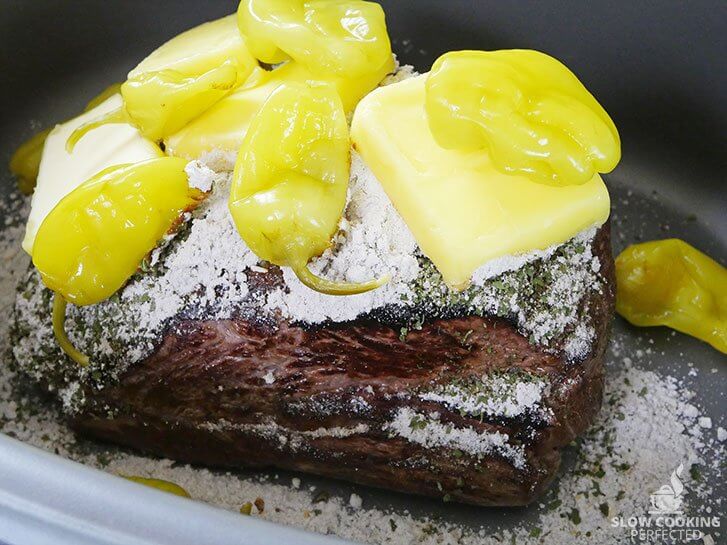 Vegetables can be cooked in the same slow cooker, but I cook them in a separate slow cooker or in the oven. All the standard roast vegetables will work nicely with this beef.
You can replace the chuck beef with beef brisket or beef round. Any kind of roast beef should work just fine. Personally, I would try to stick to the cheaper fattier cuts of meat for this dish.
What to Serve with a Mississippi Roast
There are a ton of side dishes that you can make to go alongside this Mississippi roast.
Some classic roast potatoes and a salad go well with this dish. If you have another slow cooker, you should try something like the scalloped potatoes or even the cheesy hash brown casserole.
As you can tell in the photos, I love to serve this dish with some steamed greens such as broccoli and green beans. I also love to do some roast potatoes in the oven or some buttered baby potatoes in the slow cooker.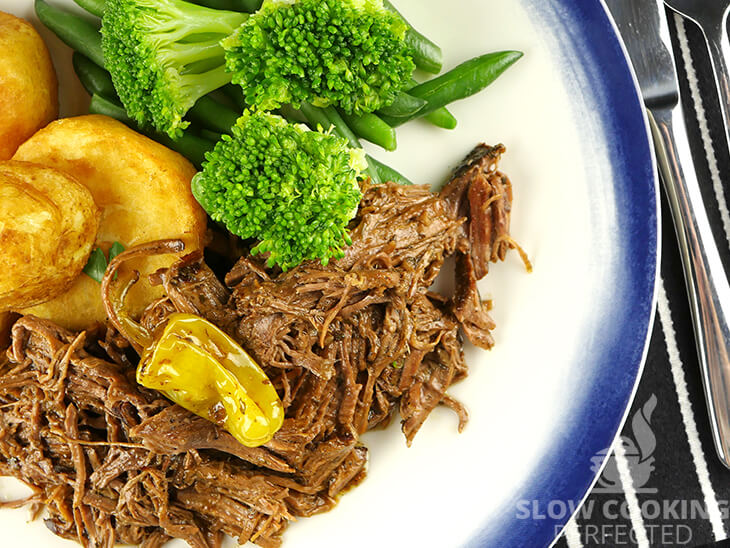 A delicious tomato chutney works surprisingly well with the beef and vegetables. You can buy some from the supermarket or make some at home in the slow cooker.
It is up to you on how you serve this dish, you can either shred it or slice it. The only real difference is the texture of the finished product. Whatever you decide to do, make sure you serve the sauce with the beef.
If you want to see how to prepare this Mississippi roast in the slow cooker, then be sure to check out the video below. Alternatively, there is a full written recipe right below the video.
Slow Cooker Mississippi Roast Recipe
Ingredients
1-2 kg (2.2 – 4.4 lb) chuck beef roast
1 packet (30g/1 oz) ranch dressing
1 packet (30g/1 oz) au jus mix
4 Tbsp (100g/4 oz) unsalted butter
5-10 pepperoncini peppers (No juice)
Instructions
Firstly, in a frypan over high heat, quickly brown all the sides of the beef.
Add the beef roast to the slow cooker.
Sprinkle the ranch dressing and au jus mix over the top of the beef. Add the butter and pepperoncini peppers.
Cook on low for 8 hours.
Remove the beef from the slow cooker and either slice or shred it.
Add the beef back into the sauce.
Serve & Enjoy.
Recipe Tips
The beef, along with the butter, will produce enough liquid for this dish to not dry out. You will get plenty of sauce to go with the finished meat. So, there is no need to add any extra fluid to the slow cooker.
If you do not have any packet ranch dressing, you can make it from scratch at home. Alternatively, you can find it for sale at pretty much any reasonable supermarket or at an online store like Amazon.
You can swap the au jus mix with onion soup mix or something similar. However, unlike the pepperoncini peppers, au jus mixture should be available at pretty much any reasonable supermarket.
Extra seasoning should not be needed as the packet mixes should provide more than enough.
Browning the meat is optional and can be skipped if you are running low on time.
Note: I use a 5.5L (6 Quart) slow cooker for all the recipes that I have on this website unless specified. If you have a smaller or larger slow cooker, then you might need to adjust the ingredients.
Nutrition Information
Serving Size: 247g (8.7 oz)
Servings Per Recipe: 6
Calories Per Serving: 567
Amount Per Serving
Saturated Fat: 10.9g
Trans Fat: 0g
Dietary Fiber: 0.2g
Sugars: 2.6g
Cholesterol: 244mg
Sodium: 1334mg
Protein: 77.5g
The information above is an estimate generated by an online nutrition calculator.
More Slow Cooker Roast Recipes
There are a ton of other delicious "roasts" that you can cook in the slow cooker.
One of my personal favorites is the seasoned whole chicken. It is incredibly easy to make and cooks to be juicy and tender. You can even cook some vegetables in with the meat.
Another roast that I absolutely love is the pork loin. Much like the chicken, it cooks with a delicious range of vegetables and is seasoned with a delicious range of spices and herbs. It is certainly a must-try.
That is all I have to say for this delicious slow cooker Mississippi roast. If you have anything you would like to add or a better variation, then please feel free to leave a comment below.