Slow cooker crack chicken is the perfect combination of ranch dressing, cream cheese, and of course, bacon. It goes great in sandwiches, tacos, pizza, nachos and so much more.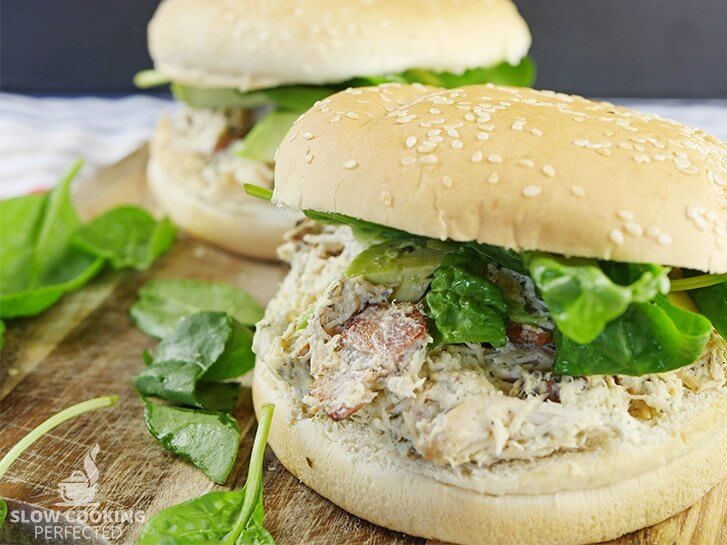 By the time this dish is ready to eat, it will be loaded with flavor and have a lovely cheesy texture to it. It's ideal to go with something rather than be eaten alone. However, it's so tasty I can probably eat it by itself.
You only need five very simple ingredients to make this chicken dish, and they're all pretty easy to get your hands on.
Some countries may not have the dry ranch dressing, so you will need to make it from scratch. Alternatively, you can buy dry ranch dressing packets from places such as Amazon or your local supermarket.
This recipe should make enough shredded crack chicken to feed roughly eight people. You can easily adjust the recipe if you need more or less.
What to Serve with Crack Chicken
Even though you can eat this chicken by itself, I recommend having something with it. Below are a couple of ideas on what you can serve with the shredded chicken.
Baked potatoes go great with it if you have the extra time to make them. If you have multiple slow cookers, you can bake some potatoes in a separate slow cooker. Afterward, you can simply top the potatoes with the crack chicken.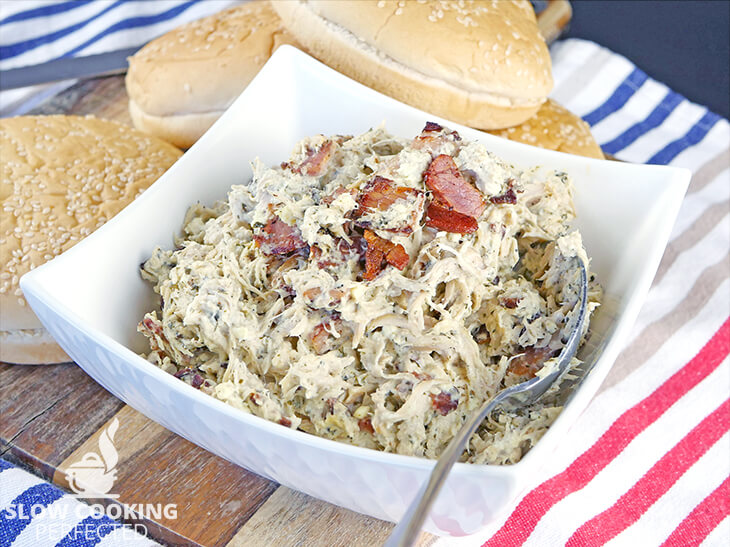 Some simple sandwiches are always a great easy dinner. Avocado, ranch dressing, and baby spinach go great with the shredded chicken in a fresh bread roll. However, feel free to experiment to get the best combination for you.
Another great idea for serving this chicken is as a topping for some nachos. Simply top some corn chips with this cheesy chicken mixture and add any additional ingredients that you might like. Bake for in a hot oven or until the mixture is hot and the cheese is melting.
There are a lot more ways you can serve this crack chicken, so if you have any ideas that you would like to share, then please don't hesitate to leave a comment below.
Tweaking the Recipe
This dish makes a lot of chicken, so if you know you're not going to need much, then I highly recommend halving this recipe. I made the full recipe and got a bit bored of three days worth of crack chicken.
You can try adding some extra cheese for some different flavors. For example, a good amount of cheddar cheese will add even more cheesy goodness to the chicken.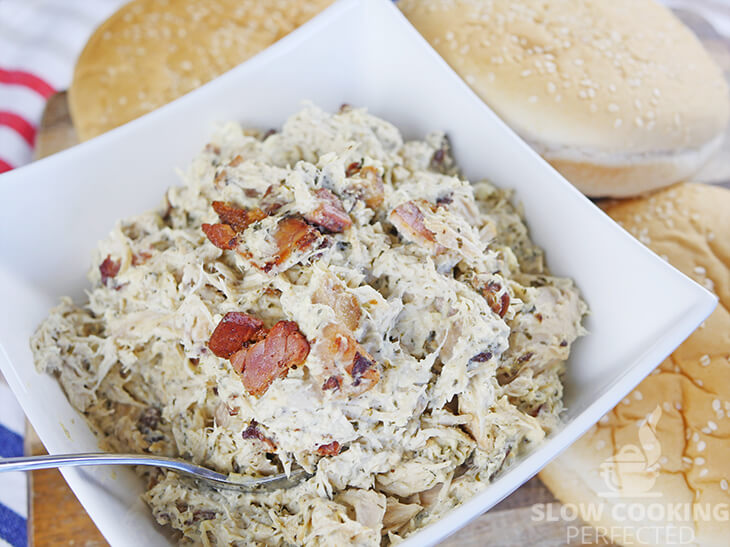 Make sure you keep the leftovers as they will keep for about three to five days in the fridge if stored correctly. As I mentioned before, the chicken goes great in sandwiches, this makes it perfect for lunches and so much more.
If you love seeing how to make recipes, then be sure to check out the video below. It goes through all the steps to making this delicious crack chicken in the slow cooker and what it should look like throughout cooking.
Slow Cooker Crack Chicken Recipe
Ingredients
1 kg (2.2 lb) chicken breasts
500 g (1.1 lb) cream cheese
¼ cup chicken stock
30 g (1.1 oz) dry ranch seasoning
500 g (1.1 lb) fried crispy bacon
Instructions
In a slow cooker, add the chicken, cream cheese, chicken stock, and ranch dressing.
Cook on low for 6-8 hours or until the chicken falls apart easily.
Pull the chicken apart by using two forks.
Add the diced bacon and mix until well combined.
Serve & Enjoy.
Recipe Tips
If you need to make some ranch dressing powder, then check out this quick and easy ranch seasoning recipe. It's easy to make with just using some basic dried herbs around the house.
If you don't have chicken breasts, then these can be replaced with chicken thigh. Personally, I would avoid chicken with the bone-in as it will be hard to shred the chicken at the end. You may also end up with more gristly bits.
You can skip the chicken stock, but the result may be a bit dryer depending on the cut of chicken you use.
If for some reason, you don't want the bacon, then you can leave it out. I would avoid adding it to the slow cooker raw as it will not crisp up, and the result will not be as tasty.
Note: I use a 5.5L (6 Quart) slow cooker for all the recipes that I have on this website unless specified. If you have a smaller or larger slow cooker, then you might need to adjust the ingredients.
Nutrition Information
Serving Size: 210g (7.4 oz)
Servings Per Recipe: 8
Calories Per Serving: 578
Amount Per Serving
Saturated Fat: 18.7g
Trans Fat: 0g
Dietary Fiber: 0g
Sugars: 0.1g
Cholesterol: 194mg
Sodium: 1192mg
Protein: 47.6g
The information above is an estimate generated by an online nutrition calculator.
More Slow Cooker Recipes
If you don't feel like eating chicken but want something that will be great as sandwich meat, then you should check out the incredible pulled pork. It's super easy to make, and you're able to use your own favorite BBQ sauce, so it's perfect for your taste buds.
Another recipe that I highly recommend making is the tender pulled beef. The beef is loaded with flavor and is perfect as a topping in nachos and so much more. I highly recommend giving it a try.
I hope that this delicious slow cooker crack chicken cooks to be as good as it was for me. If you have any tips, feedback, suggestions, or anything else, then please don't hesitate to leave a comment below.