This slow cooker pulled beef is an absolute must-try. By the end of cooking, it will be tender, succulent, and packed with so much flavor.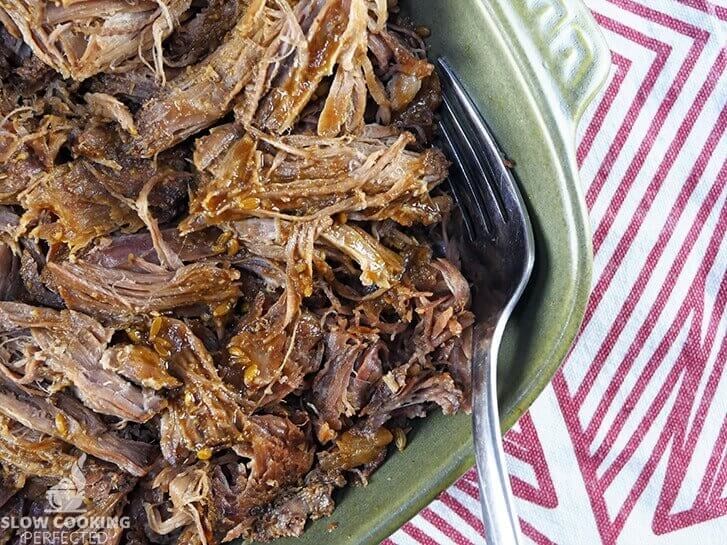 By the time the beef is ready, it should pull apart easily and be packed with flavor from the garlic, wine, tomato paste, and the fennel seeds. It's certainly a dish that will please almost anyone.
You don't have to serve this beef with the slow cooking marinade. Much like the pulled pork, you can mix the pulled beef through a smoky BBQ sauce or something similar.
The Best cut of Beef to use for Shredded Beef
When it comes to cooking beef in the slow cooker, it is essential that you buy a cheap, tough cut of meat.
You don't need to worry about the toughness as by the time it is ready to eat, the meat will be tender and flavorsome. There is no need to buy expensive cuts of meat.
The best cuts of beef that you can use include chuck roast, rump roast, brisket, flank, or skirt. These may go by different names depending on the country you're living in.
What to Serve with Pulled Beef
This pulled beef is best served alongside a dish or incorporated into a dish. This something can be nachos, pizza, a salad, beef enchiladas, and so much more.
The beef will even go great alongside something such as sweet potato fries or cauliflower cheese. There is so much that goes great with slow cooker pulled beef.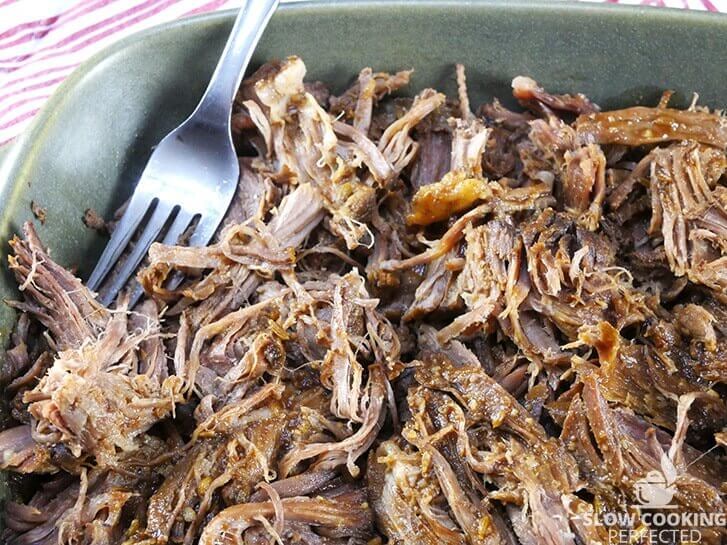 One of the simplest ways to serve the beef is in a sandwich or bread roll. There are plenty of accompaniments that you can add to the bread roll, such as cheese, lettuce, tomato chutney, and so much more.
Of course, there are lots more ways that you can serve pulled beef, so if you have any suggestions, be sure to share them with us.
What to do with Leftovers
As you would expect, the leftovers are well worth keeping. You can keep them in either the fridge or freezer.
If you're storing the leftovers in the fridge, then it should last for a few days. Alternatively, it should last for up to six months in the freezer.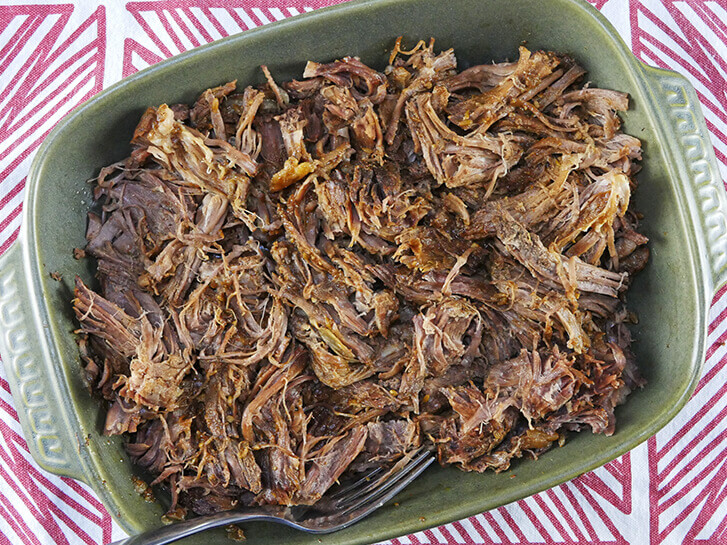 Videos can make following a recipe so much easier. If you prefer a video, then you can find a super handy video right below. It will take you through all the steps to making this tasty pulled beef in the slow cooker.
If you love the video, then be sure to subscribe to our YouTube channel as we will be posting lots more slow cooker recipes.
Slow Cooker Pulled Beef Recipe
Ingredients
1 kg (2.2 lb) beef chuck
1 Tbsp garlic, crushed
125 ml (4.2 fl oz) red wine vinegar
2 Tbsp tomato paste
½ cup brown sugar
1 cup beef stock
1 tsp fennel seeds
1 bay leaf
¼ tsp salt
Instructions
Place all the ingredients in the slow cooker except the beef. Mix until well combined.
Add the beef, and baste with the marinade.
Cook on low for 8-10 hours.
Remove the beef from the slow cooker and place it to the side.
Gently remove the fat from the beef and shred using two forks.
Remove excess fat from the slow cooker by gently ladling it out. Pour the remaining marinade over the shredded beef.
Serve & enjoy.
Recipe Tips
You can brown the beef before placing it into the slow cooker. This process is a personal preference and won't profoundly impact the outcome of this dish.
The slow cooker marinade is likely to be quite thin by the time it is finished cooking. You can thicken it up with some cornstarch and water. Just mix one tablespoon of water with one tablespoon of cornstarch. Once combined, add to the pulled beef marinade.
As I mentioned above, you can mix the beef in with a BBQ sauce rather than the marinade that we cook with the beef.
Note: I use a 5.5L (6 Quart) slow cooker for all the recipes that I have on this website unless specified. If you have a smaller or larger slow cooker, then you might need to adjust the ingredients.
Nutrition Information
Serving Size: 253g (8.9 oz)
Servings Per Recipe: 6
Calories Per Serving: 309
Saturated Fat: 2.7g
Trans Fat: 0.6g
Dietary Fiber: 0g
Sugars: 19g
Cholesterol: 123mg
Sodium: 330mg
Protein: 35g
The information above is an estimate generated by an online nutrition calculator.
More Beef Recipes
Beef is an excellent slow cooking meat, so there is a lot of different recipes that you're able to do. Below are just a couple of similar recipes that you might want to check out.
The Mississippi roast beef that can be cooked in the slow cooker is also a great shredded beef dish. It too goes great in a sandwich, as a topping, and so much more. Be sure to check it out; it's super easy to make and tastes amazing.
Another shredded beef dish that you might enjoy is the slow cooker beef tacos. It's very similar to this recipe but instead flavored with all the spices and herbs that you expect with Mexican cuisine.
I hope that you enjoy this slow cooker pulled beef and that it will cook to be delicious, just like it was for me. Feedback, tips, additions, or anything else you would like to mention can be left in the comments below. I appreciate any input that you might have.