The slow cooker is the perfect way to cook some of the most delicious shredded BBQ beef.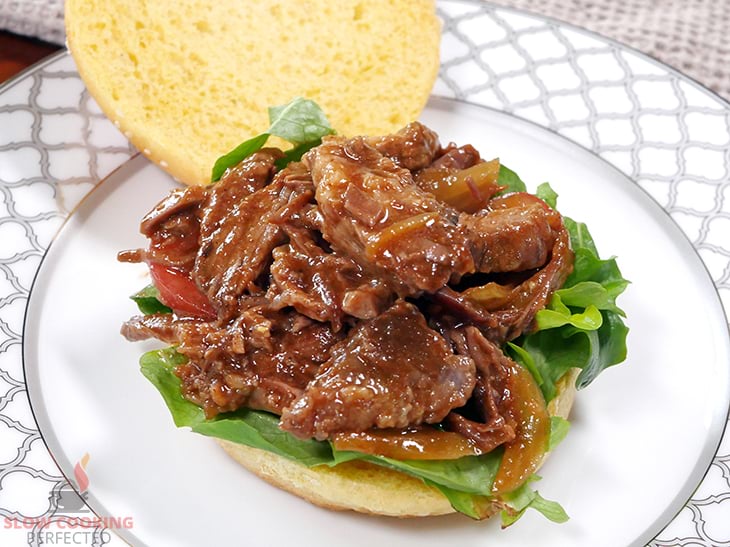 When you take a bite of this shredded beef, you are greeted with an explosion of flavor thanks to our wonderful sauce. The meat itself is so tender that it melts in your mouth. It is a truly delicious combination that is certainly worth making.
You will be able to feed four to six people without adjusting the recipe. I recommend serving some extras to go along with the beef. For example, I love a good side dish of homemade potato chips.
Any leftover meat is great for a quick and easy meal the next day. It should last for roughly three days in the refrigerator or three months in the freezer.
If you rather something a bit plainer, then you should give our pulled beef recipe a try. Unlike this recipe, it won't produce much sauce but is still incredibly delicious.
BBQ Beef Serving Ideas
This pulled beef goes great inside a delicious bread roll. I love to add some ingredients such as lettuce, tomato, and some cheddar cheese. But, of course, there are plenty more ingredients that will match the beef and bread roll perfectly.
You can easily serve the beef alongside a couple of side dishes. For example, I love to serve pulled beef with some homemade fries and a basic green salad. However, if you feel lazy, then some frozen fries are the perfect solution.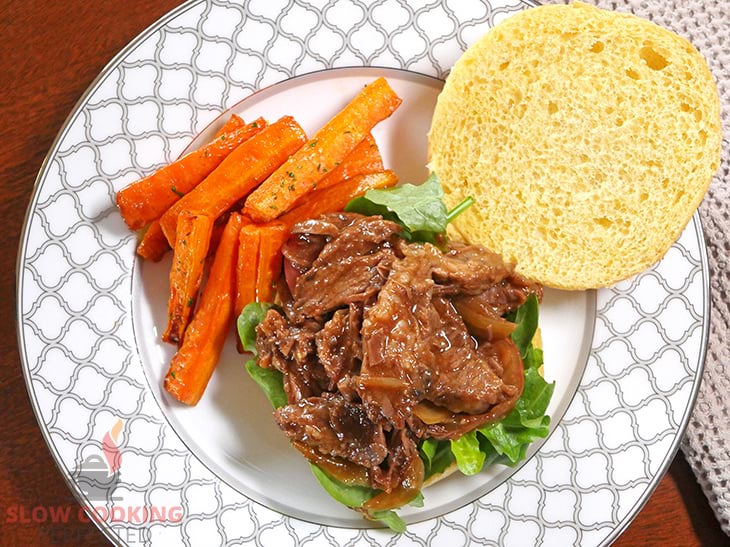 The slow cooker BBQ beef will also work very nicely as a topping on some pizza. You can use a traditional pizza base, or get creative and do a puff pastry pizza base instead. Whatever you decide, this beef is perfect as a topping.
My last recommendation is to serve the beef like how you would want a fajita. Simply add the beef alongside some lettuce, cheese, and other ingredients to a tortilla. Eat with your hands. It is a simple but extremely delicious way to eat this beef.
Best Cut of Beef to Use
To get the best value for money, I recommend buying a cheap cut of beef to use in the slow cooker. The long cooking time will tenderize the meat and be just as flavorsome as an expensive cut.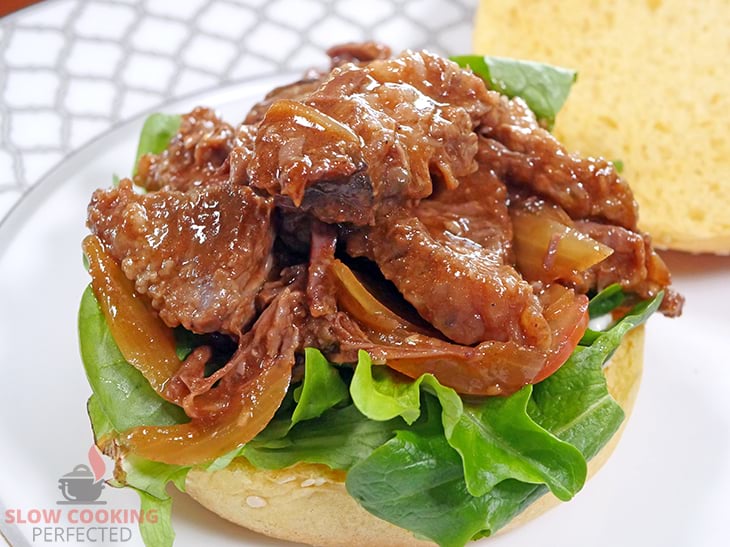 I recommend using beef brisket for this recipe, but plenty of other cuts will work fine. For example, flank, skirt, rump, or chuck will all work great. Some of these cuts of meat might go by a different name depending on where you live.
The recipe below will take you through all the steps to cooking some shredded BBQ beef in the slow cooker. If you have anything you want to say, please leave a comment at the bottom of this page.
Slow Cooker BBQ Beef Recipe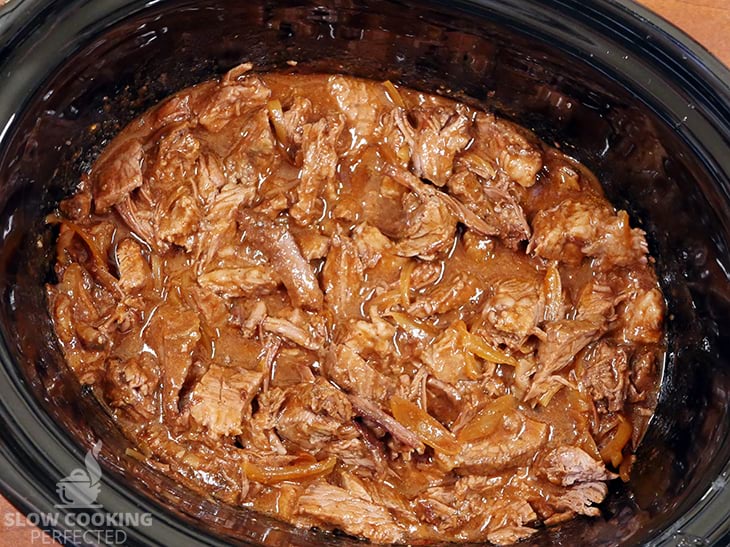 Ingredients
1 kg (2.2 lb) beef brisket
2 onions, sliced
2 tsp garlic, crushed
250 ml (8.5 fl oz) BBQ sauce
1 Tbsp Worcestershire sauce
2 Tbsp Dijon mustard
1 Tbsp paprika
Instructions
Place all the ingredients in the slow cooker except the beef. Mix until well combined.
Add the beef and baste with the sauce.
Cover and cook on low for 12 hours.
Remove the beef from the slow cooker and place it to the side.
Gently remove the fat from the beef, discard the fat.
Shred the remaining meat by using two forks.
Add the shredded beef back into the slow cooker.
Serve & enjoy.
Recipe Tips
I recommend using the BBQ sauce that you like the most. If you have some spare time, you should consider making your own homemade BBQ sauce.
If the meat is not pulling apart, then it may require more time in the slow cooker. I recommend sticking to the twelve hours in the slow cooker for the best result.
You may need to skim off excess oil from the top of the sauce. I use a ladle as it is easier to separate the oil from the rest of the sauce.
Thicken the sauce with a combination of cornstarch and a bit of water if you find it too runny.
This dish is gluten-free, but to be sure, double-check the ingredients in your BBQ sauce and Worcestershire sauce. You may need to find gluten-free varieties.
Note: I use a 5.5L (6 Quart) slow cooker for all the recipes that I have on this website unless specified. If you have a smaller or larger slow cooker, then you might need to adjust the ingredients.
Nutrition Information
Serving Size: 221g (7.8 oz)
Servings Per Recipe: 6
Calories Per Serving: 303
Amount Per Serving
Saturated Fat: 3.1g
Trans Fat: 0.3g
Dietary Fiber: 1g
Sugars: 14g
Cholesterol: 112mg
Sodium: 652mg
Protein: 37g
The information above is an estimate generated by an online nutrition calculator.
More Slow-Cooked Beef Recipes
There are loads of slow cooker recipes that make use of beef as the main ingredient. Below are a couple of my favorite recipes that I highly recommend giving a try.
Our slow-cooked Korean beef recipe is an absolute must-try. It features tender beef in a delicious Korean-inspired sauce. It is great served with rice but will also work with noodles, mashed potato, or stir-fried vegetables.
Another recipe that I reckon you will love is beef and broccoli. The final result features some tender meat, perfectly cooked broccoli, and a lovely sauce. The sauce consists of soy, sugar, oyster sauce, sesame oil, and some beef stock.
I hope that you enjoy this slow-cooked BBQ beef as much as I did. If you have some feedback, please do not hesitate to leave a comment below.