If you want a delicious beef dish, then you will be extremely satisfied with this slow cooker teriyaki beef.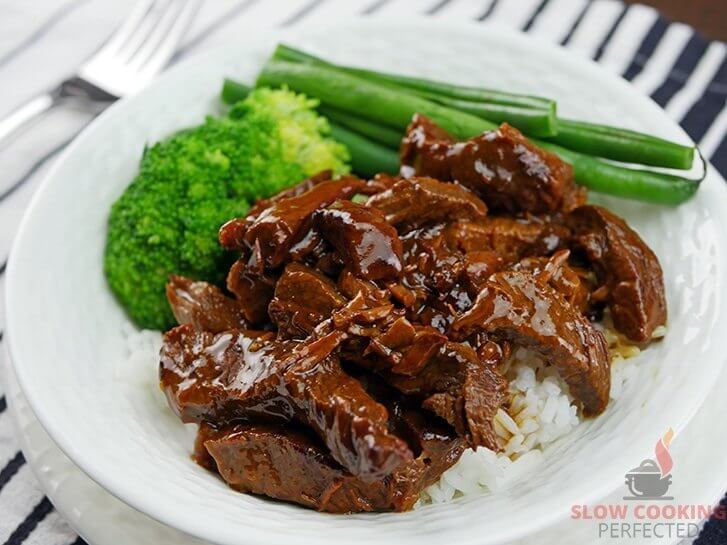 The beef cooks to be so tender that it will melt in your mouth. The homemade teriyaki sauce is surprisingly easy to make and can be adjusted to suit your taste buds.
The rich teriyaki sauce compliments the beef nicely and guarantees a meal that the entire family will enjoy. It's best served with some accompaniments such as rice and blanched greens.
A single batch of this recipe should feed between four to six people, but you can easily feed more by making some side dishes or doubling the recipe.
Feeding a Crowd
There are a couple of ways you can feed a crowd with some teriyaki beef, and below I go through a few suggestions.
As with a lot of slow cooker beef dishes, this goes great with some freshly cooked white rice. However, that doesn't mean you can't have it with something like potato mash, jacket potatoes, or even just with some roasted vegetables.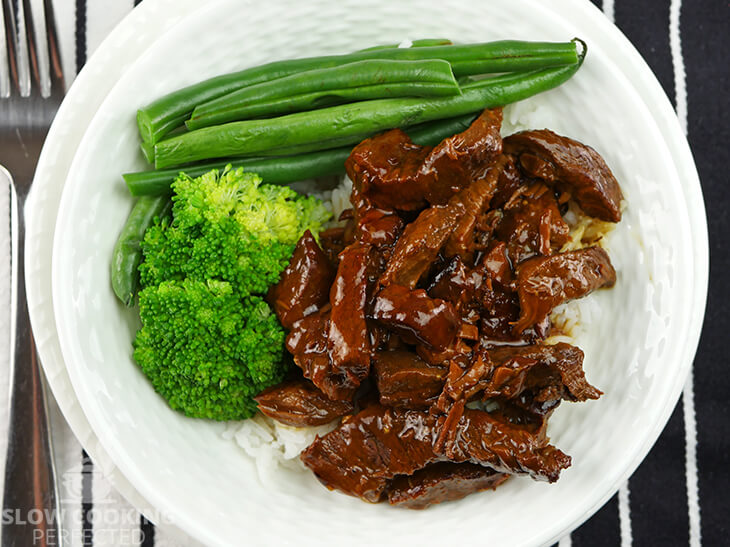 Bulking out this teriyaki beef dish is as easy as just adding a bunch of potatoes, carrots, and other delicious root vegetables. By the end of cooking, you will have a sweet sauce with beef, vegetables, and a meal that will feed quite a few heads.
If you have any suggestions on what to serve with this delicious beef dish, then be sure to let us know.
What Cut of Beef to use for Teriyaki Beef
Since we're using a slow cooker, you should try and find a good quality cheap cut of beef to use in this recipe.
Using a cheap cut of meat is a great way to save on money, and you won't find any negatives with doing so. By the time the dish is done cooking, the beef will be tender and flavorsome.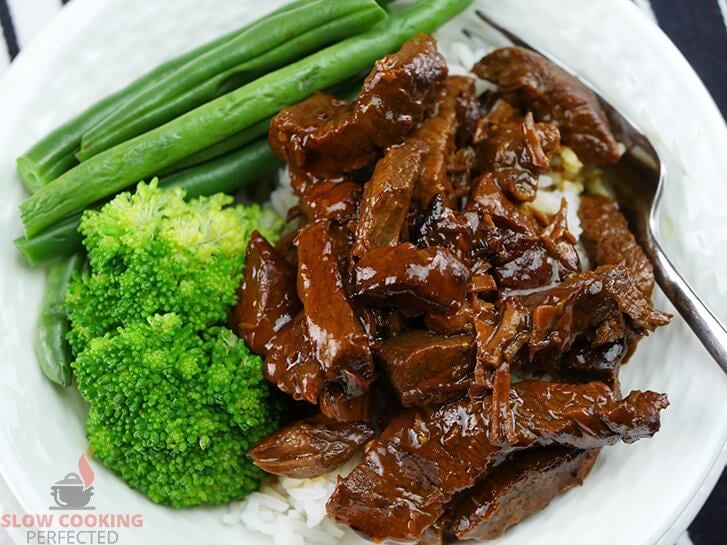 The cuts of beef that I highly recommend that you use for this dish are chuck, blade, brisket, or round. You may find that some of these cuts of beef are named differently in the country you reside in.
I recommend cutting the beef into large thick pieces as cutting it too small will result in the beef just falling to bits after a few hours of cooking.
What to do with Leftovers
Don't be throwing out any leftovers as they will keep well for a few days. Make sure you reheat the leftovers in either the microwave or over a hot stove.
You can keep the leftovers in either the fridge or freezer, they should last roughly three days in the fridge. Alternatively, they should last for six months in the freezer.
I have put together a quick video that you can find right below. It will take you through all the steps to making some delicious teriyaki beef in the slow cooker.
If you're more of a written recipe person, then you can find the full recipe right underneath the video or in our slow cooker recipe book.
Slow Cooker Teriyaki Beef Recipe
Ingredients
1 kg (2.2 lb) rump steak, thickly sliced
1 tsp garlic, crushed
1 tsp ginger, crushed
½ cup honey
¼ cup soy sauce
¼ cup beef stock
¼ cup rice wine vinegar
¼ tsp black pepper, ground
To Thicken
2 Tbsp cornstarch
2 Tbsp water
Instructions
In a frypan over high heat, lightly brown the beef, then put to the side.
Next, in a slow cooker, add garlic, ginger, honey, soy sauce, beef stock, rice wine vinegar, and black pepper.
Next, gently mix in the sliced beef strips.
Cook on low for 6-8 hours or until the beef is tender.
To thicken the sauce, mix the cornstarch and water together. Gently stir into the teriyaki beef mixture.
Cook on high for 15 minutes.
Serve & Enjoy.
Recipe Tips
If beef isn't your thing, then you can also do this dish with chicken instead. Both variations work incredibly well, so it just comes down to personal preference.
As I mentioned above, make sure you use a cheap cut of beef like rump or round for the best results.
You can use jar teriyaki sauce instead of making one from scratch. Just use one and a half cups of the teriyaki sauce and leave all the ingredients out except the beef. You might still need to thicken it with the cornstarch at the end of cooking.
Note: I use a 5.5L (6 Quart) slow cooker for all the recipes that I have on this website unless specified. If you have a smaller or larger slow cooker, then you might need to adjust the ingredients.
Nutrition Information
Serving Size: 235g (8.3 oz)
Servings Per Recipe: 6
Calories Per Serving: 328
Saturated Fat: 2.7g
Trans Fat: 0.6g
Dietary Fiber: 0g
Sugars: 23g
Cholesterol: 123mg
Sodium: 749mg
Protein: 35g
The information above is an estimate generated by an online nutrition calculator.
More Slow Cooker Recipes
There are quite a few different types of delicious beef dishes that you can do in the slow cooker.
For example, something like the Mongolian beef is an easy yet flavor-packed slow cooker dish. It has rich flavors of hoisin, soy, garlic, and ginger.
Another dish that I highly recommend making is the spicy beef brisket. The meat cooks to be juicy, tender, and packed with a ton of flavor.
Much like every recipe I have, I really hope that you enjoy this slow cooker teriyaki beef. If you have any of your own thoughts, tips, or anything else that you would like to add, then be sure to leave a comment below.