This slow cooker beef brisket uses a spice rub that will infuse a ton of amazing flavors into the meat. It also cooks in a simple sauce that can be served with the beef.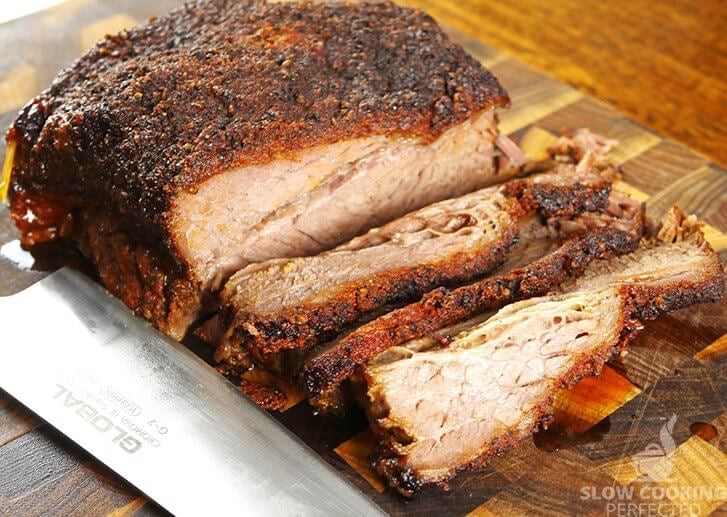 The spice rub we use consists of an excellent range of ingredients such as smoked paprika, brown sugar, chili powder, garlic powder, cumin, salt, and pepper. The chili powder adds a bit of a punch, so make sure you include that.
A single brisket should be enough to feed roughly six people. However, it heavily depends on how many side dishes you are making. You can easily double or triple the recipe if needed.
If you love the spice mix, you can always measure it out in bulk, so you do not have to weigh the ingredients next time you make this dish. Just store it in an airtight container until needed.
Tweaking the Recipe
Below are a couple of ways you can adjust the recipe.
The chili powder packs a bit of heat, so you may want to tone it down slightly. Two teaspoons should be enough to provide that lovely flavor while not being too hot for people who do not like spicy foods.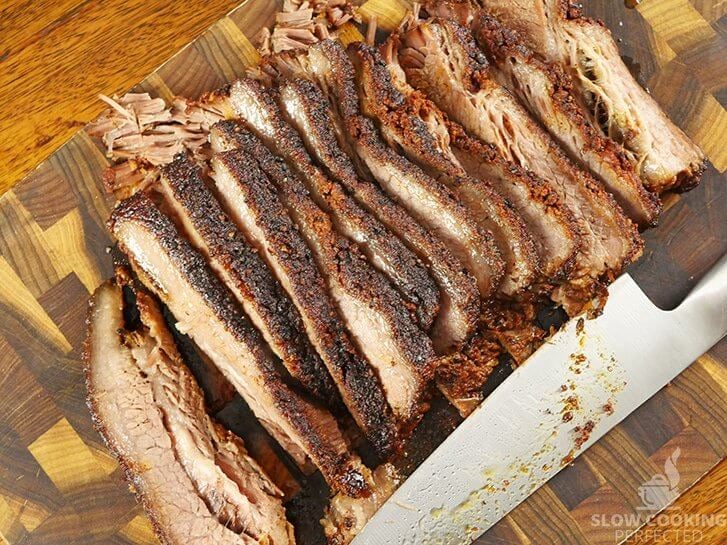 Refrigerating the beef overnight is optional, so you can instead place straight into the slow cooker and start cooking immediately. I recommend refrigerating as it will help all the flavors of the spice mix infuse into the beef.
You can sear the beef after you pull it out of the refrigerator. However, Do not cook for too long on each side as you may burn the spice rub.
What to Serve with Beef Brisket
You can serve this beef brisket in many different ways. Below are a couple of ideas on what you can do.
The beef is excellent shredded and served in a fresh bread roll with your choice of fillings. I love to have it in a bread roll filled with lettuce, mayonnaise, tomato, and some red onion. It is a delicious combination.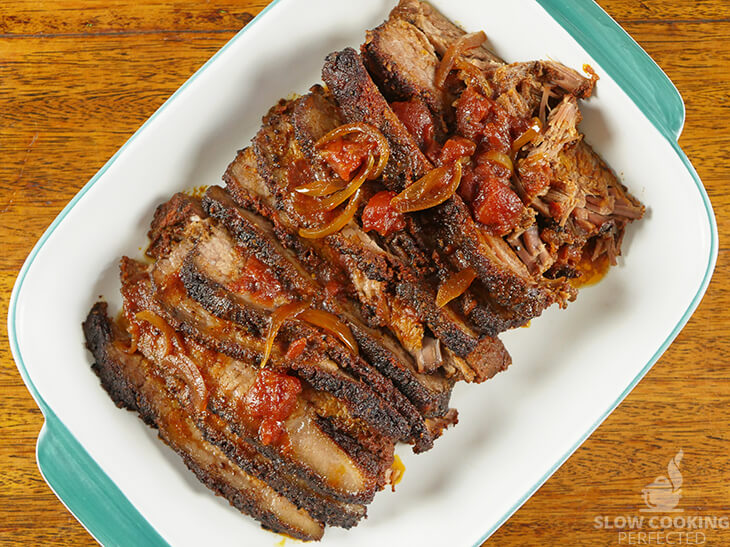 You can slice and serve the brisket alongside some vegetables. One of my favorite combinations is some herby baby potatoes with some steamed broccoli and snow peas. There are lots of vegetables that will work nicely with this delicious dish.
You can have beef brisket as part of a topping ingredient on a homemade pizza. It goes excellent with cheese, bell peppers, red onion, and some mushrooms. Feel free to get creative.
The video below will take you through all the steps on how to cook this beef brisket in the slow cooker. If you like it, then be sure to follow us on YouTube. Alternatively, there is a full written recipe right below the video.
Slow Cooker Beef Brisket Recipe
Ingredients
Meat
1 kg (2.2 lb) beef brisket
Spice Rub
3 Tbsp smoked paprika
2 Tbsp black pepper, ground
1 Tbsp salt
1 Tbsp brown sugar
1 Tbsp chili powder
1 tsp garlic powder
1 tsp cumin, ground
BBQ Sauce
400 g (14.1 oz) crushed tomatoes
¼ cup apple cider vinegar
1 tsp Tabasco
1 Tbsp honey
¼ cup Worcestershire sauce
1 onion, sliced
Instructions
In a bowl, mix the smoked paprika, pepper, salt, brown sugar, chili powder, garlic powder, and ground cumin.
Rub the seasoning mix into the beef brisket. Place in the fridge overnight.
In a slow cooker, mix the crushed tomatoes, apple cider vinegar, tabasco, honey, Worcestershire sauce, and the onion.
Place the beef brisket into the slow cooker.
Cook on low for 8 hours.
Rest for 10 minutes before slicing or shredding the meat.
Serve & Enjoy
Recipe Tips
I recommend not cooking the beef on the high-temperature setting as it might not come out as tender as cooking it on low for eight hours.
A large piece of meat should work fine in this recipe without any adjustments. The spice rub should make enough for up to 2kg (4.4 lb) of meat.
The meat can be placed straight into the slow cooker if you do not have the time to marinate it in the fridge overnight.
Note: I use a 5.5L (6 Quart) slow cooker for all the recipes that I have on this website unless specified. If you have a smaller or larger slow cooker, then you might need to adjust the ingredients.
Nutrition Information
Serving Size: 272g (9.6 oz)
Servings Per Recipe: 6
Calories Per Serving: 486
Amount Per Serving
Saturated Fat: 12.7g
Trans Fat: 0g
Dietary Fiber: 4g
Sugars: 8g
Cholesterol: 113mg
Sodium: 1562mg
Protein: 33g
The information above is an estimate generated by an online nutrition calculator.
More Slow Cooker Beef Recipes
There are so many different types of beef recipes that are perfect for the slow cooker.
The Mississippi roast or the pulled beef is similar to this beef brisket dish and tastes absolutely amazing. I highly recommend trying one of them out.
Another dish that I reckon you will love is the incredibly delicious swiss steak. It features tender pieces of beef in an amazing tomato-based sauce. I absolutely love making it.
I hope that you love this slow cooker beef brisket as much as I do. If you have some feedback on this delicious beef dish, then please do not hesitate to leave a comment below.