This slow cooker beef Rogan josh is loaded with flavor thanks to the long cooking time and the delicious homemade curry paste.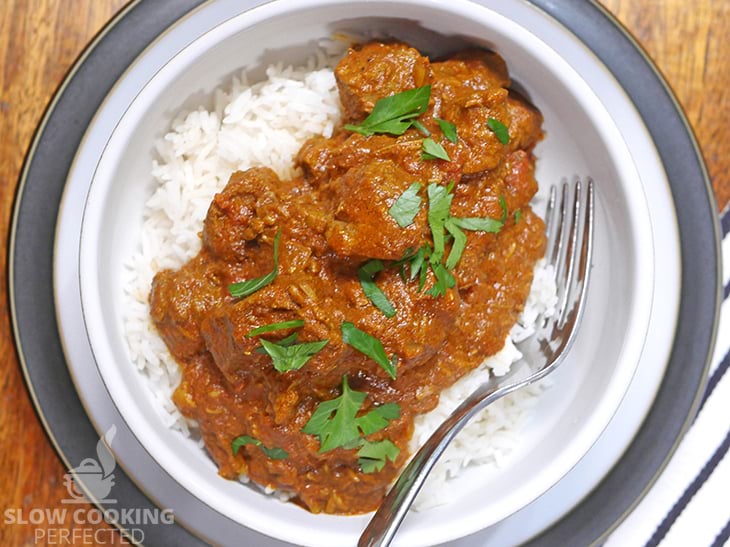 When you take a bite of this curry, you are greeted with a ton of flavor thanks to the delicious range of ingredients. The chunks of beef cooks to be so tender that it will melt in your mouth. I highly recommend serving it with some freshly cooked rice.
You can also make this delicious curry with lamb instead. Both result in a beautiful rich curry that will have you going back for more. Personally, I prefer beef over lamb.
A single batch of this curry will feed four to six people. However, it heavily depends on how hungry people are and whether they are big eaters. To be safe, you can always make some delicious side dishes to go with the curry.
Leftover curry is always a great meal for lunch or dinner the next day. The leftovers should last for about three days in the refrigerator or three months in the freezer. I recommend storing the leftovers separately from any leftover rice.
Perfecting the Beef Rogan Josh
I recommend spending the extra time browning the beef and frying the curry paste as it does help add more flavor to the final dish. However, if you are low on time, you can instead add everything straight into the slow cooker. You can even use a store-bought curry paste.
Using a cheaper cut of beef will likely give you the best tasting curry. The long cooking times will cook the beef so that it is tender and loaded with flavor. It is also perfect for keeping the costs of this meal low. Consider using something like chuck, round, shanks, blade, or even brisket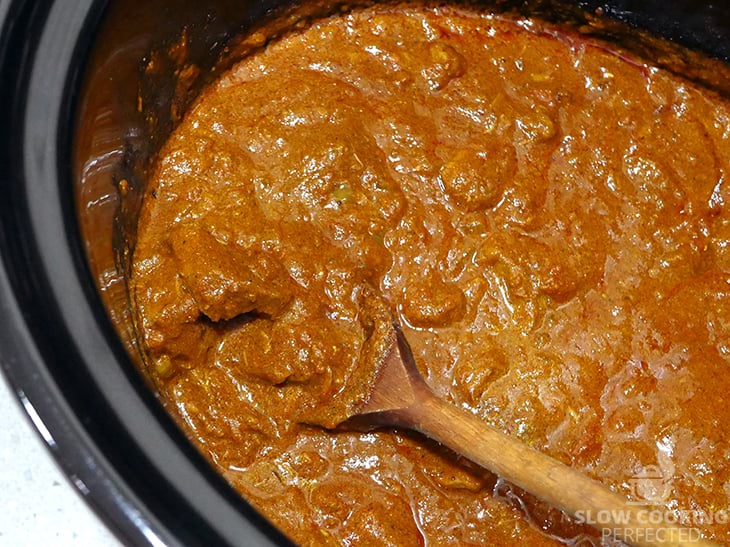 Adding cold yogurt to the slow cooker will likely have it split immediately. You can either warm the yogurt or mix it with some cornstarch to help prevent it from splitting. Personally, I love to add a dollop of yogurt on the top of the finished curry.
To help feed even more people you can add some vegetables. Potatoes, carrots, or even large chunks of onion will work great in this curry. Feel free to get a little creative.
Beef Rogan Josh Serving Ideas
This delicious curry will match with quite a few different side dishes. Below are a few ideas on how you can serve this beef rogan josh.
The simplest side dish is some freshly cooked steamed rice. I highly recommend that you cook the rice in a rice cooker or over the stove. Cooking rice in the slow cooker is not the best idea and may ruin your curry.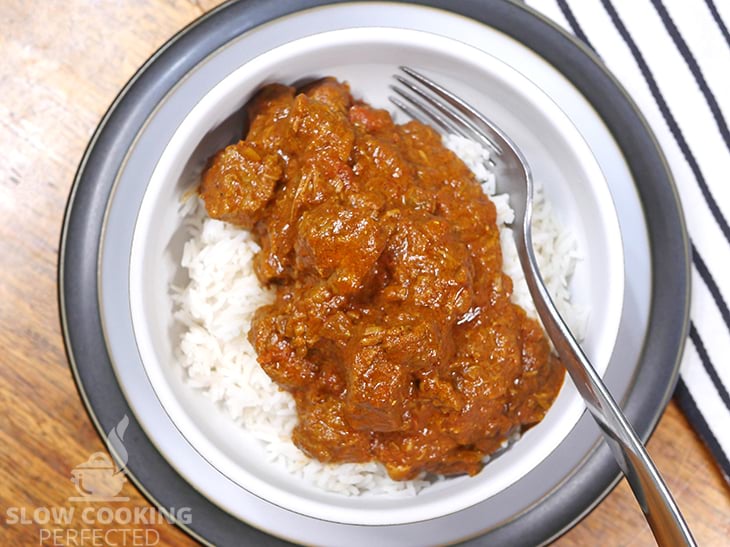 Homemade naan bread always goes down a treat with a good curry. However, making the naan at home will require a fair bit of extra time in the kitchen. Alternatively, store-bought naan bread is an excellent choice.
For an even heartier meal, you can serve this Rogan josh curry over the top of some mashed potatoes. You can even try being a little healthier and make a delicious mashed cauliflower.
The recipe below will take you through all the steps to making this delicious beef rogan josh in the slow cooker. If you try our recipe, then be sure to let us know what you think.
Slow Cooker Beef Rogan Josh Recipe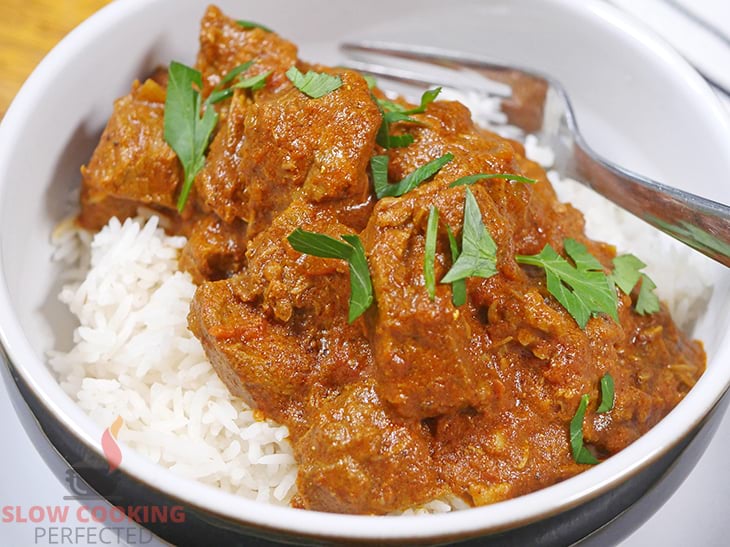 Ingredients
1 kg (2.2 lb) chuck steak, cubed
400 g (14.1 oz) can crushed tomatoes
~150 g (5.3 oz) Rogan Josh curry paste (See below)
Curry Paste
1 Tbsp cooking oil
1 onion, finely diced
1 Tbsp ginger, crushed
3 tsp garlic, crushed
1 tsp chili paste
1 Tbsp tomato paste
1 Tbsp coriander, ground
2 tsp cumin, ground
2 tsp cardamom, ground
1/2 tsp cloves, ground
1 tsp turmeric, ground
1 tsp garam masala
To Serve
125 ml (4.2 fl oz) plain yogurt or Greek yogurt
Instructions
In a pan over high heat, add the beef and cook until slightly browned. Once browned, put to the side.
In the same pan, cooking oil, onion, ginger, garlic, and cook until the onion is translucent. Roughly two to three minutes.
Next, add the chili paste, tomato paste, coriander, cumin, cardamom, cloves, turmeric, garam masala, and cook until fragrant. It will take roughly five minutes.
Add the curry paste, beef, and the crushed tomatoes to the slow cooker.
Cook on low for 6-8 hours.
Season to taste with salt and pepper.
Serve & Enjoy.
Recipe Tips
You can skip all the frypan work and add everything straight into the slow cooker. Personally, I find that it does not work out nearly as well, but it is a good option if you are low on time.
The type of beef you use does not hugely matter. However, I do recommend using a cheaper cut of meat for the best result. The long cooking time will turn most tough meat tender.
You can easily replace the curry paste with a store-bought jar paste. The result will still be delicious.
I do not recommend mixing cold yogurt straight into the slow cooker as it is likely to split. Warming the yogurt will help reduce the chance of the yogurt splitting.
More vegetables can be added to the curry for more flavor. It is also perfect for feeding more people.
You can cook this dish faster by reducing the cooking time to three hours and switching the slow cooker to high.
Note: I use a 5.5L (6 Quart) slow cooker for all the recipes that I have on this website unless specified. If you have a smaller or larger slow cooker, then you might need to adjust the ingredients.
Nutrition Information
Serving Size: 317g (11.2 oz)
Servings Per Recipe: 6
Calories Per Serving: 302
Amount Per Serving
Saturated Fat: 4.7g
Trans Fat: 0.6g
Dietary Fiber: 3g
Sugars: 7g
Cholesterol: 116mg
Sodium: 274mg
Protein: 40g
The information above is an estimate generated by an online nutrition calculator.
More Beef Recipes
Below is a few more of my favorite slow-cooked beef recipes that I highly recommend checking out.
If you want another delicious curry, then be sure to check out our beef madras curry. The curry is full of flavor, thanks to the homemade curry paste. It is an easy dish to make and cooks perfectly in the slow cooker.
I have also got to recommend the satay beef. It has rich peanut flavors, a hint of chili, and the most incredible tender beef. It is a huge hit whenever I cook it for the family.
I hope that you love this slow cooker beef rogan josh as much as I do. If you have any feedback, then please do not hesitate to leave a comment below.