Back to Recipe
Print Recipe
Slow Cooker Beef Rogan Josh Recipe
---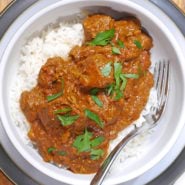 Prep time: 15 Minutes
Cook time: 8 Hours
Total time: 8 Hours & 15 Minutes
Serves: 6
Ingredients
1 kg (2.2 lb) chuck steak, cubed
400 g (14.1 oz) can crushed tomatoes
~150 g (5.3 oz) Rogan Josh curry paste (See below)
Curry Paste
1 Tbsp cooking oil
1 onion, finely diced
1 Tbsp ginger, crushed
3 tsp garlic, crushed
1 tsp chili paste
1 Tbsp tomato paste
1 Tbsp coriander, ground
2 tsp cumin, ground
2 tsp cardamom, ground
1/2 tsp cloves, ground
1 tsp turmeric, ground
1 tsp garam masala
To Serve
125 ml (4.2 fl oz) plain yogurt or Greek yogurt
---
Instructions
In a pan over high heat, add the beef and cook until slightly browned. Once browned, put to the side.
In the same pan, cooking oil, onion, ginger, garlic, and cook until the onion is translucent. Roughly two to three minutes.
Next, add the chili paste, tomato paste, coriander, cumin, cardamom, cloves, turmeric, garam masala, and cook until fragrant. It will take roughly five minutes.
Add the curry paste, beef, and the crushed tomatoes to the slow cooker.
Cook on low for 6-8 hours.
Season to taste with salt and pepper.
Serve & Enjoy.
---
Recipe Tips
You can skip all the frypan work and add everything straight into the slow cooker. Personally, I find that it does not work out nearly as well, but it is a good option if you are low on time.
The type of beef you use does not hugely matter. However, I do recommend using a cheaper cut of meat for the best result. The long cooking time will turn most tough meat tender.
You can easily replace the curry paste with a store-bought jar paste. The result will still be delicious.
I do not recommend mixing cold yogurt straight into the slow cooker as it is likely to split. Warming the yogurt will help reduce the chance of the yogurt splitting.
More vegetables can be added to the curry for more flavor. It is also perfect for feeding more people.
You can cook this dish faster by reducing the cooking time to three hours and switching the slow cooker to high.
Did you make this recipe?
We want to see! Tag
@slowcookingperfected
on Instagram or use the hashtag
#slowcookingperfected
so we can find you!
---