This recipe is a delicious slow cooker lamb Rogan josh that is packed with flavor and has a nice amount of heat to it.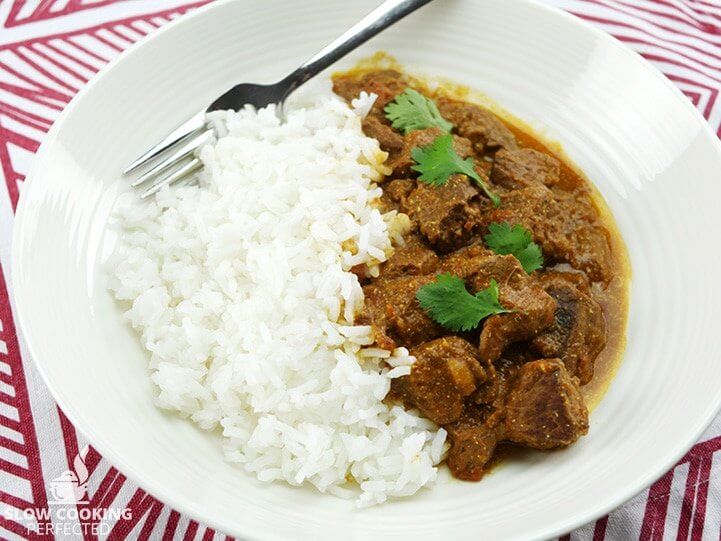 The amount of flavor this curry has is absolutely astonishing. One bite and you will find it very hard to stop eating. The flavor is all thanks to the lamb and a great range of spices such as cardamom, cumin, cloves, turmeric, and more.
I make use of a homemade curry paste, but this may be too much work, especially if time is limited. If this is the case, you can swap out all the spices for a store-bought curry sauce such as the Pataks rogan josh.
You should be able to feed roughly six people from a single batch of this recipe without needing to make alterations. You can easily double or triple the recipe if you think it will not make enough.
What to Serve with Lamb Rogan Josh
As with any curry, this is best served with some accompaniments. Below are some recommendations on what you can do.
The easiest and tastiest side dish is some delicious steamed rice. You can cook the rice over the stove, or you can take the easy option and cook it in a rice cooker. For something a little healthier, you can try making some cauliflower rice.
I love to make some homemade naan bread to have with the curry. If you do not have the time to make them from scratch, then you can purchase them at most good supermarkets.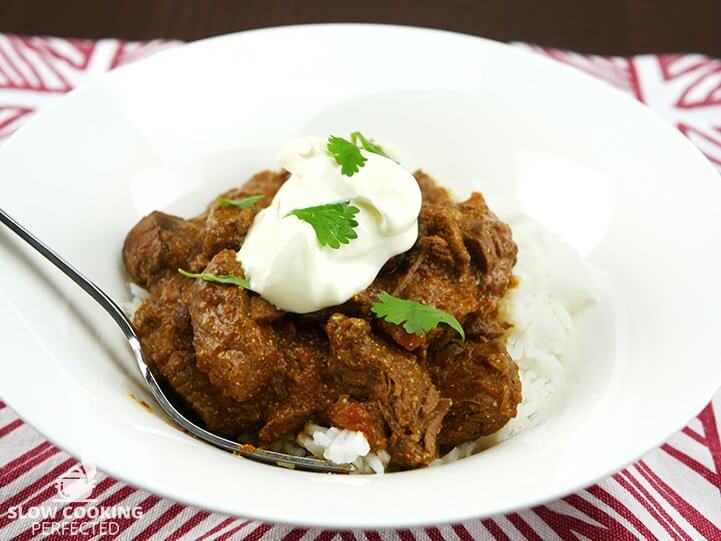 If you are willing to try something slightly different, you can try serving the curry over the top of some mashed potatoes. It is a different but delicious way to serve a curry.
Personally, I love to enjoy this curry without any additional side dishes, as I find it has more than enough flavor. If you have any ideas for side dishes, then I would love to hear them.
Keeping the Curry for Later
I often love to cook a large batch of curry and keep it in the fridge or freezer for later. It is one of those meals that reheat very nicely, sometimes even better than when it was fresh.
The curry should keep for roughly three days in the refrigerator. Alternatively, it will last for up to three months in the freezer. It may last longer in the freezer, but it will start to degrade in quality.
If you want to see how to make this lamb rogan josh in the slow cooker, then be sure to check out the video below. It is short, straight to the point, and perfect if you love to see food being prepared.
Slow Cooker Lamb Rogan Josh Recipe
Ingredients
1 kg (2.2 lb) leg of lamb, cubed
1 onion, finely diced
1 Tbsp ginger, crushed
3 tsp garlic, crushed
1 tsp chili paste or powder
1 Tbsp tomato paste
1 Tbsp coriander, ground
2 tsp cumin, ground
2 tsp cardamom, ground
1/2 tsp cloves, ground
1 tsp turmeric, ground
1 tsp garam masala
400 g (14.1 oz) can crushed tomatoes
To Serve
½ cup plain yogurt or Greek yogurt
Instructions
In a pan over high heat, add the lamb and cook until slightly browned. Once browned put to the side.
In the same pan, add 1 Tbsp oil, onion, garlic, ginger, and cook until onion is translucent. Roughly two to three minutes.
Next, add the chili paste, tomato paste, coriander, cumin, cardamom, cloves, turmeric, garam masala, and cook until fragrant. Roughly five minutes.
Add the curry paste, lamb, and the crushed tomatoes to the slow cooker.
Cook on low for 6-8 hours.
Season to taste.
Serve & Enjoy.
Recipe Tips
You can bulk out this slow cooker lamb rogan josh by adding some cubed potatoes, carrots, or even some lentils. It is up to you, but it will change the overall texture and taste of the curry.
Mixing the yogurt straight into the hot curry can cause the yogurt to split and not combine correctly. Heating the yogurt will help reduce the chance of it splitting.
You can skip the browning of the meat and the cooking of the curry paste. Instead, just throw everything into the slow cooker. However, you may find the curry will not turn out nearly as good and be missing that extra boost in flavor.
Turn the slow cooker to high and cook for three to four hours if you are in a bit of a hurry.
Note: I use a 5.5L (6 Quart) slow cooker for all the recipes that I have on this website unless specified. If you have a smaller or larger slow cooker, then you might need to adjust the ingredients.
Nutrition Information
Serving Size: 296g (10.4 oz)
Servings Per Recipe: 6
Calories Per Serving: 468
Amount Per Serving
Saturated Fat: 13.3g
Trans Fat: 0g
Dietary Fiber: 3g
Sugars: 5g
Cholesterol: 145mg
Sodium: 225mg
Protein: 42g
The information above is an estimate generated by an online nutrition calculator.
More Slow Cooker Curries
There are so many different types of curries that you are able to do in the slow cooker.
I have been slowly building up an excellent collection of great curries. The delicious butter chicken curry is one you need to try.
Another curry that I reckon you will love is the chicken tikka masala. Like this recipe, it uses a homemade curry paste that really helps bring out as much flavor as possible. I highly recommend giving it a try.
If you have tried this slow cooker lamb rogan josh and would love to share your thoughts, please do not hesitate to leave a comment. Also, do not hesitate to leave any feedback or variations that you made.