If you are looking for a slow cooker beef madras curry that is packed with flavor and delivers the heat, look no further.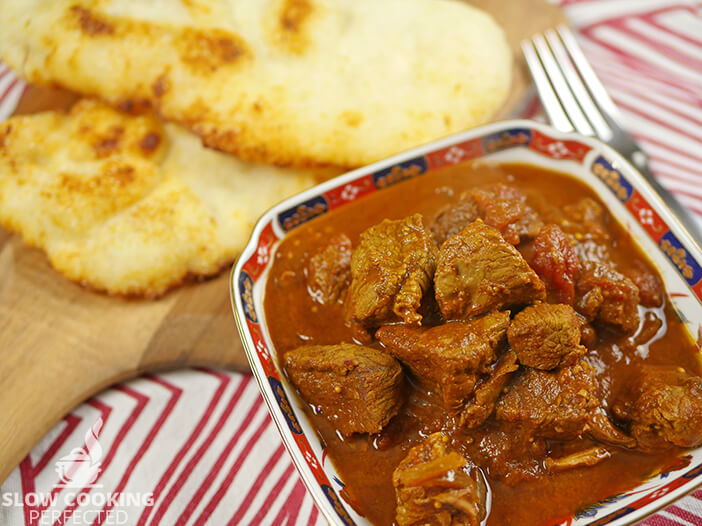 The homemade curry paste helps bring a huge amount of color and flavor to this dish. After a few hours of slow cooking, the beef will be super tender and packed with all the lovely flavors of the curry sauce. It is a curry that you will not regret making.
The origin of the madras curry is India, but the name is not used in India. The name originated out of restaurants in Britain. It is yet another great Indian curry with a heavy British influence. I highly recommend that you give it a try.
You should get roughly six serves without needing to make any adjustments to the recipe. I do recommend that you make some side dishes to go with the curry. For example, some steamed rice and naan bread are excellent choices.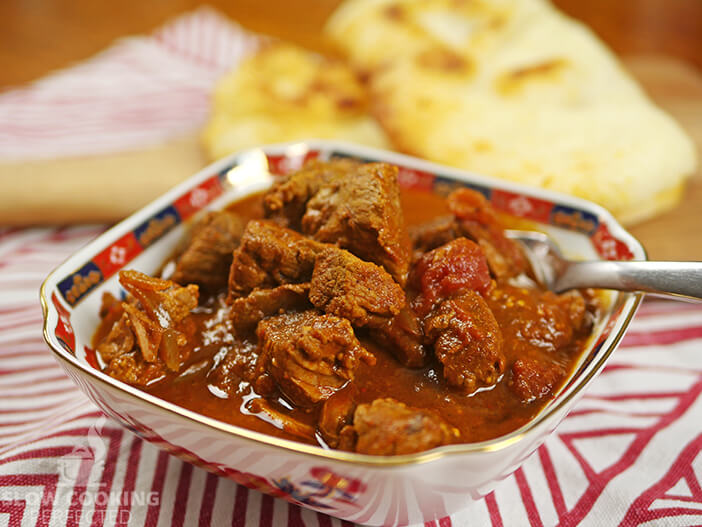 I love taking leftover curry to work for lunch, so I highly recommend keeping leftovers. Simply store in the fridge and reheat whenever you feel like some delicious curry. The leftovers should last a few days; otherwise, you can freeze them.
What to Serve with Beef Madras Curry
Below are some ideas on what to serve alongside this delicious curry. If you have any ideas you want to share, please do not hesitate to leave a comment.
I highly recommend cooking some steamed rice to go with the curry. If you are trying to keep things low-carb, you should consider making some fried cauliflower rice. It is an excellent alternative to regular rice.
Curry is also pretty good served over the top of some mashed potatoes. So, if you are a huge fan of mashed potatoes, I recommend you give it a try. It is super delicious.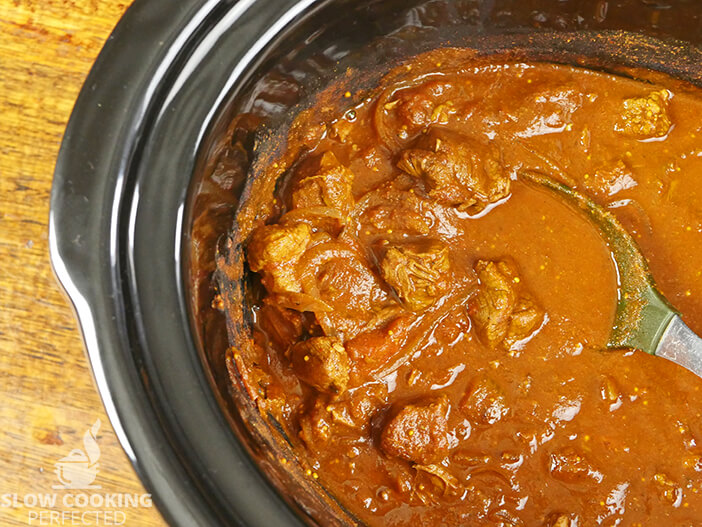 There are plenty of additional side dishes that you can make to go with curry. For example, a good naan bread always goes well with a curry. I also love some papadums, but it is usually that or the naan bread.
If you want to see how to make this beef madras curry in the slow cooker, then be sure to check out the video that I have put together. Alternatively, you can find the full written recipe right underneath the video.
Slow Cooker Beef Madras Curry Recipe
Ingredients
Curry Paste
3 tsp garlic, crushed
2 tsp ginger, minced
2 tsp black pepper, ground
½ tsp cinnamon, ground
2 tsp garam masala
2 tsp turmeric, ground
¼ cup coriander, ground
2 tsp mustard seeds
¼ cup cumin, ground
¼ cup malt vinegar
1 Tbsp oil
Everything Else
1 kg (2.2 lb) beef, cubed
1 onion, sliced
2 Tbsp tomato paste
2 tsp chili powder
400 g (14.1 oz) crushed tomatoes
1 cup beef stock
Instructions
Firstly, in a bowl, add all the curry paste ingredients, stir until a smooth paste.
In a frypan over high heat, quickly brown the beef. Once browned, put to the side.
In the same frypan, add the curry paste and cook until fragrant. Approximately 3-5 minutes.
Transfer the beef and curry paste to a slow cooker. Next, add the onion, tomato paste, chili powder, crushed tomatoes, and beef stock.
Cook on low for 8 hours or until the beef is tender.
Serve & Enjoy.
Recipe Tips
If you need this recipe to be gluten-free, then make sure you use some apple cider vinegar instead of malt vinegar.
You can skip the browning of the beef and the frying of the curry paste. However, I do find that you will lose a lot of flavor and texture by doing so.
If you want to use a store-bought madras curry paste, simply add three-quarters of a cup of jar curry paste instead of making the homemade version. I still highly recommend taking the time to make the homemade madras curry paste.
I highly recommend adjusting the chili powder if you do not like spicy food. Two teaspoons will give you a hot curry, anything higher will likely make your mouth burn. If you do not like spicy food, then I highly recommend lowering the quantity.
If you find that the curry is a little too spicy, try serving some dairy with it. Yogurt always goes well with curry.
Note: I use a 5.5L (6 Quart) slow cooker for all the recipes that I have on this website unless specified. If you have a smaller or larger slow cooker, then you might need to adjust the ingredients.
Nutrition Information
Serving Size: 299g (10.5 oz)
Servings Per Recipe: 6
Calories Per Serving: 305
Amount Per Serving
Saturated Fat: 3.4g
Trans Fat: 0.6g
Dietary Fiber: 3g
Sugars: 4g
Cholesterol: 123mg
Sodium: 401mg
Protein: 37g
The information above is an estimate generated by an online nutrition calculator.
More Slow Cooker Curries
There are so many other curries that you can make in the slow cooker. Below are a couple of my favorite curries that you should give a try.
Even though I love this curry, I also love Massaman beef curry. It is rich, hearty, and certainly worth the time and effort it takes to make it.
Something a little milder that might appeal to you is the butter chicken curry. I do highly recommend it if you love a good curry.
That is all I have to say about this slow cooker beef madras curry recipe. If you have anything that you would like to add, please do not hesitate to leave a comment below.