This slow cooker butter chicken is perfect if you feel like eating a nice warm creamy curry for lunch or dinner.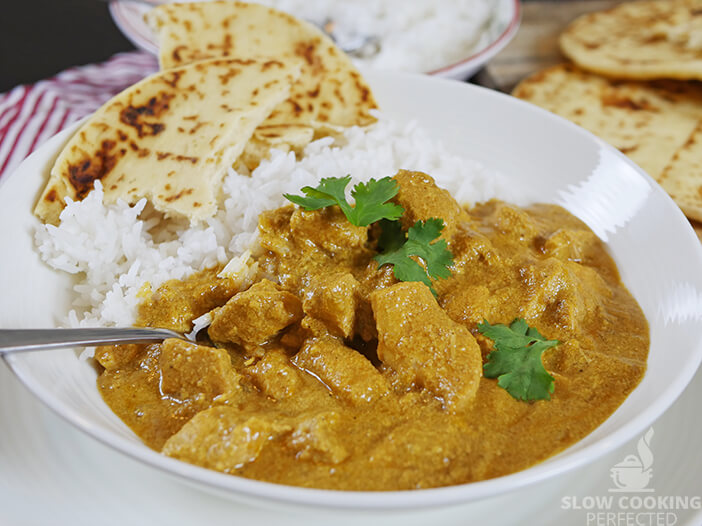 By the time this butter chicken is ready, it will have a lovely golden color, mouth-watering aromas, and an incredible flavor. It is undoubtedly a curry that is on my favorites list.
A butter chicken curry is also known as Murgh makhani and originated in India. It has since spread across the world and is a very popular Indian cuisine dish in many countries such as Australia, the United Kingdom, the USA, and many more.
A single batch of this curry and a few side dishes will feed roughly four to six people. If you need to feed more, you may need to alter the recipe by doubling the ingredient quantities.
If you end up with any leftovers, then the curry will reheat well the next day. Just make sure you cover it and store it in a fridge until you need it. I would discard after a few days in the refrigerator.
Perfecting the Curry
If you have a slow cooker that can sear, then you can make this entire curry within the one pot. Otherwise, you will need to first cook the onion, garlic, and spices before moving them to the slow cooker.
You can load this curry with vegetables. Cubed pumpkin, cauliflower florets, sliced carrots, spinach, or even green beans will work nicely in this curry. It is important to make a note of cooking times as some vegetables will cook a lot faster than others. For example, spinach will need to be added towards the end.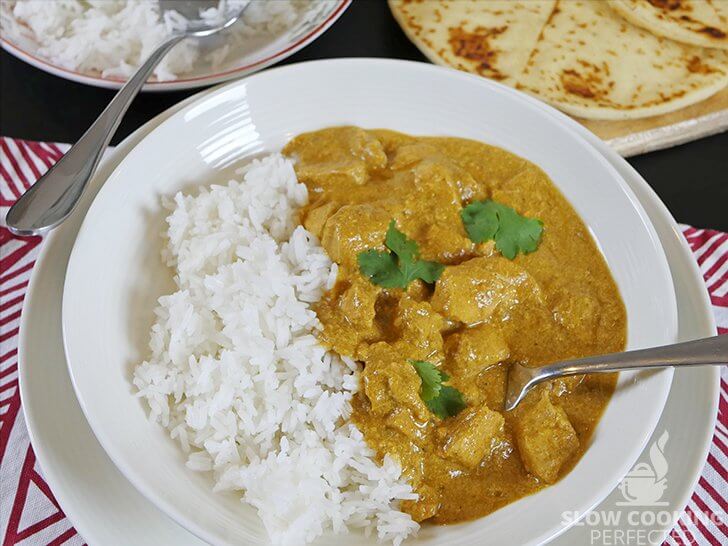 Your typical butter chicken curry is usually mild in spices, so if you are a fan of hot spicy food, this will probably disappoint. Thankfully, this can be fixed by adding some chili powder into the spices. I recommend adding about one or two teaspoons of chili powder.
If you love curry and see yourself wanting to use this recipe more in the future, I highly recommend weighing out the spices in one large batch. This way, whenever you need to cook this recipe, you only need to measure two tablespoons of the spice mix.
What to Serve with Butter Chicken
Like any curry, this is best served alongside some steamed rice and naan bread. I love to make the naan bread from scratch, but the store-bought varieties will work just as well.
For something a bit healthier than just regular steamed rice, you should try the cauliflower rice. It is low-carb and very easy to make. You can also find it for sale at some supermarkets in the fresh food or frozen food sections.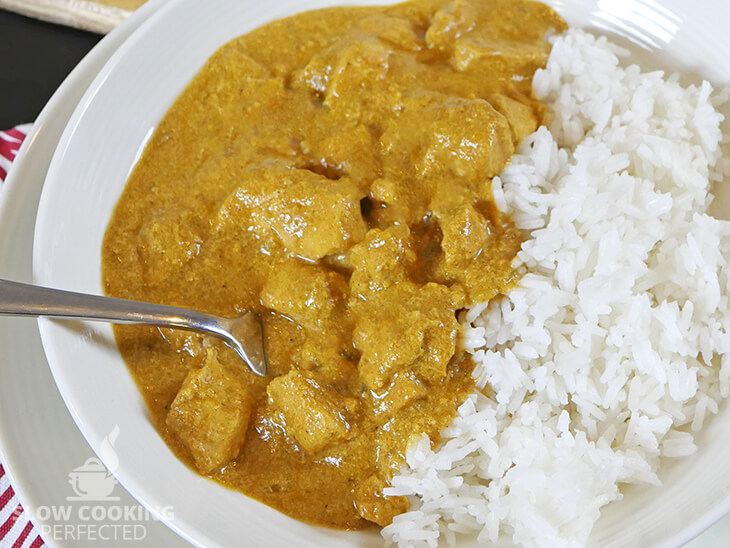 Curry is surprisingly good served over the top of some mashed potatoes. It does sound a little strange, but I highly recommend giving it a try. Especially if you love mashed potatoes.
You can eat this curry by itself if you do not feel like cooking any extras. Keep in mind that you might need to make more as it will no longer feed as many people.
If you want to see how to cook this delicious curry, then be sure to check out the video below. It goes through every step of making a super delightful butter chicken curry in the slow cooker.
Slow Cooker Butter Chicken Recipe
Ingredients
1 Tbsp vegetable oil
1 Tbsp butter
1 onion, diced
1 Tbsp garlic, crushed
800 ml (27.1 fl oz) coconut cream
2 Tbsp tomato paste
500 g (1.1 lb) chicken breasts, cubed
Curry Spices
2 tsp garam masala
1 tsp ginger, ground
1 tsp coriander, ground
1 tsp cardamom, ground
1 tsp cumin
½ tsp paprika
1 tsp turmeric, ground
Instructions
Heat the oil in a frying pan over medium heat.
Add the butter, onion, garlic, and cook until the onion is translucent. Roughly 2-4 minutes.
Next, add all the curry spices and cook until fragrant. Roughly 2-3 minutes.
Add the chicken, spice mix, tomato paste, and coconut cream into a slow cooker. Stir together.
Cover and cook on low heat for 6 hours.
Season with salt and pepper.
Serve & Enjoy.
Recipe Tips
Instead of chicken breast you can use chicken thigh. Alternatively, any cut of chicken will work nicely with the flavors of this curry.
I tend to avoid light coconut milk when making curry as it does seem to curdle more than the regular full fat coconut cream.
Try to avoid boiling the curry as it may cause the sauce to curdle.
You can replace the homemade curry paste with a jar of butter chicken sauce if you do not feel like weighing out spices. You will likely need to substitute everything apart from the chicken and onion.
If the curry splits, it can be fixed by adding a bit of cornstarch and water. First, mix one tablespoon of cornstarch with one tablespoon of water in a separate bowl. Pour the cornstarch mixture into the curry and stir through. Allow to cook for a further ten minutes.
Note: I use a 5.5L (6 Quart) slow cooker for all the recipes that I have on this website unless specified. If you have a smaller or larger slow cooker, then you might need to adjust the ingredients.
Nutrition Information
Serving Size: 334g (11.8 oz)
Servings Per Recipe: 6
Calories Per Serving: 685
Amount Per Serving
Saturated Fat: 33.7g
Trans Fat: 0g
Total Carbohydrate: 11.8g
Dietary Fiber: 4g
Sugars: 6g
Cholesterol: 153mg
Sodium: 186mg
Protein: 52.1g
The information above is an estimate generated by an online nutrition calculator.
More Slow Cooker Curries
There are plenty of other curries that you need to try. Below is a couple of recipes that I highly recommend that you make next time.
For something that is packed with flavor, then try the peanut chicken curry. It has a lot of peanut flavor that is backed by a delicious range of spices. It is certainly one of my favorite curries.
Another curry that I reckon you will like is chicken korma curry. Like this curry, it has a delicious homemade curry paste and is loaded with flavor. I highly recommend making it if you want an awesome meal.
If you have any thoughts, feedback, variations, or anything else related to this slow cooker butter chicken, then please feel free to leave a comment below.