This incredible slow cooker peanut chicken curry is one of my favorite curries. It is deliciously creamy and packed full of flavor.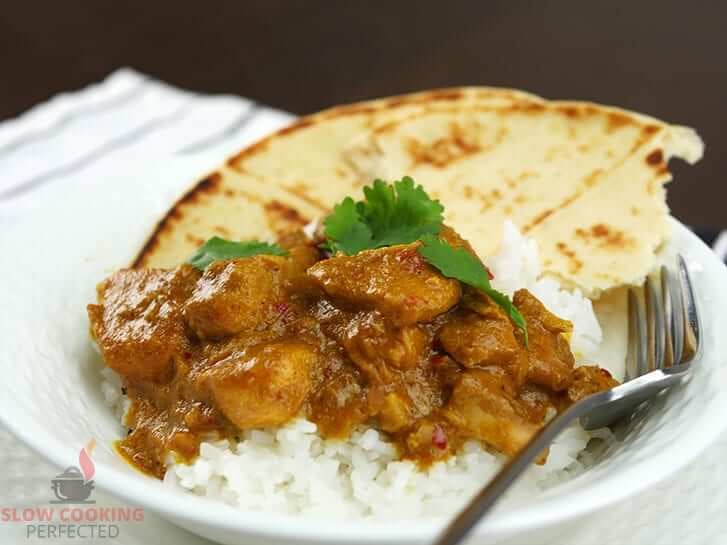 This curry has some incredible peanut flavors backed by a delicious range of spices. The chicken cooks to be incredibly tender and match the curry sauce perfectly. It is a truly delicious curry.
You will get about six servings out of this slow cooker chicken curry if you do not have any side dishes to go with it. If you are having side dishes such as rice, naan, or whatever you decide to have, you should get eight or more servings.
Another dish that's worth checking out is the satay chicken for the slow cooker. It has rich peanut flavors and is very similar to this recipe. I highly recommend checking it out.
Perfecting the Curry
The homemade curry paste is simply amazing. If you do not have the time to make it, you can easily replace it with some store-bought red curry paste.
I highly recommend preparing the curry paste if you do have the time. You can prepare it a few days before you need it if that will make things easier.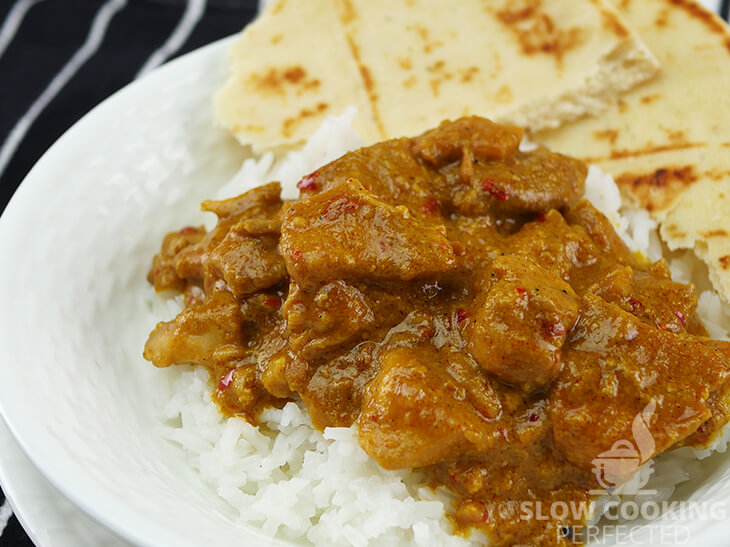 More vegetables can be added to this curry for some more flavor and nutrition. Sliced mushrooms, pumpkin, or even potato will work nicely with the flavors of the curry.
Even though I recommend chicken thigh, you can use other cuts of chicken in this curry. For example, chicken breast is an excellent replacement, but bone-in chicken cuts will also work well.
What to Serve with Peanut Chicken Curry
If you are looking for some side dish ideas, then you should certainly consider some freshly baked naan bread and steamed rice.
As with basically any curry, a good amount of freshly cooked rice goes perfectly with this curry. If you feel like being a bit different, then cook some noodles instead of the rice. Either option will work perfectly.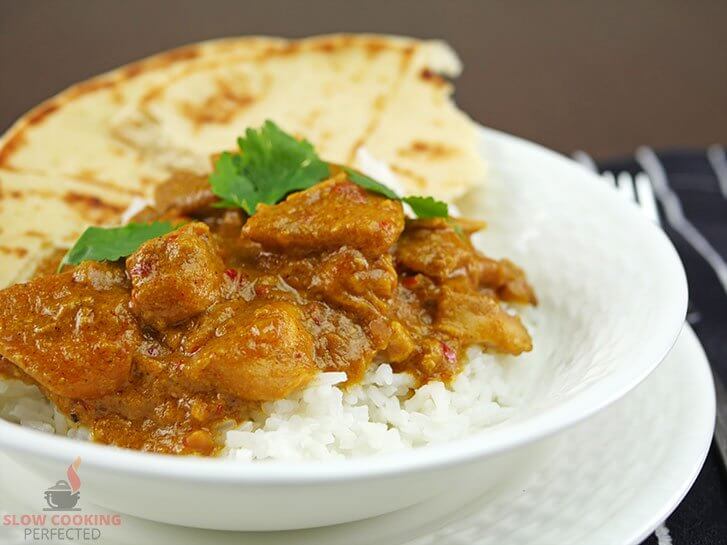 I also love to make some homemade naan bread to go alongside the curry. If I am running low on time, I will instead cheat and buy it from the supermarket. Either way, naan bread is an excellent side dish for this curry.
Pappadums are great as a side dish when it comes to a good curry. You can typically get pappadums at any good supermarket or online at stores such as Amazon.
If you would like to see how to prepare and cook this peanut chicken curry in the slow cooker, then be sure to check out the video below. Alternatively, there is a written recipe that will take you through everything you need to know for preparing this tasty slow cooker curry recipe.
Slow Cooker Peanut Chicken Curry Recipe
Ingredients
1 kg (2.2 lb) chicken thigh, cubed
2 Tbsp sugar
¼ cup fish sauce
¾ cup crunchy peanut butter
¾ cup red curry paste (See Below)
400 ml (13.5 fl oz) can coconut milk
Red Curry Paste
2 Tbsp oil
2 Tbsp dried red chilies, crushed
2 onions, diced
3 tsp garlic, crushed
1 tsp lemon rind, grated
2 tsp shrimp paste
1 Tbsp cumin, ground
1 Tbsp paprika
2 tsp turmeric, ground
1 tsp black pepper, ground
Instructions
Prepare the red curry paste by blending all of the paste ingredients in a blender.
In a frypan over high heat, fry the curry paste until fragrant. Roughly 3-5 minutes
In a slow cooker, add the chicken, coconut milk, peanut butter, sugar, curry paste, and fish sauce.
Cook for 6-8 hours on low.
If the oil has pooled on top of the curry, then gently skim it off the top.
Season with salt and pepper.
Serve & Enjoy.
Recipe Tips
If the curry looks like it is going to be runny, then turn the slow cooker to high for the last hour and leave the lid off until it has thickened. Alternatively, you can use a cornstarch and water mix to thicken it.
Like in the video, you can skip blending the curry paste to save on time. The result is still super delicious, and there is not a huge difference between doing and not doing it.
For the best results, I recommend frying the curry paste as it will help release the flavors in the spices. However, if you are running low on time, then you can easily skip this step.
Note: I use a 5.5L (6 Quart) slow cooker for all the recipes that I have on this website unless specified. If you have a smaller or larger slow cooker, then you might need to adjust the ingredients.
Nutrition Information
Serving Size: 335g (11.8 oz)
Servings Per Recipe: 6
Calories Per Serving: 801
Saturated Fat: 24.2g
Trans Fat: 0.2g
Dietary Fiber: 23g
Sugars: 11g
Cholesterol: 166mg
Sodium: 1370mg
Protein: 81g
The information above is an estimate generated by an online nutrition calculator.
More Slow Cooker Curries
There are a ton of other chicken curries that you can cook up in the slow cooker.
If you are after another good curry, then you need to try the chicken korma. It is creamy and delicious, indeed a meal worth trying.
Another chicken curry that I highly recommend is the chicken tikka masala. It has a lovely range of flavors and is perfect for feeding a crowd. Much like this curry, I highly recommend giving it a try.
I hope that you enjoy this slow cooker peanut chicken curry as much as I do. If you have some feedback, tips, or anything else, then feel free to leave a comment below.