This delicious slow cooker chicken tikka masala is a must try for anyone who loves a good curry.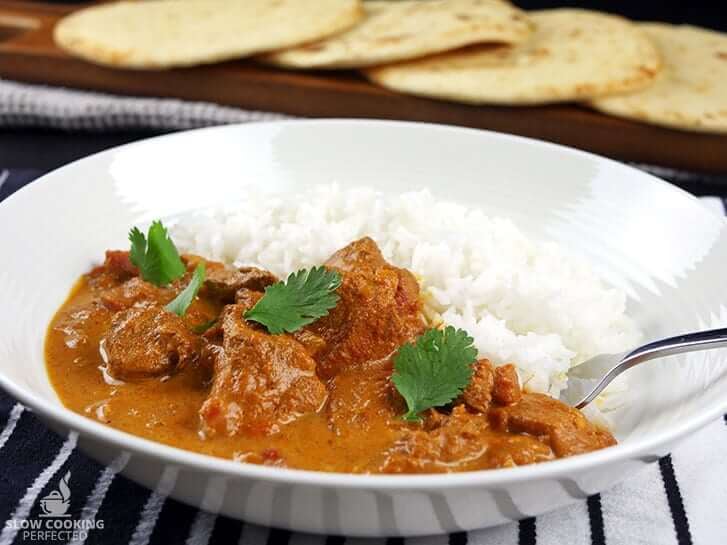 This curry has incredible tender chunks of chicken that have been slow cooked in a rich curry sauce. It cooks to have a lovely color and will be creamy in texture.
Chicken tikka masala is a hugely popular curry in the United Kingdom. It is like any Indian curry and has plenty of flavors. It certainly is a must-try as you can quickly see why it became so popular.
If you are not interested in making a curry paste from scratch, you can use a store-bought paste instead. Pataks or Sharwoods tend to be decent brands, but there may be better brands depending on where you live.
The leftovers for this dish will keep pretty well, so make sure you do not throw them out as they make for a delicious lunch the next day. You can store the leftovers in the fridge for roughly three days.
Tinkering with the Recipe
You might be interested in tinkering the recipe so that it is more to your liking. Below are a couple of changes that you can make.
Changing the meat you use is one way to radically change the flavors of this curry. For example, you can swap the chicken for something like lamb or beef. Both are excellent options.
Since we are using a homemade curry paste, you can easily tinker the spices so that it is more to your liking. Feel free to add some chili powder if you love a bit of heat in your curry.
Using coconut milk, cream, or Greek yogurt will all give you a different outcome. For me, I prefer plain cream as it helps bring the dish together quite well. However, Greek yogurt and coconut milk are great alternatives. It just comes down to personal preference.
What to Serve with Chicken Tikka Masala
Rice is always an excellent addition to curry, but it is not completely necessary. I often enjoy this just by itself, and it also saves on washing up. Making cauliflower rice is an excellent alternative if you are trying to keep your carb intake down.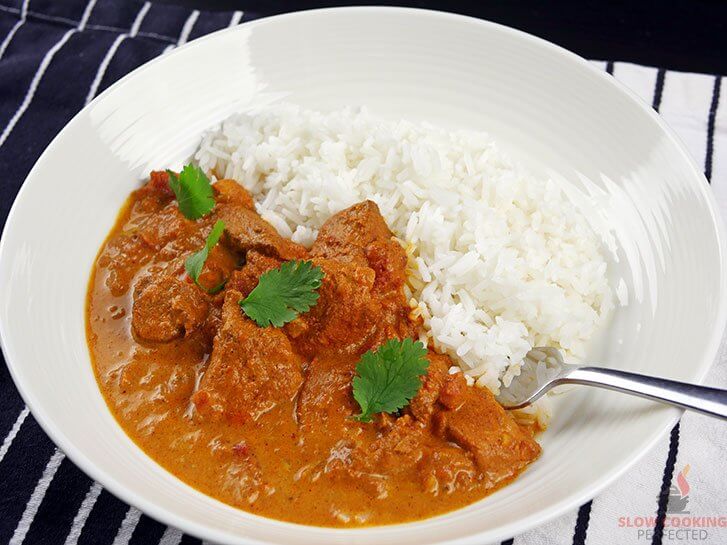 As with any curry, some delicious naan bread or even garlic bread goes well with this dish. If you have the time, then these can be made right at home; otherwise, you can find some decent quality store-bought varieties around.
If you want to see how to prepare and cook this chicken tikka masala in the slow cooker, then be sure to check out the video below. It will take you through all the steps to making this curry.
Slow Cooker Chicken Tikka Masala Recipe
Ingredients
500 g (1.1 lb) chicken thighs, cubed
800 g (1.8 lb) diced tomatoes
1 cup heavy cream
Curry Paste
1 Tbsp oil
1 onion, diced
2 tsp garlic, crushed
2 tsp ginger, crushed
1 tsp cumin, ground
1 tsp coriander seeds, ground
1 tsp turmeric
2 tsp paprika
1 Tbsp garam masala
2 Tbsp tomato paste
Instructions
In a frying pan, add the oil, onion, garlic, ginger, cumin, coriander seeds, turmeric, paprika, garam masala, tomato paste, and cook until fragrant.
Transfer the spice mix into the slow cooker. Also, add the chicken and diced tomatoes.
Cook on low for 6-8 hours.
Lastly, add the heavy cream to the slow cooker.
Cook on high for a further 10-15 minutes.
Season to taste.
Serve & Enjoy.
Recipe Tips
You can skip the preparation of the curry paste in the frypan, but the flavors will not be as intense. This will make it a lot easier to quickly get it prepared and into the slow cooker.
If the curry is a bit too runny for your liking, make sure you thicken it with some cornstarch. Make sure you mix the cornstarch with a little bit of water before adding it to the curry. You should find two tablespoons of cornstarch is more than enough.
Feel free to replace the chicken thigh meat with chicken breast. Both types will work well for this chicken tikka masala.
Switch the slow cooker to high if you need to cook this curry faster. It should be ready to eat in half the amount of time, so three to four hours.
Heavy cream is also known as thickened cream in Australia or whipping cream in the United Kingdom.
Note: I use a 5.5L (6 Quart) slow cooker for all the recipes that I have on this website unless specified. If you have a smaller or larger slow cooker, then you might need to adjust the ingredients.
Nutrition Information
Serving Size: 253g (8.9 oz)
Servings Per Recipe: 6
Calories Per Serving: 228
Amount Per Serving
Saturated Fat: 3.2g
Trans Fat: 0g
Total Carbohydrate: 10.6g
Dietary Fiber: 2.7g
Sugars: 5.8g
Cholesterol: 82mg
Sodium: 100mg
Protein: 26.3g
The information above is an estimate generated by an online nutrition calculator.
More Slow Cooker Curries
There are so many curries that you can make in the slow cooker. Below is a couple that is worth making.
For example, I have already covered a delicious chicken korma curry that is so easy to make. Indeed, worth giving a try if you just love a good hot curry.
A recipe that I reckon you will love is the chicken curry pie filling. As the name suggests, it is perfect as a pie filling but can also be eaten over the top of some steamed rice.
If you have any feedback or anything else you would like to say about this tasty slow cooker chicken tikka masala, then be sure to leave a comment below.