This slow cooker Massaman chicken curry is an absolute must-try. It features tender chicken and a curry sauce that will have you coming back for seconds.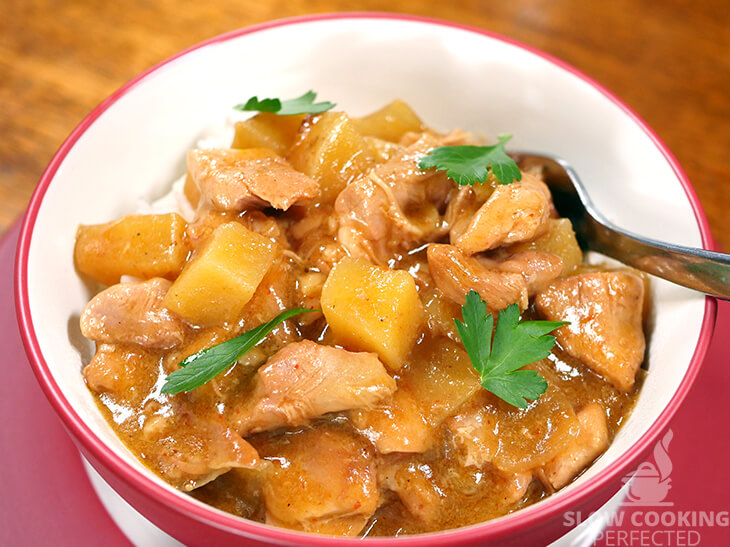 I love this curry as it is loaded with a huge range of flavors and is relatively mild. The chicken cooks to be super tender and will melt in your mouth. The onion and potatoes are delicious, and help bulk out the curry.
Massaman curry originates from Thailand and is typically made with chicken. However, some variations feature beef, mutton, goat, or even pork. It is also possible to make this curry vegetarian. Personally, I love Massaman curry with beef.
A single batch of this curry should feed roughly six people. I do highly recommend that you make some extra side dishes to go with the curry. Something like steamed rice will work perfectly.
The leftovers of this curry are great as a quick and easy lunch the next day. Leftovers should last for roughly three days in the refrigerator or three months in the freezer. I do not recommend freezing the curry with rice.
What to Serve with Massaman Curry
There are loads of different side dishes that will work nicely with this curry. Below are just a couple of my favorite serving ideas.
I love to make some steamed rice to go with the curry as it is super easy to get right. Alternatives such as creamy coconut rice or some healthy cauliflower rice are great options as well.
Naan bread is always the perfect match for a curry. You can buy some naan bread at the local supermarket or you can make some at home. Personally, I love making some gluten-free naan bread at home as we have coeliac family members.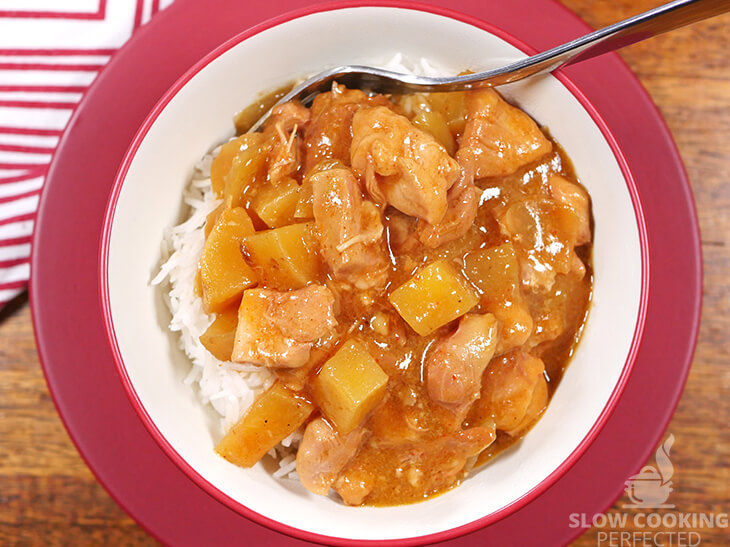 Papadums are delicious and can be made at home or bought from the supermarket. I love to buy them as they tend to come out perfect every time.
For something a little different, you can try making some mashed potatoes to go with the curry. For a healthier alternative, mashed cauliflower is also excellent. Both are great for feeding as many people as possible with a single batch of curry.
If you have some serving ideas, please let us know by leaving a comment at the bottom of this page.
Adjusting the Recipe
You can tweak this recipe a few ways so that it is more to your liking. Below are a couple of ideas that I recommend checking out.
I recommend using a homemade Massaman curry paste as I find it adds the most flavor. However, store-bought curry pastes are just as good and will make this dish a lot easier. So, pick whatever you like the most.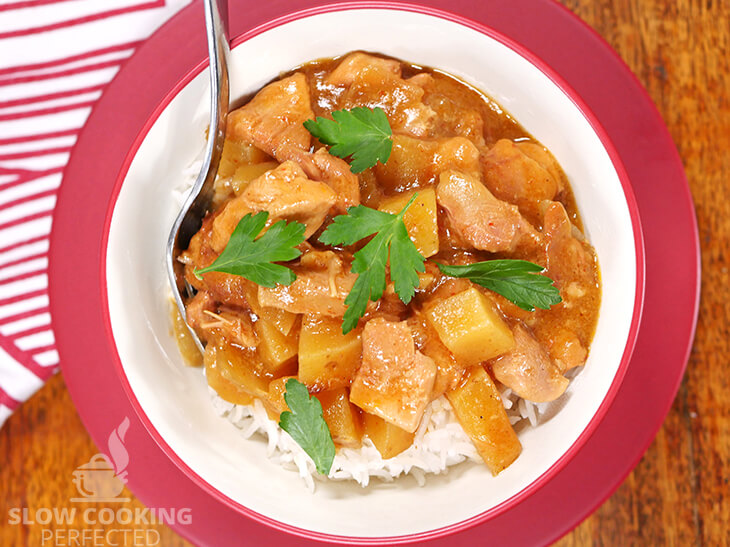 In terms of vegetables, there are only potatoes and onions in this recipe. If you want to add more vegetables, then I highly recommend that you do. Something like carrot, bell pepper, or even mushrooms will work nicely.
The video below will take you through all the steps of making this chicken Massaman curry in the slow cooker. Alternatively, there is a full written recipe below the video.
Slow Cooker Massaman Chicken Curry Recipe
Ingredients
1 kg (2.2 lb) chicken thigh, cubed
6 Tbsp Massaman curry paste
500 g (1.1 lb) potatoes, large cubes
2 onions, quartered
640 ml (21.6 fl oz) coconut cream
1 tsp tamarind concentrate
¼ cup brown sugar
To Thicken
2 Tbsp cornstarch
2 Tbsp water
Instructions
In a slow cooker, add the chicken, curry paste, potatoes, onion, coconut cream, tamarind concentrate, and brown sugar. Mix until the chicken is well coated.
Cook on low for 6 hours.
Mix the cornstarch and water until it forms a paste. Stir the paste into the sauce.
Cook on high for 30 minutes or until thickened slightly.
Season with salt and pepper.
Serve & Enjoy.
Recipe Tips
The coconut cream may split due to the long cooking time. Do not worry, as adding the cornstarch will help bring it all back together.
More vegetables such as carrots, bell peppers, or celery can be added to this curry. It is an excellent way of adding more flavor and bulking it out a little.
You may need to skim the fat off the top of the curry before thickening it with the cornstarch mixture.
Lime juice is an excellent alternative to tamarind concentrate.
The cut of chicken you use is entirely up to you. I recommend chicken thigh, but chicken breasts will work just as well.
Note: I use a 5.5L (6 Quart) slow cooker for all the recipes that I have on this website unless specified. If you have a smaller or larger slow cooker, then you might need to adjust the ingredients.
Nutrition Information
Serving Size: 315g (11.1 oz)
Servings Per Recipe: 8
Calories Per Serving: 656
Amount Per Serving
Saturated Fat: 31.1g
Trans Fat: 0.1g
Dietary Fiber: 6g
Sugars: 9g
Cholesterol: 122mg
Sodium: 114mg
Protein: 26g
The information above is an estimate generated by an online nutrition calculator.
More Curry Recipes
There are loads more curries that you can make in the slow cooker. Below are a couple of my favorite recipes that I highly recommend that you try.
The beef madras curry is one of my favorite slow cooker recipes. The final dish features tender beef that melts in your mouth and a beautiful curry sauce loaded with flavor. It is super easy to make and will easily feed a crowd.
Another recipe I have got to recommend is the chicken tikka masala. The chicken cooks to be tender, and the curry sauce is incredibly delicious. It is one of my favorite curries, and I always get hugely positive reviews.
I hope that this slow-cooked Massaman chicken curry lives up to your expectations. If you have some feedback, then please do not hesitate to leave a comment below.